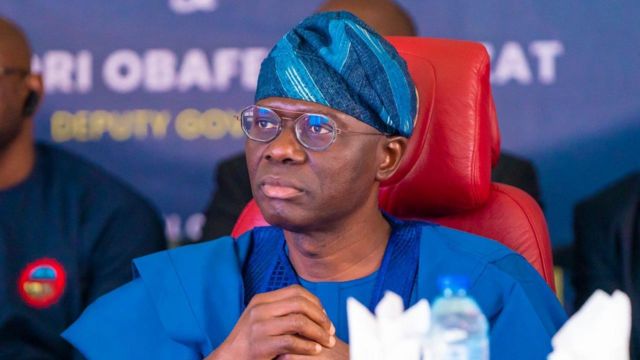 Gov. Babajide Sanwo-Olu of Lagos State has reiterated his commitment to empowering children and youths with requisite skills for a self-reliant future.
Sanwo-Olu gave the assurance at the 2023 Children's Day Celebration with the theme: "More Money for Primary Education", held at Police College Ground, Ikeja, Lagos.
The governor who was represented by his deputy, Dr Obafemi Hamzat, said that by so doing, it would help provide a suitable path for them based on their skills and competence.
"The state government will continue to collaborate with the private sector through meaningful partnerships and interventions from all stakeholders to provide children and youth in the State with the wings to fly.
"Also with the environment to develop and the skills to prepare them for a greater tomorrow, while ensuring that no child is left behind."
The governor also described the theme of the celebration as a call on leaders to provide more money for primary education.
He noted that since 2019, the state government had delivered a series of initiatives and intervention programmes for the benefit of children in the state to show her commitment to Child Rights protection and welfare.
Sanwo-Olu added that over N4.2 billion was spent in the last four years to fulfil the promise of full payment of West African Senior School Certificate Examination fees.
He said it was necessary to keep students moving up the ladder and to ensure they are not left behind till the end of secondary school education.
He pledged that his administration would continue to create awareness of issues that are important to make the children happy.
"Government recognises the role early childhood education plays in ensuring a better future for children.
"As part of government's efforts to improve teaching and learning in Primary and Secondary Schools across the State, over 1,449 projects have been commissioned covering 1,036 schools across all 20 Local Government Areas and 37 Local Communities Development Areas
"These include construction, renovation, and rehabilitation of dilapidated Public Schools and supply of composite units of furniture to schools, among other infrastructure projects.
"Also, through the "Project Zero Program", the rate of out-of-school children have reduced by reabsorbing with full kits, a total of 11, 957 pupils back to school to demonstrate our administration's zero tolerance for "Out of School Children".
Earlier, Mr Abolaji Abayomi, Permanent Secretary, Ministry of Education, said the state had recorded enviable results in the performance of pupils and students from public primary and secondary schools in the last four years.
Abayomi said the administration had enhanced funding for the education sector while noticeable improvement in the form of infrastructure, a conducive atmosphere, qualitative teaching and learning and a wholesome reward system felt.
The permanent secretary lauded the genuine interest and commitment of Sanwo-Olu's administration to the welfare and comfort of every child in Lagos State.
NAN reports that the highlights of the Children's day celebration included   March-Past by students, symbolic registration of Nursery and Primary One Pupils to the state public schools and the cutting of the Year 2023 Children Day Celebration Cake.