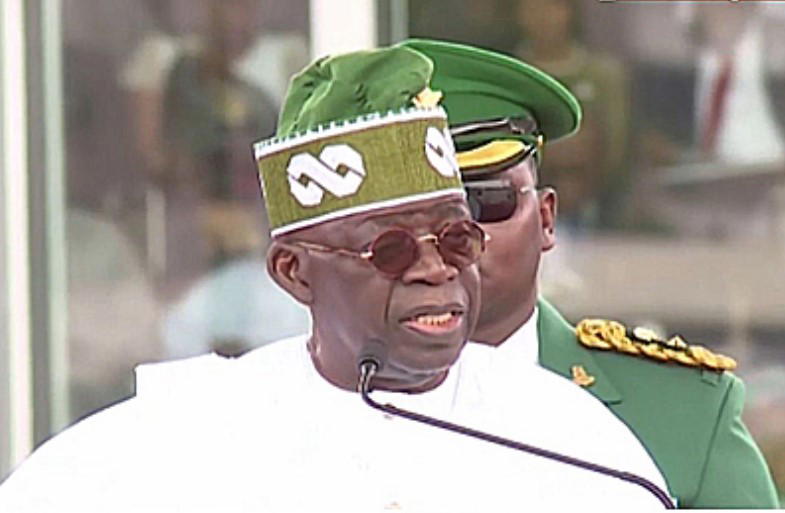 By Miftaudeen Raji 
President Bola Tinubu's announcement on the fuel subsidy removal, has continued to generate mixed reactions from the public, particularly on the social media platform, Twitter. 
Recall that President Tinubu, during his inaugural speech at the Eagle Square on Monday, had announced that the petrol subsidy regime was over.
He said, "On fuel subsidy, unfortunately, the budget before I assumed office is that no provision is there for fuel subsidy. So fuel subsidy is gone."
According to Tinubu, the subsidy can no longer justify its ever-increasing costs in the wake of drying resources.
"We shall instead re-channel the funds into better investment in public infrastructure, education, health care and jobs that will materially improve the lives of millions."
But, reacting to the announcement, the presidential candidate of the African Action Congress (AAC), Omoyele Sowore, expressed concern, saying the fuel subsidy removal announcement has already triggered fuel scarcity and price gouging all over Nigeria.
Sowore stated this in a tweet via his verified Twitter handle on Tuesday.
He said, "This is why Nigerians must understand that nothing good will come out the Nigerian Elite-in and out- of power. They're always after you. They don't care about you!"
Meanwhile, the presidential candidate of Social Democratic Party's, SDP, Adewole Adebayo has described the announcement of the fuel subsidy removal as untidy and ill-timed.
Adebayo stated this in a statement via his official Twitter handle @Pres_Adebayo on Tuesday.
Noting that it might appear to early to criticise him, having just been sworn into office, Adebayo said President Tinubu should be reminded that the occasion of his inaugural speech was not the best avenue to have announced the suspension of such a macroeconomic policy.
He insisted that Nigerians would need a shock absorber in form of an alternative measures to cushion the effect of fuel subsidy removal before any action could be taken in that direction.
Adebayo wondered if that was what Nigerians would get from the much touted renewed hope.
He said, "I don't want to seem impatient or trigger happy in criticism of brandy new president Tinubu. But it is not a neat way to announce a cost driven macroeconomic policy of fuel subsidy removal by just dropping it in an inaugural speech. We need shock absorbers first. Renewed hope?"
A user on Twitter, Christopher Ogbonna @Qriscero tweeted, "We all know that fuel subsidy MUST go! There is no question about that. The conversation should be on how to eliminate it with the least harmful impact option on the masses. You cannot keep creating artificial wealth for a minority and the expense of the majority."
@UcMajesty tweeted, "The decision is fine, but the pattern of the decision is vague. You can't create another problem by trying to solve a problem. First, outline the alternative frameworks, assure Nigerians that the decision is best for the country, discuss with stakeholders and marketers, etc…"
Olukayode Olubowale @OlukayodeOlubo3 tweeted, "No one is disputing that. but what modalities have been put in place FIRST to cushion the effects on the people before removing it? Countries without subsidy, their minimum wages are way higher than ours o… anyhow sha, this is nigeria, we are used to suffering & smiling."
@CRAD_BRANX tweeted, "fuel subsidy must go" for a country without functional refineries and stable electricity? A Thoughtless Tweet? How about going after the subsidy criminals, getting us refineries?: Are these above government to do? Why then do we have government?"
@ukpong_naomi tweeted, "My question for those that want to put their hope on Dagote refinery is would Dagote make the fuel price less ?
"The only way to mitigate the impact of this is to allow our refinery works. And the government will be in charge of it and never privatizing it," he added.
@adeniyioludele1 tweeted, "Mr Sowore be objectives about Nigeria for once , the effect of subsidy removal is what's going now , if we want the country to move forward .subsidy must go."