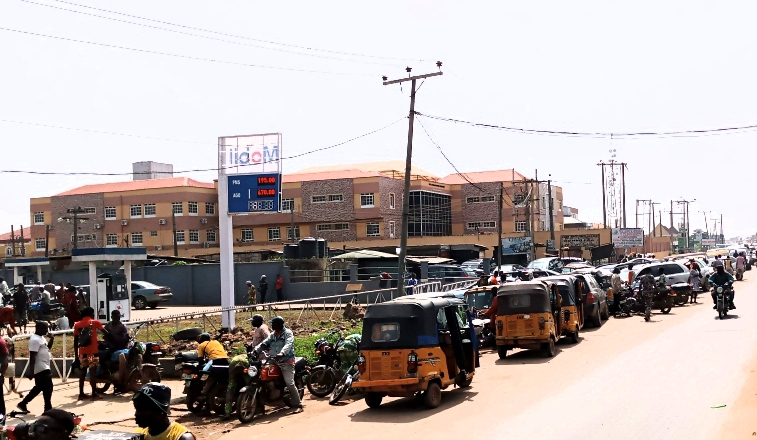 By Victor Ahiuma-Young
The Trade Union Congress of Nigeria, TUC, has rejected the removal of fuel subsidy as announced by President Bola Tinubu during his swearing-in ceremony on Monday.
TUC in a statement by its President and Secretary General, Festus Osifo and Nuhu Toro, respectively, warned that it is a joke taken too far.
The body while assessing the President's inaugural speech, said "TUC is delighted by the peaceful transition from the Muhammadu Buhari government to the Bola Tinubu administration and across the 28 states of the federation. We congratulate Nigerians and the new administration at all levels even as we urge all those contesting the election results across the board to keep following the rule of law as provided in the constitutional and electoral act in seeking redress.
"While listening to Tinubu's Inaugural Address, we were at first encouraged by his pledge to lead as a servant of the people (and not as a ruler) and to always consult and dialogue, especially on key and knotty national issues. But we were subsequently taken aback, even horrified, when he announced the withdrawal of subsidy on petroleum products.
"If by this, he means increases in pump price and the exploitation of the people by unregulated and exploitative deregulated prices, then it's a joke taken too far. It is not for nothing the Buhari government pushed this to the new administration. But we expect the Tinubu government to be wise on such a sensitive issue and be more explicit in its pronouncement to avoid contradictory interpretations when comparing his written statement, what he said and the provision in the 2023 appropriation act.
"We dare say that this is a very delicate issue that touches on the lives, if not very survival, of particularly the working people. Hence, it ought to have been treated with utmost caution, and should have been preceded by robust dialogue and consultation with the representatives of the working people, including professionals, market people, students and the poor masses.
"Accordingly, we hereby demand that President Tinubu should tarry awhile to give room for robust dialogue and consultation and stakeholders engagement just as he opined in his speech, until all issues and questions; and there are a host of them, are amicably considered and resolved. Nigerian Workers and indeed masses must not be made to suffer the inefficiency of successive governments.
"We are also worried that in his speech President Tinubu failed to delve into or reveal his plans on how to tackle and address the issue of poor and unchecked deterioration in industrial relations, particularly in the education, health and judiciary sectors, often resulting in prolonged strike and industrial actions and their
attendant adverse effects on society and the economy. A case in point is the current nationwide strike by JOHESU.
"If there is anything for the new administration to hurriedly address from day one in office, it is the abysmal N30,000 minimum wage that has since been eroded by the problematic monetary and fiscal policies of the government.
"The Labour Movement is open and ready to dialogue with the Tinubu administration on the fuel subsidy issue. We urge it in the interest of the country and its people not to dictate on such a matter or engage in manipulating the outcome of such consultations.
"The TUC identifies with the new government's declaration that it will defend the nation from terror and all forms of criminality that threaten peace and stability. We suggest that in its promised review of our security architecture, a more robust method of defending the country by involving the mass of the people and empowering them to defend themselves when attacked by bandits and terrorists.
"We also are encouraged by the new government's promise to engage in job creation, food security and end extreme poverty. In this, we urge it to involve organized labour, employers of labour, professional organisations and the informal sector. This is necessary so that these programmes would not become mere propaganda in which unverifiable statistics are churned out periodically.
"Congress welcomes the promise to make electricity accessible and affordable to businesses and homes and, suggests that the Tinubu government begins by stopping the periodic arbitrary increases in the price of electricity imposed by the distribution companies while regulatory and consumer agencies look away.
"This new administration cannot be seen to be speaking from both sides of its mouth, we urge President Tinubu to be a President with a human face.
"Like always, we will stand by the people and their interests. Nigerian workers are hardworking and have remained consistent with productive work regardless of harsh government policies, poor governance and mismanagement of resources that has placed us in these difficult living conditions"