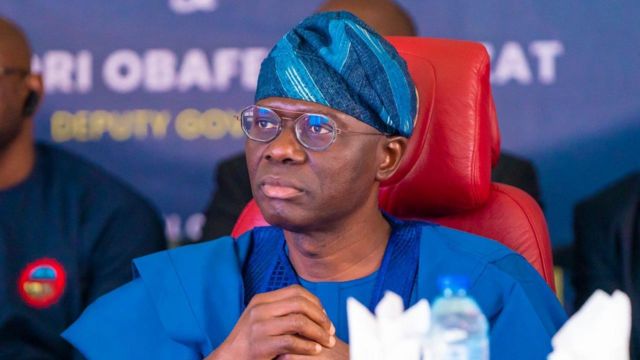 By Olasunkanmi Akoni
The Lagos State Government said it has stepped up flood control measures to contain high volume of storm-water resulting from heavy downpour across the state.
Permanent Secretary, Ministry of the Environment and Water Resources, Office of Drainage Services, Engr. Olalekan Shodeinde, stated this on Thursday, during a "Downscaling workshop on the Seasonal Climate Predictions and Socio-Economic implications for the state," held at the Lagos Chamber of Commerce and Industries, Alausa, Ikeja.
Shodeinde, reiterated government's commitment to providing essential weather advisories to stakeholders, planners, decision makers and operators in socio-economic sectors across the state to ensure a flood free state.
He said the provision of the advisories to various rainfall-sensitive sectors such as agriculture, transportation, water resources, health, environment, construction among others is highly essential.
Shodeinde, who spoke through the Director, Drainage Enforcement and Compliance, Engr. Mahmood Adegbite, stressed that the Nigerian Meteorological Agency (NiMet) and the Ministry had released the annual Seasonal Climate Predictions (SCP) earlier in the year to sensitize the public on the socio-economic implication of the rainy season.
He added that the state government in collaboration with (NiMet) this year provided relevant stakeholders with detailed information that would enable organizations to prepare sufficiently for the impact of the rainy season, saying "this is in line with the request of participants present at the Review of Y2022 SCP hosted by the Ministry.
"At this juncture, we want to assure you that our state will continue to reap the benefits of careful and rigorous planning, as our flood control measures are being stepped up to contain any imminent rainfall," Shodeinde said.
He said the ministry as usual has embarked on an all-year-round drainage maintenance program for effective and efficient flood control, as well as upgrading its early warning system with installation of automatic weather stations and river gauge stations.
He added that the ministry reignited its sensitization campaign using established media platforms which includes: Television, radio, print and social media as well as door to door campaign through stakeholder's engagement strategy and visitation to affected communities speaking with community leaders and residents alike.
Shodeinde stressed that the government remained determined to maintain the long-exisisting synergy with the Ogun-Oshun River Basin Authority (OORBDA), which has ensured control and monitoring of the steady and systemic release of water from Oyan Dam to prevent flooding of the downstream reaches of the Ogun River.
The Permanent Secretary, urged the residents to continually support the efforts of government through regular clearing of drains in their frontage to ensure free-flow of storm water as well as desist from dumping of refuse into drainage channels.
Shodeinde advised the general public to stop the indiscriminate dumping of refuse in unauthorized places, clogging of drains with silt or construction materials, erecting structures within and around drainage Right of Ways and setbacks.
In his presentation, the Director General NIMET, Mr. Oyegade Adeleke, noted that high intensity of rainfall is expected from May to June with the probability of having above 50mm in one day at 80% in Badagry, Lagos Island, Lagos Mainland , Epe, Eti-Osa, Ibeju/Lekki and Ikeja.
He added that in September, the probability of having 100mm in one day rainfall is 95 per cent statewide, stressing that the length of raining season is anticipated to vary between 242 to 245 days.
He said the onset of the raining season was anticipated to start in the southern parts of the state from March 31, ending around the November 30 to second of December in areas around Ajeromi-Ifelodun, Alimosho, Amuwo-Odofin, Apapa, Badagry, Epe, Eti-Osa and Ibeju/Lekki .
In his remarks, the Managing Director, Ogun Oshun River Basin Authority, Olufemi Odumosu, highlighted the multipurpose use of dams to include: Bulk Water Supply, Irrigation infrastructure for agriculture, aquaculture cage fish farming, flood control, hydropower generation potentials, transportation, researches and tourism among others.
He mentioned that storm water management could be achieved by
collaboration between the state and Local Government, provision of
infrastructure that can absorb rainwater, reduces stormwater runoff and help to mitigate flooding.
"Interventions are designed to create foodplains and overflow areas for rivers as right of way flood path, because of their significant role in flood
protection, water management and nature conservation," Odumosu stated.