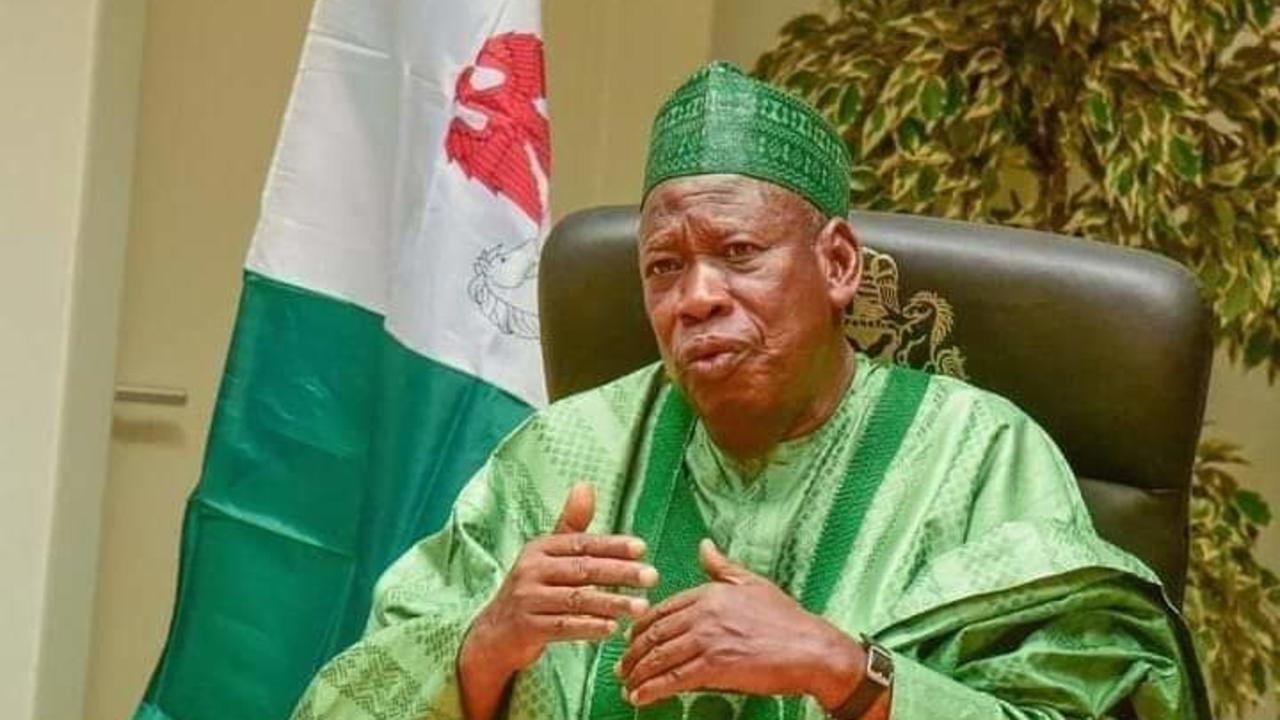 By Abdulmumin Murtala, Kano
The Kano state Governor, Abdullahi Ganduje has handed over to the newly elected governor, Abba Kabir Yusuf leaving behind a debt liability of N241.5b.
The governor who was unavoidably absent and was represented by the Secretary to the state government Alhaji Usman Alhaji presented the handover notes to the incoming Governor Monday morning at the Government House Kano.
He gave a brief breakdown of the report that contained the activities of the state government from 2015-2023 where he narrated how the N241.7b debt liability was accumulated. 
Governor Ganduje said "The expenditure of the state government from June 2015 to May 2023 indicates a total recurrent commitment of N660.3b and the total capital and expenditure of N540.6b and the total cumulative expenditure stands at N1.2trn. 
"There are other MDA's that have significant bank balances. 
"These include Kano Energy and Hydro Power Energy, which has N740m, Kano Energy and Hydro Hydro Power Energy also has N703m while N4b is expected next Tuesday. 
"There is also the Kano State Contributory Healthcare Agency which has N4.3b and then the Kano State Agricultural Company KASCO which has N837.7m.
"The current state debt profile is expressed hereunder, the Kano State Banking Funds Trustees which has accumulated amount of N75.6b for Kano state, it is N9.2b, for local government is N66.3b, that's what gave a total of N75.6b. 
There are also tax deductions, the Pensions Contract Liability which stands at N4.5b. Then the total debt stock, internal and external which stands at N123.3b.
"So the total liability as of 31st December 2023 stands at N241.5b."
Speaking shortly after signing and receiving the report, the newly elected governor Abba Kabir Yusuf remarked that it is disheartening for the outgoing governor Ganduje to have left behind such a liability for the people of the state.
He also gave reason why he refused to have agreed to the handing over by the former Governor, Ganduje on May 28th, saying it would have amounted to illegality going by the constitution of the Federal Republic of Nigeria.
"It is so disheartening to hear that the state government left a debt of over N241b, is so disheartening. Where are we going to source the money? 
"The internally generated revenue is nothing to write home about. 
"I'm sorry, I just have to express that so that the good people of the state will understand our predicaments. 
"The monies that were released or realized by the Kano Internal revenue service is nothing to write home about. 
"Why the use of consultants? So many consultants, as draining conduits of the resources of the people of the state. 
"We are going to look at it. We are going to look at it, I am not satisfied. 
"However, we thank His Excellency the former governor for all the services he rendered to the good people of the state according to his inner thinking" he stated.