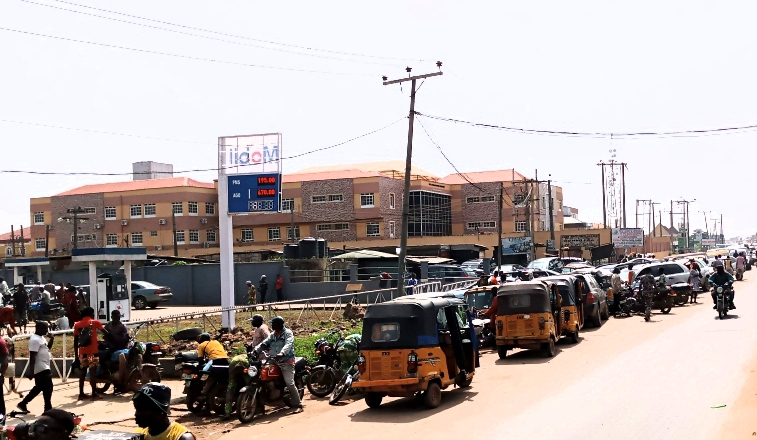 By Akpokona Omafuaire, WARRI
SHORTLY after President Bola Ahmed Tinubu's inaugural speech wherein he declared the end of petroleum subsidy, oil marketers in Warri and environ immediately commenced price hikes and hoarding of products.
Like a meeting of like minds, the marketers in a maddening haze adjusted the pump prices which ranged between N210 to N220 to between N300 in the morning and over N450 at press time.
From Warri to Effurun to Ughelli and Udu areas, the change was spontaneous, making transporters and commuters wonder if there was a hideous agenda.
Our correspondent's investigation reveals that Benjones Station at Oteri was selling at N450 from N300 in the morning, while Eyebira Petrol at Oteri sold at N450, Moonrise Petrol at Oteri sold at N450, Ogbaruemu at Edjophe was selling at N350 from its initial N300 in the morning.
Rainoil Petrol at Agbarho junction sold for N250 in the morning just as Rainoil Petrol at 5 junctions was selling at N450, Ganico Petrol at Jeremi junction sold for N450 while Sagwe Petrol at Otor Udu was under lock and key, Imoni Petrol was under lock and key, Triple Star sold at N450.
Logid Petrol Egini sold for N450, Spiro Bridge also sold at N450, just as Arijoe Petrol, Neopees petrol, Delv Petrol and Dagbeyiwa near Ovwian Police station were under lock and key.
Mr. Moses Kpeku, a Motorcycle Rider in his lamentation said, "Nigeria can not get better, just imagine, the President only made an announcement, the marketers have adjusted prices and making life Hellish.
"The rich will only become richer as the common man is always at the receiving end, which type of wickedness is this?" He queried.
One of the marketers who crave anonymity said, "We adjusted the pump prices up because with this announcement of the removal of subsidy, if we go and buy the prices will be up, so we are trying to raise money for that."
Asked why don't they get the products at higher rates before increasing prices, he stated, "In business, every opportunity counts, I can't miss this opportunity to raise huge profit.
Linus China, a Senior Journalist at Delta Broadcasting Station said, "What is happening is pure "evil" against the peace-loving and law-abiding Nigerians.
Fuel is now 450 per litre @ Conoil Warri/Sapele road beside Hotel The Mark. Overnight they adjusted the pump price on the meter. Transportation has gone up. From PTI Junction to Abraka is now 1500. This is not funny at all."
As at the time of filing this report, the pump price of petrol in Warri and environ was between N400 and N500.