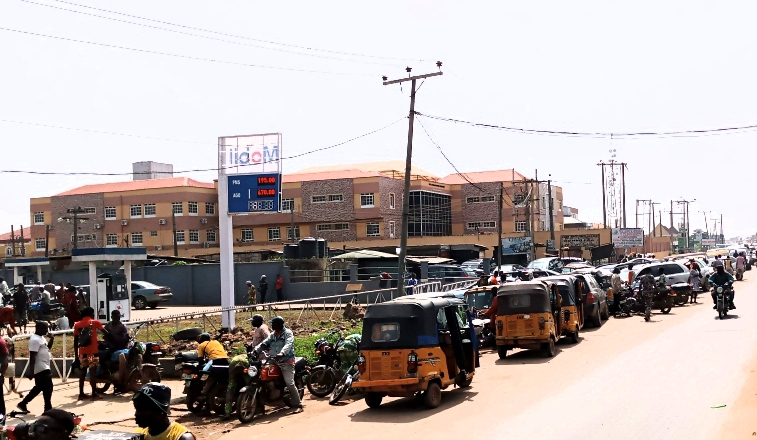 By Demola Akinyemi,Ilorin
Against the backdrop of the ongoing hardship over the purchase of Petroleum products by residents of Kwara state, Governor AbdulRazaq AbdulRahman and the Chairman of Nigeria Governors Forum have warned dealers to desist from hoarding the products and arbitrarily increasing the prices.
AbdulRazaq said he would not condone anyone misrepresenting the good intention of President Bola Ahmed Tinubu and inflicting hardship on innocent residents.
The governor who warned that anyone caught would lose the C of O of the affected Petroleum station said his Deputy Mr Kayode Alabi has been directed to lead the task force that would ensure strict compliance with the directive.
This is contained in a press statement issued by his Chief Press Secretary, Rafiu Ajakaye to journalists in Ilorin Tuesday afternoon.
The statement reads,""The Governor is seriously concerned about reports of sudden fuel scarcity in different parts of the state.
"This is totally uncalled for. He asks fuel marketers to immediately discharge fuel to the public under the normal pricing system since they had bought what they currently have at subsidised rates."
"Creating artificial scarcity amounts to an intentional misrepresentation of the statement of President Bola Ahmed Tinubu, GCFR, on the question of fuel subsidy. The people should not be made to undergo any hardship.
"The Governor urges the marketers to desist from anything that qualifies as economic sabotage of the people. Hoarding fuel bought at subsidised prices and creating panic in the state is opportunistic and will not be condoned.
" His Excellency the Deputy Governor Mr. Kayode Alabi will be leading a task force to ensure that no fuel marketer causes undue hardship to the citizens in Kwara State.
"Fuel stations are to note that the Task Force will dip into their pits. Any filling stations found to be hoarding fuel will have their Certificate of Occupancy (CofO) revoked, among other penalties."