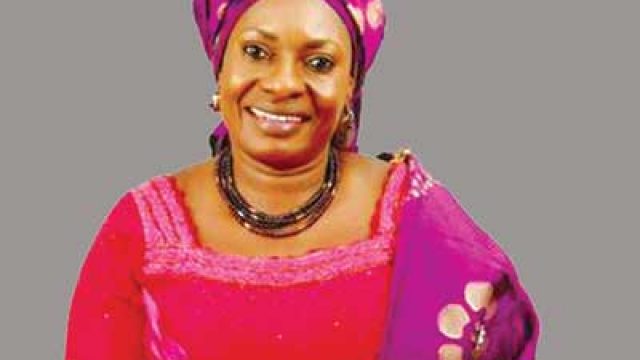 Dame Pauline Tallen
…Says His presidency's divine mandate
By Emmanuel Elebeke
The Minister of Women Affairs, Pauline Tallen has called on the incoming President to engage more women in his cabinet.

She  expressed optimism that the Bola Tinubu and Shettima Presidency would restore peace, unite the country and restore it on the path of growth.

The minister made the call at a one day intercessory prayer  Session organised by Nigerian Women  for Peaceful transition and successful inauguration  of President-Elect, Sen. Bola Tinubu and his Vice, Sen. Kashim Shettima at Women Development Centre, Abuja titled:  Proclaim Nigeria.

The minister, said for Nigeria to have Tinubu and Shettima as incoming President and Vice was a divine mandate that citizens should be proud of, judging by their track record and capacity to lift the nation on the mantra of Renewed Hope.

She urged all Nigerians to stand with them in prayers because the best they can do for their leaders is to support them with prayers.

Tallen also urged Nigerian women to remain resilient in all that they do to support the incoming, who she said is a gender friendly person that would engage more women in governance.
''For us to have Bola Tinubu and his running mate Shetima is a divine mandate. It is God that chooses leaders and I believe God has special task for Nigeria, for bringing these two great men to be the president and vice president of Nigeria.
''I urge all Nigerians to stand with them in prayers because the best you can do for your leaders is to support them with prayers. We don't have any other country but Nigeria and when women gather like this to pray, something positive must happen.
''Nigerian women are raising their voices to pray that peace and unity will be restored to Nigeria, that Nigerians will look at themselves as brothers and sisters, irrespective of tribe and religion.
''I believe that prayers changes things and I stand with Proclaim Nigeria to proclaim a united, peaceful Nigeria and also to proclaim a Nigerian where everybody will feel happy to be a Nigeria. We want a Nigeria where leaders will respect everybody and support everyone.''

''Nigeria women should remain resilient in all that they do to support our leaders.

I want to urge the incoming president who is a gender friendly person to engage more women in governance. Women constitute more than fifty percent of the population and it is women that came out to vote.

 ''Women have paid their dues in Nigeria, I want the incoming government to ensure that they engage more women both in the national state and the local level. Engaging more women is the easiest way to a peaceful and prosperous Nigeria.''

Earlier in her welcome address, the Convener and Coordinator of the event, Amb. Gift Muoneke said the prayer session was  aimed at seeking the face of God  for a peaceful inauguration of President-elect and his vice and for seamless transition from outgoing and incoming administrations.

She said participants were drawn from  all demography and denominations, tribes, and all spheres of life, targeted at supplication to God for a hitch free inauguration  of new administration and progress of the country.

In her remarks, the Director of General of WDC,   Hajia Asabe Bilita said any government that will succeed must stand on God and as such required prayers to achieve its objectives.

She also expressed confidence in the power of women, saying, ''when women come together and cry to God, he hears their prayer.  She urged them to be united in the prayers and also seek the intervention of God for the challenges of insecurity, economic down turn facing the country and for the incoming administration to succeed.
Other Speakers took their turns to encourage the women to be focused in their quest for a successful transition and progress in the country.