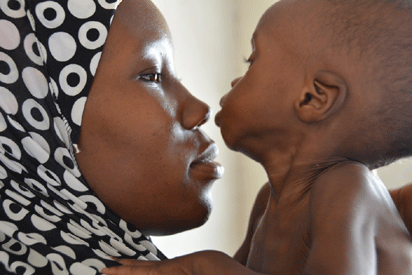 By Sola Ogundipe
Worried by the increasing rate of hunger, malnutrition and lack of nutrients that will aid the mental and physical growth of Under-5 children as well as the Nigerian workforce, stakeholders in the food and fortification industry have called on the federal government to strengthen and enforce the nation's existing food fortification policy.
The Chairman of Senate Committee on Health, Senator Ibrahim Oloriegbe who led the call during a campaign launch and media round table on "Fortification on Promoting Fortification Compliance and Workforce Nutrition in Nigeria", said it is important for the government as well as employers of labour to promulgate or constitute effective policies that would promote and prioritise effective workplace nutrition.
Speaking at the advocacy campaign roundtable, themed: "Fortifying Nigeria's Future" held in Lagos and sponsored by the Civil Society Legislative Advocacy Centre, CISLAC, in collaboration with the National Economic Summit Group, NESG, and E-Health Africa, Oloriegbe observed that Nigeria currently has no mandatory law to compel employers to prioritise the nutrition and feeding habits of their employees.
Stating that only well-nourished workers could constitute an active workforce, he urged employers of labour in Nigeria to prioritise health as well as the eating patterns and habits of their employees, such that there should be at least one meal per day for workers in the workplace.
Calling for overhauling of the nation's existing food fortification policy and laws, the senator stated, "The problem is a combination of inadequate regulation policy and poor compliance. The current policy and laws that we have are not adequate enough to address all the issues.
"We do not have a law yet that says employers must provide good nutrition for their workers, it is just optional now, but workplace nutrition should not be optional. If we want to have productive workers and a booming economy, we have to target the government to institute policies that would promote food fortification and companies must comply with it," he asserted.
Speaking, the Executive Director of CISLAC, Auwal Ibrahim Rafsanjani, said Nigeria is facing a serious nutrition crisis and food fortification is a proven way to improve nutrition and health even as he tasked organizations to take the issues of workforce nutrition more seriously to improve the productivity of their employees by implementing relevant measures.
"Although adults spend more than half of their active hours of the day at work, the workforce is particularly vulnerable to malnutrition. Workers not getting the nutrients they need are more likely to be sick, less productive, and more likely to have accidents. This can have a significant impact on the economy."
Among its recommendations in a communique issued at the end of the launch, participants called for prioritising food fortification across manufacturing processes and production chains through proactive media reportage that promotes well-informed citizens on appropriate food choices.
They said the integration of food fortification into the organisations' policies coupled with targeted sensitisation and awareness at employees' levels is required to activate compliance to workforce nutrition while enhancing productivity in the work environment.
They called for formulation and full implementation of an adequate regulatory framework through proactive legislative process to enforce compliance to food fortification across manufacturing processes and production chains in Nigeria.
They argued for mainstreaming a multi-stakeholders approach to food fortification advocacy through targeted engagement and awareness creation to drive all-inclusive enforcement of food fortification compliance.
On exclusive breastfeeding, they said it must be complied with in the first 1000 days of childbirth to avert pervasive effects of childhood malnutrition and enhance proper cognitive and physical development.