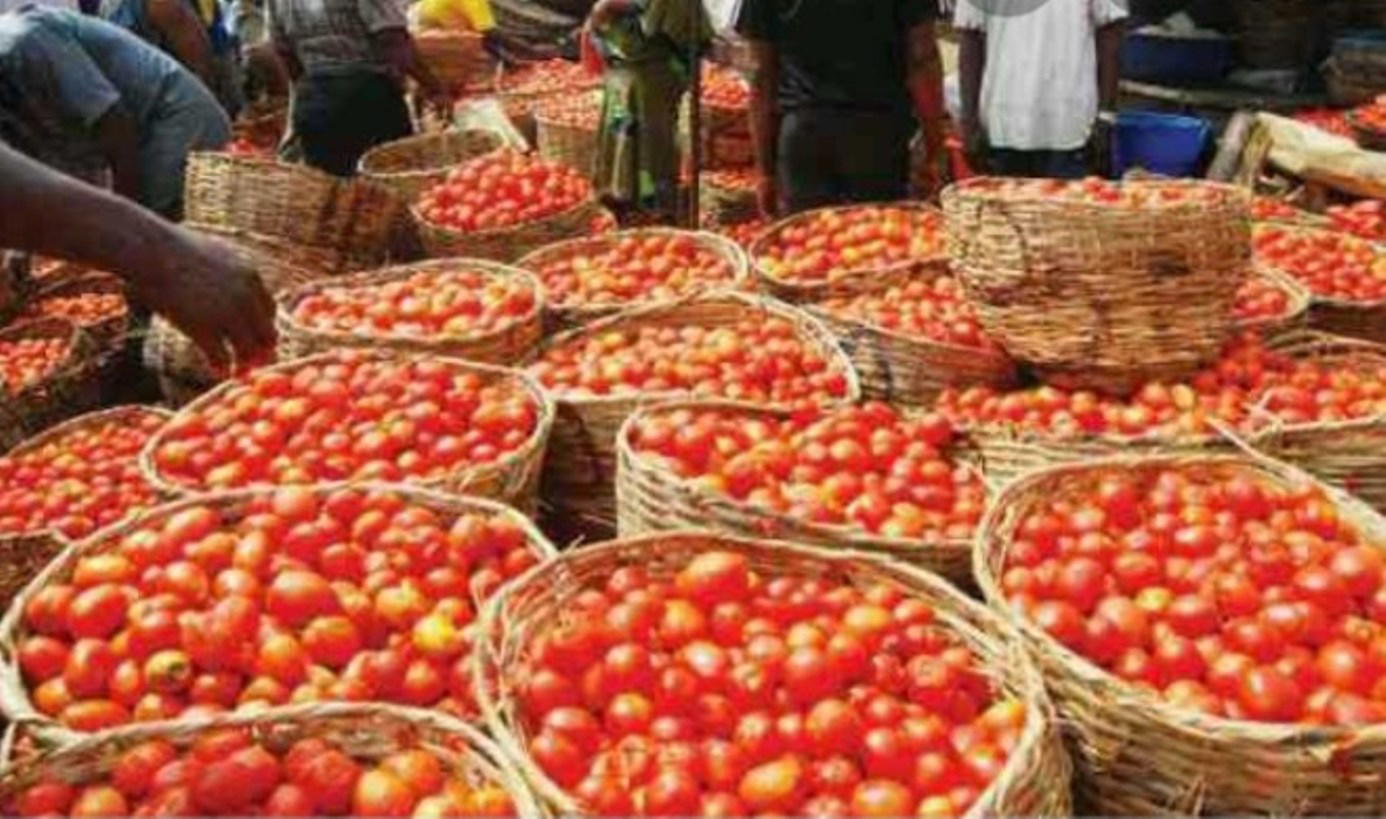 By Gabriel Ewepu
Woes of tomato farmers  in the country were compounded in early period of the dry season as 'Tomato Ebola' struck their farms again after seven years of respite.
In 2016, the outbreak of 'Tomato Ebola', scientifically called Tuta Absoluta, heavily descended on tomato farms in the country, causing farmers to run into heavy losses.
Tuta Absoluta is a family species that is highly destructive to tomato farms, and comes in thousands as they usually devastate farms during the dry season, and no amount of insecticide sprayed can deplete their population. They attack the plant from under the leaves where they perch to do the damage to tomato and, therefore, make it unhealthy for human consumption.
Billions lost
Farmers of the commodity in Kano, Kaduna, Katsina, Jigawa and Gombe States have been hit below the belt as they lament the loss of investments running into billions of Naira.
Farmers, numbering over 500 in Kano alone have lost over N1.5 billion with 300 hectares of tomato farms devastated by the ravaging insects.
Speaking on the plight of tomato farmers, the National Secretary, National Tomato Growers, Processors and Marketers Association of Nigeria, NAPTAN, Sani Danladi, said, "The huge losses by over 500 farmers in Kano is heartbreaking, while we are yet to know how many farmers are affected in Katsina, Jigawa, Kaduna and Gombe States.
"This 'war' is not only for government and farmers but for all Nigerians.
"When Tuta Absoluta enters a farm, it destroys everything there within three days no matter how big or small it is.
"It is very devastating because it destroys all investment in the farm. Looking at the quantum of investing on one hectare of farmland to produce tomato, it costs not less than N1.7 million.
"It is not a small amount of money farmers are losing every year whenever this disease manifests.
"Now 90 per cent of tomato in Kano is gone because of the Tuta Absoluta devastation because it is different from caterpillars; this one is very devastating as you can't eat it because it is dangerous to human health."
Price hits rooftop
Some markets in Abuja and across the country have witnessed high cost of tomato following the outbreak of the disease that has created gradual scarcity.
President of the National Tomato Growers, Processors and Marketers Association of Nigeria, NAPTAN, Sani Danladi, explained, "Tuta Absoluta does not occur early in the season but when temperature rises to high degrees and that is why some farmers are afraid in going into late transplanting of tomato.
"From January to March, tomato is very cheap in Nigeria but from April upward it becomes very scarce because farmers are afraid of doing late transplanting.
'"This year more than 300 hectares have been destroyed by this disease which affected more than 500 farmers only in Kano State, but also affected farmers in Kaduna, Katsina, Jigawa and Gombe States, and we are still collecting the data from the remaining states, and that is why tomato is very scarce now."
Move to stop spread
The Federal Government, Nigeria Agribusiness Group, NABG, Hort Nigeria, Nigerian Horticultural Research Institute, NIHORT, Sygenta, International Institute of Tropical Agriculture, IITA, and others have collaborated in combating Tuta Absoluta.
They made their resolution known during a press briefing put together by Horti Nigeria and supported by the Netherlands over the ravaging insects.
Speaking during the press conference, the President, NABG, Emmanuel Ijewere, said stakeholders had declared total 'war' on the insects.
Ijewere pointed out that the worrisome development could not be left alone for the farmers as his organisation was organising a stakeholders' meeting to address the challenge, because it is the farmers who are the major sufferers and not even the processors, in the sense that they have invested heavily in their farms for tomato production.
He said: "Tuta Absoluta is an insect that have ravaged tomato farms and what we have discovered is that the insect is very devastating to tomato and is so smart.
"The insects have decided to build their homes under the leaves and when the insecticide is sprayed it doesn't affect them.
"Affected states are mainly Kano, Kaduna, Katsina and Gombe, but the insects don't need visa to go to any other state as far as the conditions are right.
"Climate change has enhanced the movement of pests around the field; the warm environment helps them to spread wide, increased humidity allows these pests to thrive, hence the new outbreak of Tuta Absoluta.
"It was many years we had it and it was very devastating. We had a break because of climate change, we now have an environment conducive for them and they are attacking us when our economy is so weak.
"We are glad to have the Federal Ministry of Agriculture and Rural Development here and we are working together to solve this problem.
"The bottom line is that the biggest sufferers are farmers who are already in trouble, and they have invested in buying inputs, and it is time to harvest and there is nothing to harvest.
"It is 'war' we are going to declare against these insects and all of us here will be providing the 'weapons' to achieve it."
Also in a remark, the Director, Horticulture, Federal Ministry of Agriculture and Rural Development, Dr Deola Lordbanjoce, explained, "This current crisis with Tuta Absoluta started from a local government in Kano, Galama. 
"When it was reported we started our investigation and we found out that about 300 hectares in that local government alone were affected by this infestation.
"And from our end we need to look into the economics of what we are talking about. Then we got to know economically that farmers in that local government arising from the infestation of Tuta Absoluta may have lost about N1.3 billion.
"We are working in collaboration with the National Tomato Growers, Processors and Marketers Association of Nigeria and investigating what is happening in other states, and we have our records already and we are working on two things; the Ministry is convening a stakeholders' meeting, which may be merged with what NABG is planning.
"Number two, the Ministry is sourcing for funds seriously and interventions to solve critical problems of Tuta Absoluta and we are making some money available to NIHORT to produce the hybrid seeds they just developed and to procure some IPM packages to control Tuta Absoluta.
"Our tomato need as a country is about 5.4 million metric tons and we cannot meet the 1.3 million metric tons deficit, and now that we have Tuta Absoluta, that means the deficit will rise to 3 million metric tons and that is a crisis if that is allowed and will aggravate the cost of purchase by consumers, which will indeed go high."
 The Executive Director and Chief Executive Officer, CEO, NIHORT, Dr Mohammad Attanda, represented by the Head, Biopesticide Center, NIHORT, Oladigbolu Abiola, recalled that in 2015, the pest caused monumental destruction and disruption of the tomato value chain.
He added: "The sole dependence on synthetic insecticides for the control of Tuta has resulted in development of resistance-a change in the sensitivity of Tuta population to synthetic pesticides, resulting in the failure of a correct application of the pesticides to control Tuta as is being experienced now, hence aggravating outbreaks whilst the food security of the nation is threatened."
Meanwhile, recommendations made by the NIHORT boss include: Federal Ministry of Agriculture and Rural Development should incorporate NIHORT sustainable Tuta Integrated Management Package for tomato production in the national tomato policy to stem the tide of this occurrence; farmers should strive to adopt the planting of NIHORT's 3 recently released tomato seeds bred for high yield, tolerance to fusarium, good shelf life and nutrition qualities.
The Director General, DG, NABG, Dr Manzo Maigari, recalled that in 2016 and 2017, the level of Tuta Absoluta's devastation reached an epidemic level, but NABG along with other partners proffered some solutions.
"Today it (Tuta Absoluta) is back and we have to call on these major stakeholders to come together so that we can agree on the way forward", Maigari said.
"We have also seen the entrance of a new stakeholder, Horti Nigeria, funded by the Dutch government, and they also have a regime of practices that has proven beneficial to farmers because, in the clusters that are managed by them so far, there is resistance by the Tuta Absoluta.
"Therefore, this adds to the bouquet of solutions we want to present to farmers so that the whole thing will have an integrated approach".
The Programme Director, Horti Nigeria, Mohammed Idris, said, "We will work with farmers and agro-dealers, showing techniques and technologies needed to combat this all but disastrous pest."