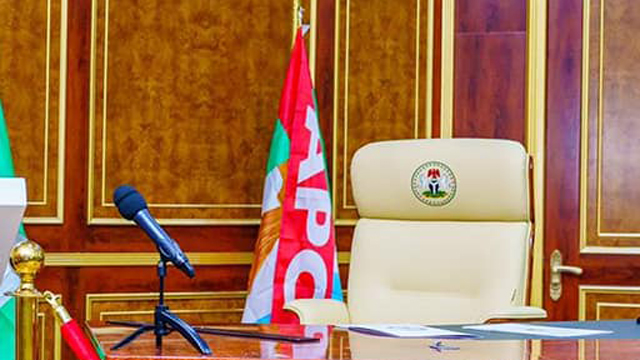 G7 aspirants woo opposition members-elect
By Dayo Johnson, Regional Editor, South-West, Dapo Akinrefon, Levinus Nwabughiogu, Omeiza Ajayi & Ezra Ukanwa, AKURE
Plans by the ruling All Progressives Congress, APC, through its National Working Committee, NWC, to impose leadership on the 10th National Assembly appears to be creating more problems for the party, as some of the lawmakers have called for an open contest and squaring up to confront the party.
This came as the controversy generated by the zoning formula put forward by the NWC is tearing the party apart.
Some aggrieved speakership aspirants, yesterday, told the National Chairman of the APC, Senator Abdullahi Adamu, that he betrayed them after asking them to 'slow down' their campaigns and give room for consultations.
However, the APC has appealed to aggrieved aspirants and tendencies to give the party more time to address their grievances.
On Monday, the NWC zoned the Senate Presidency and Deputy Senate Presidency to South-South and North-West and adopted Senators Godswil Akpabio and Jibrin Barau. It also zoned the Speakership and Deputy Speakership to North-West and South-East and chose Tajudeen Abass and Ben Kalu for the slots. The party said those selected were also the choices of President-Elect, Asiwaju Bola Tinubu.
Governor, Oluwarotimi Akeredolu, of Ondo State yesterday, picked holes in the zoning template, saying it is unworkable because it reinforces injustice and inequity by excluding the North-Central zone.
He urged the NWC to convene a meeting of the National Executive Committee, NEC, to redress the issue.
This came as some Senators-elect and Reps-elect took steps to ensure open contests while rejecting Akpabio and Abass.
Indeed, some of the speakership aspirants, known as G7, who dismissed the zoning template as a 'Lagos Affair,' have started wooing the 181 opposition parties' members-elect with the deputy speakership and headship of 'juicy' committees.
Conversely, the Speaker of the House of Representatives, Mr Femi Gbajabiamila, has also met the "Joint Task" group, and some APC loyalists to back Abass, who on his part is reaching to out to other aspirants.
Senators-elect, Reps-elect move for open contest
On the heels of the zoning template, some Senators-elect and Reps-elect have called for an open contest to determine leaders of the legislative arm of government.
This came as seven speakership aspirants who formed the G-7 have reached out to other opposition lawmakers-elect.
The G-7 aspirants equally dangled the position of Deputy Speaker and juicy committee leadership positions to the opposition lawmakers-elect if the plan sails through.
The move by the G-7 aspirants is said to be unsettling the party leadership.
Zoning seen as a Lagos affair
A leader of the party told Vanguard that those opposed to the zoning formula are calling for an open contest.
The source said: "The verdict by aspirants is there should be an open contest. As far as the House of Representatives is concerned, the zoning will not stand. Look at Akeredolu's statement. If a governor is coming out, that means the governors were not consulted. Some NWC members were also not consulted. The whole thing has thrown people into confusion.
As far as we are concerned, the President-elect, Tinubu does not know anything about it. The whole thing should not be a Lagos affair because some people are trying to impose National Assembly leaders on the party."
G-7 Aspirants' proposal to opposition members-elect
On the deal to produce the deputy speaker and get juicy positions, a member of the opposition members-elect said: "The stage we are now calls for smart moves and we will not miss any of such chances and opportunities. As we speak, we are in serious discussions and negotiations with the aggrieved aspirants for the speakership.
"You know they are APC and we belong to the opposition group. But the good thing is that they have individually discussed with us and committed themselves to ensure that there is give and take for anyone finally endorsed by the aspirants to emerge as their consensus candidate. I know they are working hard on that.
Move against APC zoning
"But I can tell you that the consensus as we interacted with the aspirants is for us in the opposition to produce the deputy speaker, get some grade one committees to head and ensure there is a standing mechanism for a robust bipartisan relationship.
"I can tell you frankly that there is no way the purportedly endorsed candidate, Abbas, will emerge because we have made up our minds to go against whoever the APC endorses. The only way we in the opposition can have some strength in the incoming government is to have an alliance with some power blocs. We thank God nature has created the opportunity."
You betrayed us, Wase, others tell Adamu, NWC
Meanwhile, Deputy Speaker of the 9th House of Representatives, Idris Wase, yesterday, stormed the 'Buhari House' national secretariat of the party alongside fellow contestants. Wase's convoy got to the secretariat around mid-day and went straight to the office of the APC National Chairman, Senator Adamu.
Aside Wase, other contestants with him were the Chief Whip of the House, Alhassan Doguwa; Chairman, House Committee on Appropriation, Muktar Betara; Yusuf Gagdi; and Aminu Sani Jaji. Now known as G7, other members of the aggrieved aspirants are Mr Sada Soli and Princess Mariam Onuoha.
Wase tackles Gbaja
Speaking at a meeting with the Adamu-led NWC, Wase said incumbent Speaker, Gbajabiamila cannot alone be saddled with the responsibility of producing the speaker and deputy speaker of the 10th House of Representatives.
Wase also accused the party leadership of betraying other contestants, having initially asked them to slow down their campaigns and give room for consultations.
Addressing the NWC, Wase said: "You would recall at one of the meetings, Your Excellency, where you summoned us to the Villa and the vice president was there. You told us to step down, wait for a zoning arrangement. While doing that, as politicians, of course we had to slow down but continued the fight because everybody stands to showcase and ensure that he gets the favour of our colleagues.
"Some of us have tried also to reach out to members of the NWC to express our aspirations. We may not have reached all, but we will also try to do that and we have tried also to reach out to all or most critical stakeholders around the country to ensure that we have the buy-in of our leaders.
"But unfortunately, Your Excellency, when you told us to slow down further, we will go for the supplementary election of the governorship, so that the party will not be distracted and thereafter, that there will be another meeting that will be convened. That meeting didn't come to fruition with us. What actually happened was that those of us, who are here aspiring, were not called for that meeting.
"What was on social media, again, was the zoning and the micro-zoning to particular individuals to say these are the people that have been picked by the party. As I speak to you sir, I want to say categorically that none of us here was approached or consulted to get our opinions and thoughts on what was going to be done or what has happened.
Betrayal
"That is the crux of the matter and we feel betrayed by that action. We feel that our contributions are not recognised, we feel as if we are not members of this family. We feel that we have given our best but now the best is no longer needed.
"Unfortunately, among the criteria that were used for the emergence of the persons is the number of bills. We don't know when the National Assembly has turned to that. We don't know when such criteria had been set.
"It may interest the chairman and members of the NWC while we are doing the campaign an attempt was made by the Speaker (Gbajabiamila) to call us. We respectfully went there, we sat and when he said he wanted us to come up with a consensus and build with him. We said 'yes, fine, we are willing to do that.' We took pictures we sent to the world and we agreed.
"But after that meeting, there was another meeting and in that meeting, I made bold to tell the speaker, 'we are told you are rooting for this particular person' but he swore to us and swore to God that it was not so. I said, 'no, it is in the public domain'. He said, 'no, it's not true.'
"The Speaker, alone, cannot produce speaker, and deputy speaker. I came into the National Assembly in 2007. By the grace of God, I am into my fifth term. I came in as a member of AC to ACN and now APC. I have run election on opposition without governor, councillor, nothing, no assistance. And I think I have seen it all in terms of resilience and they say perseverance conquers difficulty. We have persevered to keep unity.
"I want to tell this congregation about what I asked the speaker in one of our meetings with him. When the whole team was released, he came to us, he came to my house. I said 'What makes you think that what you have done will stand the test of time?
"I think I am a better person in touch with leaders of the Asiwaju family because I came under AC from 2007 until when we had the merger. I have served you as deputy leader of the House, now serving you as Deputy Speaker of the House. If you are going to do anything, what makes you think that we are not qualified? And if you're going to look sideways, what makes you think Ado Doguwa is not qualified? Having served us as Chief Whip of the House for four years now, Leader of the House for four years, and then you think hierarchy can be destroyed? Not in parliamentary practice. It's never done anywhere'.
"And I said to him, 'you are misleading our leader because the leader we know is not what you are trying to show and I am referring to the President-elect. And I don't want to believe till this moment that the President-elect is the one behind this. I don't want to believe it. And I said to him, 'you're going to do this, you have the Chairman of Appropriation in ranking after the leadership. You (Adamu) are a senator and so if you are doing that, what is making you think that you cannot go and pick Betara? Did you work and succeed only as a person, Femi Gbajabiamila? It is because we are able to stomach a lot of things that we didn't allow the House to go into rancour. So, we have sacrificed. We have worked assiduously for the party.
"We are here to protest and to appeal to you to go again and look into this matter, that what had been pushed out will not stand. We are disciplined party people. I have demonstrated that when, in 2019, I was going in for speakership, I was pretty sure I was going to win. Leaders of the party called me including the president and appealed to me to step down for Gbajabiamila. I did that and that was how I came in to take the position of deputy speaker. I want to say that with what has happened, I think that they are taking us for granted.
"Why are we having lopsided distribution? Is it because those of us from North-Central are taken as slaves? Four years is not too much, let us not destroy this party before we go into the next election.
"We do not want a repeat of what has happened in the past. We should not forget about the Tambuwalization of the House of Representatives. We should not forget about how Saraki became the Senate President. The party, as of today, does not have the majority to be that arrogant."
S'South Senate Presidency may not work —Betara
On his part, Betara called for more consultations, recalling how Tinubu prevailed on him in 2019 to step down for Gbajabiamila to become speaker.
Betara said: "I have been in the National Assembly. We came in with the deputy speaker in 2007. We have been in the House for 15 years and in the last House, I was to contest with the current speaker. I was called by the President-elect (Tinubu), he told me 'I want you to allow Femi to be the speaker because Femi is retiring from the National Assembly.' From there we moved on to support Femi to become the speaker. After our election in the 9th Assembly, the President-elect still called me and said, 'Betara, I want you to hold the House for Femi.'
"We are not against our leaders but there is no time, two presiding officers are zoned to one area. It has never happened. On our inauguration day, it's what happened in the Senate that will determine what is going to happen in the House. So, we need to sit down and look at it. We might produce the Senate President from a different zone. It happened in 2015. So as a party, we are pleading, we need to sit again with all of us and do more consultations."
Give us more time —Adamu
Responding, the APC national chairman said that there was no formula the party would come up with and that there would be no protests. However, he requested more time for further consultations.
Explaining what he meant by asking contestants to slow down, Adamu said the meeting at the Presidential Villa was never about zoning, hence he needed to restrict participants to the subject matter.
He said: "We have listened to you, we don't intend to open discussions right now with you in respect of your submissions until we agree we are going to change. If we don't agree, we would not change. Like some of you who listened to a release from this office, we did say very clearly, that we would endeavour to do more consultations so that we can carry with us a greater number of the members of the great party. There is nothing we do that may not be challenged here and there but let us be able to attempt the best possible to consult with people, giving them their right to a fair hearing before we can say whether we are changing positions or not.
"I plead with you in good conscience to give us a little time to take a good and better look at your presentation and open our ears and our eyes more to hear more and see more before we can have a final outcome.
"This is a controversial subject matter. In every National Assembly regime, there has always been controversy. We lost time because we could not talk about sharing power in the National Assembly without our President-elect. So, I assure you we will do all the consultations and we will get back to you."
Zoning formula unworkable — Akeredolu
Kicking against the zoning formula, Akeredolu, in a statement, said: "Aside from the unpretentious ambiguity in the purported press statement issued by the leadership of the APC, the contents, intentions and motives of the zoning formula represent early signs of steps aimed at attempts to cabin the hard-earned Presidency for our leader, Asiwaju Bola Tinubu by a few individuals with eyes on Aso Rock power buttons.
"It is trite to aver, that, it stands logic on the head that one geo-political zone, North-West in this regard, will be favoured with two presiding officers out of four while North-Central suffers the consequences for its innocence and shrewd loyalty by having none.
"It is an insidious permutation that North-East will be deprived in the face of the unsavoury generosity dispensed through two slots to a particular geo-political zone.
"The move to zone the National Assembly leadership positions on the behest of interested personalities with perceived closeness to the President-elect manifesting, lays the dangerous foundation of distrust, needless suspicion even as it structures nothing but a combination of booby traps. We must avoid all these.
"Furthermore, it strikes a huge ingratitude that the role of the Progressive Governors Forum appears unimportant. As leaders of the Party in their respective states, there cannot be a greater disservice to them that a consensus was yet to be reached when the NWC hurriedly released a dangerous tool for the opposition in the guise of a zoning formula. To me, even on this note, it's unacceptable.
"Does it not also exude a serious discomfort that the aspirants to the Speakership were not consulted, approached and effectively engaged before the purported zoning formula? It does, and clearly so.
"It is in this regard that I salute the courage of the Speakership aspirants for their show of solidarity, companionship and applaudable love for the party in their rejection, resentment and objection to the brazenly tele-guided zoning arrangement that is skewed and targeted against some zones and identified individuals.
Their action is commendable just as they are urged to ensure they pursue this to a logical conclusion. This is an unworkable arrangement that reinforces injustice and enhances inequity; and I join them in rejecting this zoning formula.
"I call on the NWC of our great party to follow the path of purity and justice. It is perhaps expedient that Mr. President-elect interrogates this skewed arrangement and give direction that reflects our collective commitment to equality and fairness.
"In this particular case, and for the purpose of avoiding a repeat of untoward situations, it is advised that the APC NWC immediately summons the National Executive Committee, NEC, after robust National Caucus/Stakeholders parley to agree on terms that would strengthen our great party."
I'm reaching out to other aspirants for support—Abbas
Meanwhile, Abbas has given a hint of mending fences with co-contestants for support even as he said he was the most suitable for the job.
Speaking at a meeting of a group of members-elect called "Joint Task 10th Assembly, a pressure group which had the imprints of Gbajabiamila to amass support for APC nominees, Abass said he was already reaching out.
Abass said: "I feel elated. I feel inspired because I believe that if the party is going to use competence as its yardstick, I'm the right person to actually be picked. So for the fact that they did what I expected they would do, I feel very elated and satisfied.
"We are reaching out to them. We are in the process. We have reached out to so many, and we will continue reaching out to all of them. Before the end of next week, I assure you, we will reach out to all the candidates.", all the aspirants, we will implore them and ask them to come on board so that we can work for the good of the institution and Nigeria."
My adoption will change S-East — Kalu
Also speaking, APC deputy speaker nominee, Kalu said that his nomination will change the political firmament of the South-East where he hailed from to give his party the needed support to succeed.
"I feel good. I feel highly elated that my party considered me to go for this position, so I feel good about it.
"The party has started the strategy for the 2027 elections by making sure they have a foot in the Southeastern region."