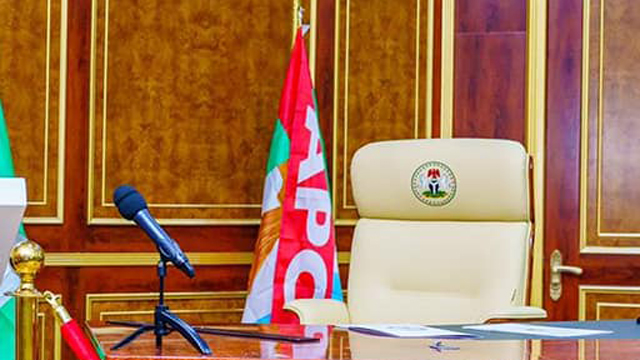 By Bashir Bello, KANO
As the reaction continues to trail the choice of leadership of the 10th National Assembly, a support group known as Tinubu/Danmodi Support Organization has backed the zoning arrangement by the All Progressive Congress, APC, saying it is constitutional as it provides for candidates to emerge through consensus.
Recall that the APC's National Working Committee, NWC has zoned the Senate President to South-South, Sen. Godswill Akpabio, Deputy Senate President to North-West, Sen. Barau Jibrin while it zoned the Speaker to the North-West, Hon. Abass Tajudeen and the Deputy Speaker to South-East, Hon. Ben Kalu.
The Pro-Tinubu group in a statement issued to newsmen by its National Director General and Senior Special Assistant to APC National Youth Leader on Youth Empowerment (North-West), Pharm. Ahmed Gana Mohammed said the arrangement was done in the best interest of the party.
Mohammed however, described those against the party's zoning arrangement as not progressives.
According to him, "the National Working Committee, NWC is responsible for the administration of the party and putting into effect the decisions of the National Executive Committee (Section 13.4 APC Constitution).
"The constitution of APC is supreme, (Article 2(I)). The arrangement is constitutional as section 20.2 (ii) provided for candidates to emerge through consensus for an elective position, so we believe the zoning arrangement is in the best interest of the party.
"We therefore wish to unequivocally state that we are fully in support of the party's arrangement. Other members of the party are also free to express their feelings as we did.
"We are aware that some members are not comfortable with the NEC arrangement, but they have not given us any tangible reason to question the zoning arrangement of the party. Their agitation rather, has succeeded in making us conscious that within the party and in high places, there might be some elements that might not be progressives.
"Those who decided to go against the party's zoning arrangement and question the arrangement are flashing the card of number of voters from some part of the country.
"We have vested interest in who eventually emerges as the President of the Senate, the Speaker of the House of Representatives and the speakers of the house of assembly of our respective states, because we have invested time, resources and laboured for the emergence of the Executives, which constitute one of the arms of government and also the representatives of the people as legislatures of which our party, the APC had the majority and also for the continuation of APC as the ruling party, so we cannot sit back and watch some people rob us of our success and renewed hope of progress by derailing the party from the party of progress due to their individual or collective wishes.
They should know that no individual or pressure group is greater than the party," the group's National Director General, Mohammed however stated.