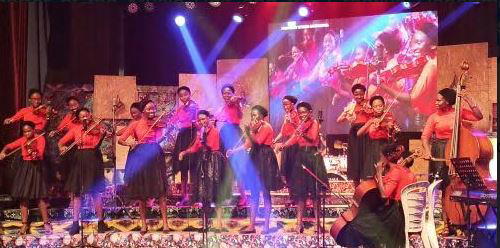 The Heavenly Strings Orchestra of MFM performing African praises and contemporary songs on western musical instruments.
By Osa Mbonu-Amadi, Arts Editor
The department of Creative Arts, University of Lagos, on Tuesday, May 16, 2023, hosted the 10th Intercollegiate Choral Festival titled 'Africa Sings 10'. 'Africa Sings 10' was held at the fully-packed JF Ade Ajayi Auditorium of the University of Lagos, UNILAG, before a large audience comprising classical music lovers and practitioners from universities across the country, journalists and other members of the society.
The 10th Intercollegiate Choral Festival was devoted to celebrating the choral compositions of a great alumnus of UNILAG and benefactor of the department of creative arts, Professor Daniel Kolawole Olukoya, General Overseer of Mountain of Fire and Miracle (MFM) Ministries Worldwide.
In his welcome address, Prof. Albert Oikelome, director of programs described Prof. Olukoya as "an internationally renowned musicologist, a great academic, a scientist, creative writer, man of God with distinction, an amazing philanthropist, and a great Akokite" whose influence to the development of music in Africa over the years has been exceptional.
Prof. Oikelome explained why Prof. Olukoya has continued to be honoured: "Why shouldn't we, for a man who has demonstrated unwavering affection for the nation's musicologist? For one who is dedicated to furthering our cause as artists even when others choose to ignore us. For someone who has shown in word and deed his wish to ensure that wonderful music is experienced in the "now" and the "years to come", not just in "ages past."
"For a man who is so enthusiastic about the growth of music among young people, especially the Genzys, our generation next! Exactly why not? When we witness grace and great success, we celebrate it. And there is one right here in the building! We are here to perform just a few of his over 200 music composition!"
The evening began around 3.30 p.m. with an opening performance by Adeyemi Taiwo Deborah. Backed up by two females and one male singers, Deborah sang an inspiring worship song she titled "Ese Jesu".
Following the scheduled programme of event divided into part A, B, C and D, the Unilag Choir 2 took the stage to perform "Unilag Pray: Thou O Lord" by Lisa Ireland, arranged by Bredley Knight. The National Anthem/Unilag Anthem led by Titilope David was performed. Then came the first performance of D.K Olukoya's composition, a congregational hymn titled "Mo Gb'oju Le Jesu" led by Titilope David and Adedaramola Olaore.
In part B, the University of Ibadan Choir performed "A Prayer for Nigeria", an adaptation of S.A. Anthem, arr. by Tolu Owoaje, and "Ekiti Medley" by D.K. Olukoya.
Other universities performed in the following order: University of Jos Choir: "Ekun Mi Yio Dayo" by D.K. Olukoya, arr. by Bi Gwan'de; Obafemi Awolowo University Choir: "Agbara Olorun by D.K. Olukoya, "Hadzidzi Nu Gae" by N.Z. Nayo; Lagos State University Choir: "Igba mi D'owo re, Oluwa" by D.K. Olukoya, and "Wa Gbo'gbe wa Baba" by David Aina (Solo by Bolu Lawal).
There was an intermission during which the group, Beulah Quartet and The Heavenly String Orchestra put up such electrifying performances that sent the audience wild.
In part C, the University of Lagos Choir 1 performed "Ona Toro" by D.K. Olukoya, arr. by Ayo Oluranti, and "Abu Umu Zayon" by Onwugbuya Charles (Solo by Anyanwu Francis); Mountain Top University Chorus did "Olorun Maje nri Ogun" by D.K. Olukoya, and "Ose O Jesu" by Ayo Oluranti; University of Port Harcourt Choir performed "Pidgin Medley" by D.K. Olukoya and "Ibike" by Derrick Esezobor, edited by Laz Ekwueme.
The University of Lagos Choir 2 returned to perform "Yungba Ka'aiye Ko Yemi", arr. by Ike Eseka. Finally, a mass choir performed "Halleluyah Ogun Se" by D.K. Olukoya, arr. by Ayo Oluranti and conducted by Prof. Albert Oikelome.
In her vote of thanks, Kachi Ige, Chairman, Africa Sings 10, said: "The choral festival is the brainchild of Prof. Albert Oikelome. Professor D.K Olukoya is honoured this year for being a huge supporter of the Music Unit and the Creative Department in the University of Lagos. He has written so many wonderful chorales that we have been using in school for some of our works and he is such a philanthropist. This year, we decided to put him in the spotlight and showcase his works."