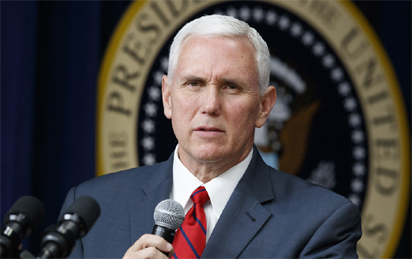 Pence
By Biodun Busari
Former Vice President of the United States Mike Pence may declare his intention to run for the office of the president in 2024 by June.
Pence, an ex-vice-president to Donald Trump has been moving towards a run for months, releasing a memoir, visiting early voting states and establishing a political staff, the Guardian UK said.
"I think if we have an announcement to make, it'll be well before late June," Pence said on Saturday at an event in Clive, Iowa, staged by the Faith & Freedom Coalition, a rightwing non-profit.
He added, "Anyone that would be serious about seeking the Republican nomination would need to be in this contest by June.
"If we have an announcement to make it will be well before then."
Pence must perform a balancing act, distancing himself from Trump, the rival candidate whose supporters chanted for Pence to be hanged when they attacked the US Capitol while announcing their feats together in the office.
In March, in perhaps his boldest break from Trump, Pence told a Washington dinner: "President Trump was wrong. I had no right to overturn the election, and his reckless words endangered my family and everyone at the Capitol that day, and I know that history will hold Donald Trump accountable."
Pence said, "I would tell you that I'm very humbled by the encouragement that we're receiving. And I promise when we have something to announce, you'll be among the first to know."