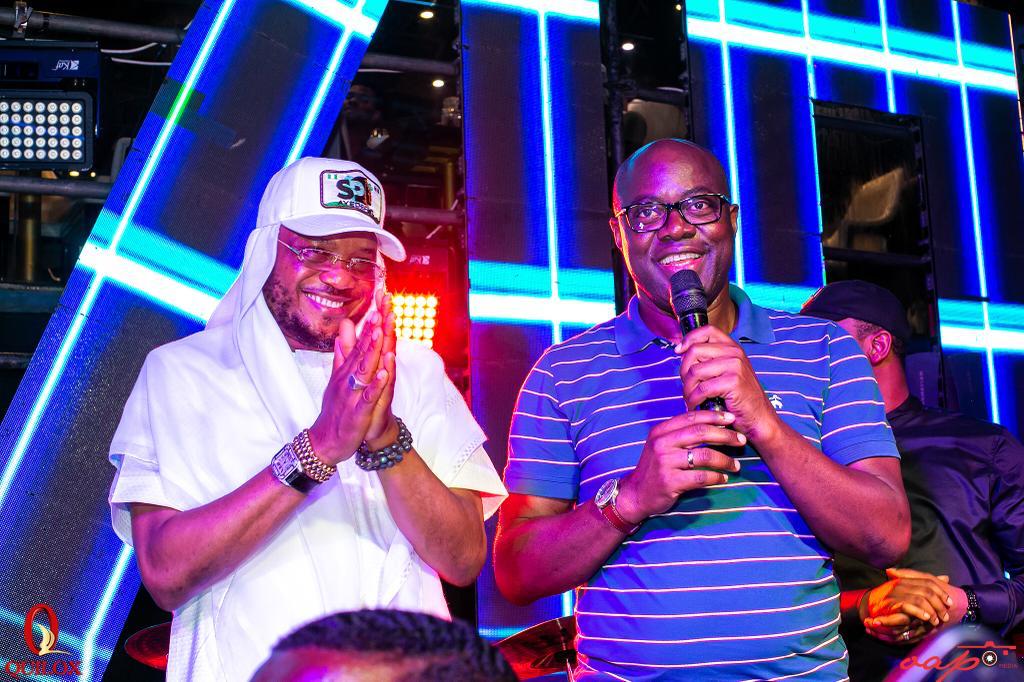 By Ayo Onikoyi
Oyo State governor, Seyi Makinde, music executive Bankuli were among top dignitaries present at the 10th year anniversary of popular Lagos night club, Quilox, on Friday night.
Makinde who was dressed in a stripe blue shirt and jeans declared the 'season 10' of the club open to the public while giving his speech and assuring that entertainment/tourism would be a major part of his second term in office.
"This is the beginning of the 10th season and also the 10th year anniversary. It is my pleasure to come out this night and mingle with you, for Honorable Shina Peller and the Quilox team. You know they always say if a business venture crosses the five year mark that business will go the whole odd so I looks forward to being around of Quilox for 20/30years of existence," said Governor Seyi Makinde.
"Under Omituntun 2.0 tourism is actually a major pillar to expand our economy. As you are all here some of you will spend wether N1000 or N2000 and that is keeping this place growing, keeping the economy, it's keeping Lagos state growing and also putting Nigeria on the world tourism map."
During his speech, the chairman of Quilox night club, Honorable Shina Peller thanked the staffs and management for holding firm the standard of the club and keeping it running while he focused on other businesses for four years.
"I welcome the esteemed customers of Quilox that have been with us from day one till this day and the ones that joined, members of management of Quilox, staff, gentle men of the press and everyone present to this auspicious event. It has become a tradition for Quilox to operate in seasons. The end of every season is the beginning of Ramadan and the beginning of every season is the end of Ramadan. I am not a religionist but I just try as much as possible to kill two birds with one stone because I believe that for Quilox to sustain its position in the nightlife industry we have to learn, unlearn, relearn go back to the drawing board, make sure the place is conducive for the customers and also offer excellent service and I believe that that one month break will actually give us the opportunity to go back to the drawing board.
"Today is the beginning of season 10 which is a huge milestone in the nightlife industry. I remember when I wanted to start Quilox a lot of people said it would die in six months but it's 10years now and still going. I say thank you to the members of staff and customers of Quilox."