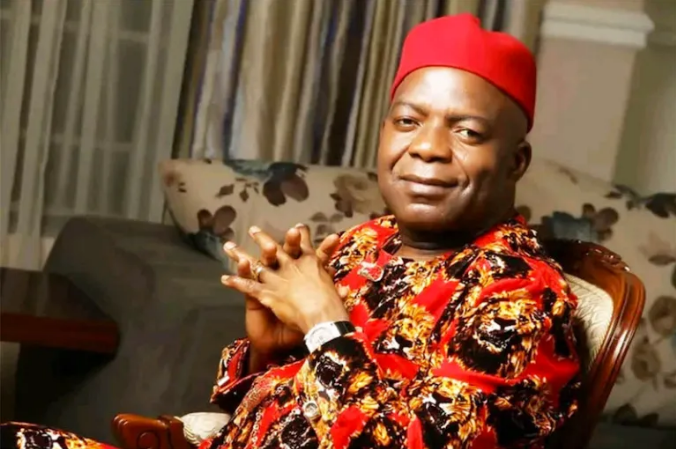 By Paul Mbagwu
Dr. Alex Otti is an economist, ex-banker, investor, philanthropist, and politician, who is currently the Governor-elect of Abia State in Nigeria.
The Labour Party (LP) candidate won the state's governorship election held on Saturday, March 18, after defeating his closest rival, Okey Ahiwe of the Peoples Democratic Party, PDP.
According to the Returning Officer, Professor Nnenna Oti, the Labour Party candidate polled a total of 175,467 votes to beat his main challenger, Ahiwe of PDP, who garnered a total of 88,529 votes.
Otti's emergence as the Governor-elect has been described as a big relief that would bring a new dawn to the state.
His triumph hailed by many as divinely inspired emerged from stiff opposition and obstacles mounted by the ruling party in a struggle he got into for the liberation of the state in 2015.
Otti first contested on the platform of the All Progressive Grand Alliance, APGA, and was declared the winner before the judiciary handed the baton to the outgoing Governor Okezie Ikpeazu of the PDP.
Otti ever so determined tried his luck again in 2019 but lost a second time to Governor Ikpeazu.
Dr. Alex Otti, a celebrated banker of exceptional intellect, hails from the Isiala-Ngwa South Local Government Area and had his secondary school education at Ngwa High School, Aba, and Secondary Technical School, Okpuala Ngwa in Abia State. After his secondary school education, he graduated with a First Class Honours degree in Economics in 1988 from the University of Port Harcourt. He also earned an MBA degree from the University of Lagos in 1994.
At the University of Port Harcourt, Otti was the best graduating student in the Department of Economics (1988 class), winning the subject prize. That year he was also the best-graduating student in the faculty of Social Sciences which earned him the Dean's Prize, as well as the overall best-graduating student for the year and the valedictorian.
Otti started his banking career with Nigeria International Bank Limited, a subsidiary of Citibank N.Y. in 1989. Towards the end of 1996, he moved to United Bank for Africa Plc as a Principal Manager and Head, Corporate Banking Sector, South. His major responsibility was the development of the Oil and Gas business for the Bank. In the year 2000, he was promoted to Assistant General Manager.
In May 2001, he joined First Bank of Nigeria Plc as an Assistant General Manager with responsibility for the Bank's Energy Group. He got promotion in April 2004, to Deputy General Manager and subsequent appointment as Executive Director, Commercial Banking in September 2005. In October 2006, he was re-designated Executive Director (South), and given the responsibility to oversee the bank's businesses in both the South-South and South Eastern geo-political zones of Nigeria.
On March 1, 2011, he assumed duties as the Group Managing Director and Chief Executive Officer of Diamond Bank Plc. In less than 2 years of his leadership, Diamond Bank doubled its customers' deposits and total assets while profitability grew by over 600%.
Under his watch, shareholders' confidence in the bank was restored as the stock price reached its highest level for 20 months, in January 2013, and by September 2013 Diamond Bank Plc became one of the eight "Systemically Important banks" in Nigeria as designated by CBN. This was a privileged class of banks whose size required that they would not be allowed to fail.
He voluntarily resigned from Diamond Bank Plc in October 2014 to contest the Abia State Governorship election on April 11, 2015, and March 09, 2019, as the candidate of APGA.
Otti is respected for his wealth of knowledge, experience, and wisdom. These qualities amongst others have earned him enviable positions not just in the financial sector but also in diverse areas of the economy which includes serving in the following capacities on the boards of various institutions and companies.
Otti has served as the Director, Airtel Nigeria Limited (2005 – 2011); Director, FBN Mortgages Limited (2005- 2011); Director, First Pension Custodian Nigeria Limited (2009 – 2010); Member, Governing Council of the University of Port Harcourt (2007 – 2012).
He served as the Chairman, Economics & Statistics committee, Lagos Chamber of Commerce and Industry ( 2006 -2011); Member, Governing Council of Babcock University (2005 – 2015); Chairman, Body of Bank CEOs, Chartered Institute of Bankers of Nigeria (2012 – 2014).
Otti also served as the Chairman, Diamond Bank (UK) Plc (2013 – 2014); Member, Board of Directors Diamond Bank Du Benin S.A (2011- 2014); Chairman, Bankers Committee Subcommittee on Economic Development, Sustainability and Gender (Dec 2013 – Oct 2014); Pioneer Chairman University of Port Harcourt Foundation Advisory Board (June 2017 to date).
Dr. Alex Otti is an Alumnus of Harvard Business School (AMP 177) and also trained at the Graduate School of Business, Stanford University California, Wharton Business School, University of Pennsylvania, Columbia Business School, Columbia University New York, and INSEAD Fontainebleau France.
He has also been honored with a Doctor of Business Administration degree from Babcock University in 2009, a Doctor of Science degree from the University of Port Harcourt in 2012, and a Doctor of Public Administration degree from the University of Nigeria, Nsukka in January 2013. He is a Fellow of The Chartered Institute of Bankers of Nigeria and the Institute of Directors.
He is active on the International speaking circuit, especially on the subjects of Banking and Finance, Leadership, Management, Financial Inclusion to mention a few.
He is a member of the editorial board of Thisday Newspapers and writes a fortnightly column "Outside The Box". He is the author of "Saving The Future: Agenda for Economic Development & Prosperity" (2016) Authorhouse.
In recognition of his commitment and contributions to humanitarian and community development in the country, Otti has been honored with several Chieftaincy titles and recognitions including the national award of the Officer of the Order of the Federal Republic (OFR) in 2014 by the President and Commander in Chief of the Federal Republic of Nigeria.
On the international scene, Otti has similarly been recognized for distinguishing himself in service and achievement with the following Awards:
Africa Vision Award at the 18th Africa Achievements Awards, May 27, 2011, Accra, Ghana;
International Banker of the Year Award at the USAfrica Best of Africa 2013 Honors, May 11, 2013, Houston, USA.
Listed on the International Who's Who of Professionals, USA.
He loves playing squash, listening to music, reading, traveling, and meeting people. Dr. Alex Otti is happily married and is blessed with three lovely children.