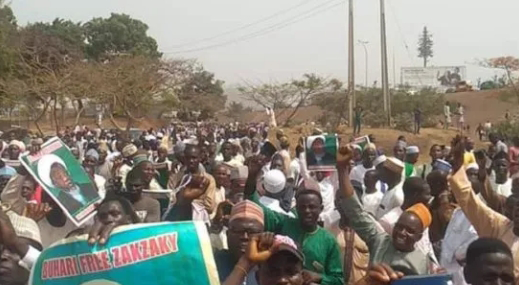 Islamic Movement in Nigeria (IMN),
…as Quds day procession turns violent in Abuja
By Luminous Jannamike, Abuja
In a bold and powerful display of solidarity, members of the Islamic Movement in Nigeria, also known as Shi'ites, took to the streets of Abuja, the nation's capital, to protest the alleged attempt to kill their leader, Sheikh Ibraheem El-Zakzaky, by denying him and his wife, Zeenah, travel documents for medical treatment abroad.
Led by Dauda Nalado, the members of the movement under El-Zakzaky's leadership, also expressed their unwavering support for the Palestinian people in their struggle against the continued occupation of their land by Israel.
The Quds day procession, observed annually by the Shi'ites every last Friday of the Muslim month of Ramadan, began at the Customs office in Abidjan Street, Wuse Zone 3 at 12:05 am, and passed through Wuse Market in Abuja, before it was met with resistance from the police.
The clash resulted in many injuries, with the actual casualty figure still unknown as of the time of filing this report.
Speaking, however, Nalado said the members of the Islamic sect have made it clear that they will not be silenced or intimidated in their fight for justice and the rights of their leader and the Palestinian people.
According to him, their unwavering determination to see justice served is a testament to the strength and resilience of the human spirit in the face of adversity.
"In fact, one of the reasons for the 2015 massacre in Zaria to kill Sheikh El-Zakzaky and disband the Islamic Movement was this support and solidarity for the Palestinians.
"We condemn the continued incursions into Al-Aqsa mosque and occupation of Palestine by the apartheid Zionist Israel regime and We support the oppressed people of Palestine in their just struggle.
"We also condemn the continued attempt to kill Sheikh Zakzaky by denying him and his wife, Muallima Zeenah, their travel passports to enable the couple to travel for medical treatment," he said.
Nalado stressed that as the world watches and takes note of the courage and conviction of the protesters, one thing is clear: the voice of the people will not be silenced, and the fight for justice and freedom will continue until it is won.
The members of the Islamic Movement in Nigeria have spoken loud and clear, and their message is one that may not be ignored.