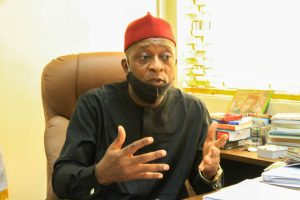 Sir Jude Idimogu
A two-term Lagos lawmaker from Igbo extraction, Mr Jude Idimogu, says politicians against the victory of Sen. Bola Tinubu at the Feb. 25 Presidential election must avoid actions capable of truncating democracy.
Idimogu, representing Oshodi-Isolo Constituency II in the Lagos State House of Assembly, told the News Agency of Nigeria (NAN) on Saturday in Lagos that aggrieved politicians must be cautious so as not to let down the roof.
The lawmaker, also Deputy Apex Leader, Ndigbo in Lagos State APC, was reacting to politicians kicking against the planned inauguration of the President-elect on May 29.
Idimogu described as unfortunate the televised comment by the Labour Party's Vice Presidential Candidate, Sen. Datti Baba-Ahmed that Nigeria didn't have President-elect yet and that it would be unconstitutional to swear- in Tinubu.
According to Idimogu, any politician who finds it difficult to accept defeat is not fit to lead the country, because such attitude reveals their other side if they win.
He said: "Nothing will happen, Tinubu will be sworn in as President come May 29. Nigeria does not belong to an individual or a cabal.
"It belongs to the people of this country. Let those who are pained by the outcome of the election guard their utterances.
"Those vying for the position of president should not be seen making senseless and insensitive statements.
"Let those who lost be tolerant. If you lose an election, don't bring down the roof, just wait for another four years.
"Nobody should end democracy. All of us have interest in this country and we appreciate democracy. Some people worked heard for it. God will punish whoever that wants to truncate it. "
The lawmaker urged the aggrieved politicians to guard their utterances so as not to truncate democracy the nation's founding fathers fought and died for. (NAN