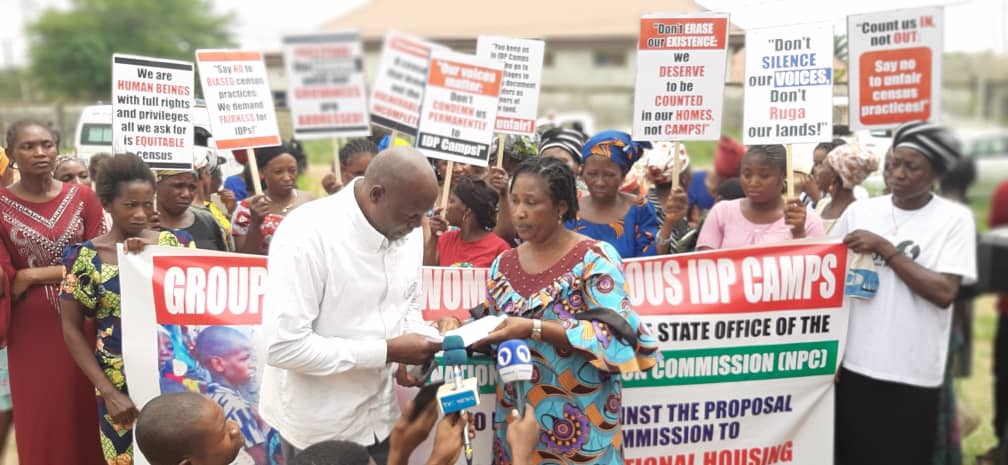 By Peter Duru, Makurdi
Selected displaced women taking refuge in various Internally Displaced Persons, IDPs, camps in Benue state, Thursday staged a peaceful march in Makurdi, the state capital demanding the postponement of the forthcoming National Population and Housing Census.
The women who bore placards some of which read, "don't erase our existence, we deserve to be counted in our homes and not camps", "don't silence our voices, don't ruga our lands" and "count us in not out, "say no to unfair census practices" among others, marched to the state office of the National Population Commission, NPC, where the leader of the women Mrs. Laadi Tior presented a protest letter to the NPC Federal Commissioner for Benue state, Mrs. Patricia Kupchi.
Presenting the letter, Mrs. Tior who is an inmate of Tse Uikpam IDPs camp Guma Local Government Area, LGA, explained that they embarked on the peaceful protest to draw the attention of the NPC to the fact that "if the census is conducted as planned Benue IDPs would not be counted in their communities and the essence of the exercise would be defeated."
"That is why we are asking that the census be postponed till we are returned to our ancestral homes where we should be counted becaue we do not want to be counted in IDPs camps."
On her part, Mrs. Comfort Avaan from Abagena IDPs camp Makurdi lamented that the IDPs were tired of staying in the camps "government should help us return home because we want to go home before the census."
Receiving the women, the Federal Commissioner, represented by the acting State Director, Mr. Chris Nege commended the women for being peaceful in their protest assuring that the issues raised by them would be tabled before the appropriate authorities through the Federal Commissioner.
He said, "but to add to that, the Commission is not unmindful of the people in the IDPs camps. There are plans to count everybody, be they in their usual place of residence or in the IDPs camps, the Commission has taken care of that.
"There are questions in the questionnaire that are specifically designed for IDPs which will capture where they came from and everything, so there is no reason for worries. But all the same our Federal Commissioner will take your letter to the appropriate authorities."