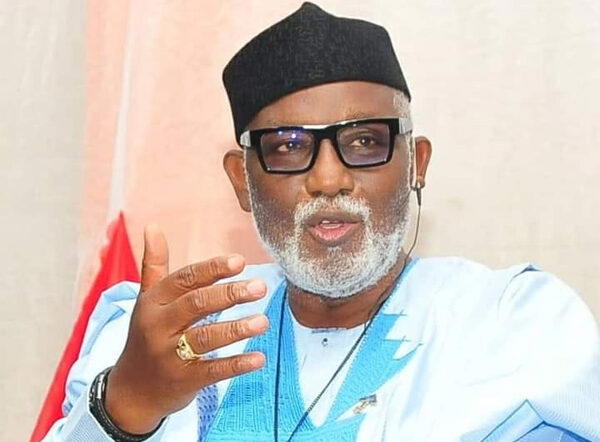 Governor Rotimi Akeredolu
By Dayo Johnson, Akure
Governor Rotimi Akeredolu of Ondo State, has expressed concern over incessant attacks on medical doctors and other healthcare service providers by relatives of patients and thugs
Consequently, he said that his administration would henceforth fortify security in the hospitals to prevent harassment of hospital staff.
The latest attack in the state took place at the Mother and Child hospital, Oke Aro, in the Akure metropolis, where a commercial driver assaulted nurses and doctors on duty with a cutlass, over the death of his five-year-old.
The driver reportedly went berserk and attacked the medical personnel at the hospital with a cutlass after the loss of his son.
Vanguard gathered that the driver and his wife who rushed their sick child into the emergency ward blamed them for his death.
Governor Akeredolu, speaking through his Health Commissioner, Dr Banji Ajaka, at the commissioning of the medical and surgical building at Mother and Child Hospital, said this highly dangerous trend would no more be tolerated by his administration.
Akeredolu warned against vicious attacks by families of patients and hooligans
Speaking on the renaming of the Akure Mother and Child Hospital (MCH) as the Ondo State Specialist Hospital, the governor said it was meant to improve qualitative healthcare delivery.
The governor explained that "it is important to expand the range of services beyond maternal and child care at the Akure MCH, so that residents can enjoy unhindered access to qualitative health care.
According to him "The hospital now provides medical, surgical, dental and other services. Plans are underway to recruit more personnel in the health sector to replace those who have left the system.
Akeredolu said that the health insurance scheme of the government has commenced with beneficiaries enjoying access to health care at no out-of-pocket payment.
The Special Adviser to the Governor on Health, Prof. Francis Faduyile said that the government taught "it needful for Akure to benefit maximally from the health programmes of the present government by putting in place a specialist hospital for them.
Permanent Secretary, Ministry of Health, Folukemi Aladenola, promised that the Ministry was determined to take the health sector to greater heights. End