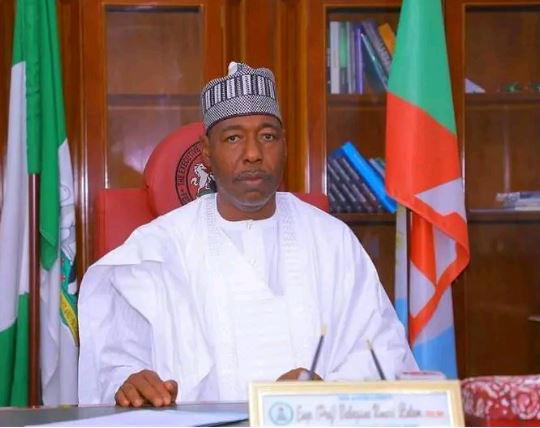 By Ndahi Marama, Maiduguri
Borno Governor and All Progressives Congress (APC) Governorship candidate, Professor Babagana  Umara Zulum, has secured 85% of votes after collation was concluded across the 27 Local Government Areas (LGAs). Zulum got 545,543 and left his closest opponent, Mohammed Ali Jajari of the PDP with 82,147 votes representing about 15% of the votes.
Prof. Jude Rabo, Vice Chancellor, Federal University of Wukari, Taraba State, and Returning Officer for the Borno Governorship Election, declared the result a few minutes past 6 pm. 
"Having satisfied the requirement and won 25 percent in all the 27 Local Government Areas, I, Professor Jude Samani Rabo, hereby declare Babagana Umara Zulum the valid winner of the March 18 governorship election and returned as validly elected," he declared.
He explained that 636,246 was the total valid votes recorded from 650,533 accredited votes, while the total votes cast stood at 649,835. 
Prior to a live declaration of Zulum's re-election, Vice President-elect, Senator Kashim Shettima, APC National Vice Chairman-North, Abubakar Kyari, senators newly elected national assembly members, and some party stakeholders converged at the official residence of the governor to monitor the announcement. 
Led by Shettima, the stakeholders sat around Zulum and rose with standing ovation as soon as INEC's returning officer, Professor Jude Samani Rabo, declared Zulum as re-elected.
There was overwhelming jubilation at the Government House and on the streets of Maiduguri, especially from the collation centre.
Zulum on Monday promised the people of Borno state that his administration would continue to do its best in delivering dividends of democracy across the 27 local government areas devoid of political or religious considerations.
Zulum stated this in his acceptance speech at the Government House, Maiduguri, shortly after he was declared winner and relected for a second term.
The Governor however asked for forgiveness from whoever he or his administration has offended in one way or the other in discharging statutory responsibilities.
"I want to start by thanking Allah (God) and the good people of the state for giving me the mandate to serve for a second term.
"I want to single out our party Chairman at the national and state level, especially Hon Ali Bukar Dalori, APC stakeholders, Borno elders and concerned citizens for their unflinching support before, during and after the elections.
"As a human being, we are all bound to make mistakes, so we believe in the process of discharging our duties, we might have offended one or more people, to this regard, I solicit for forgiveness, as we amend our ways." He said.