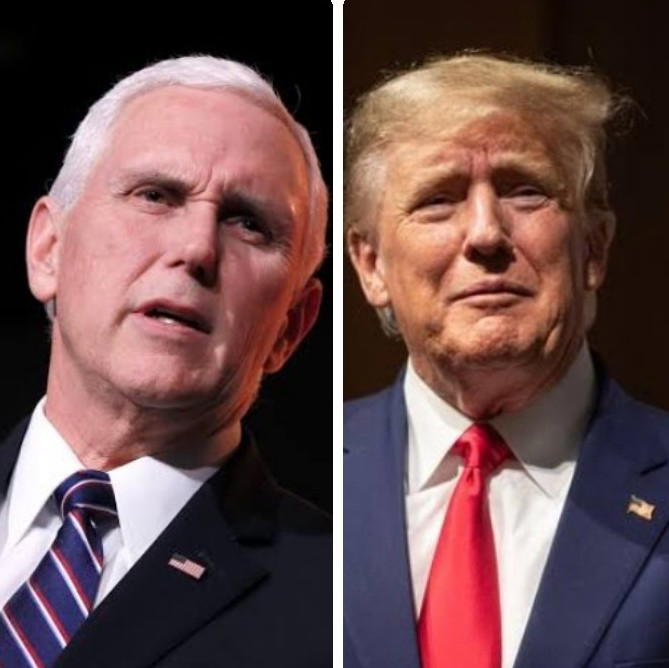 By Biodun Busari
Former Vice President of the United States, Mike Pence has chided his former principal and ex-President Donald Trump for endangering his life, family and everyone when the attack on Capitol Building happened over two years ago.
Following the defeat of Trump to President Joe Biden in the presidential election in 2020, a mob of his supporters invaded and attacked the US Capitol Building in Washington DC on January 6, 2021.
Speaking on the incident on Saturday evening at the annual Gridiron Club Dinner in Washington DC, Pence said history will hold Trump accountable for his ruthless speech that caused the riot, according to the CNN.
Pence began his remarks at the dinner, which conventionally features politicians making jokes about notable Washington figures, with lighthearted comments about Trump, President Joe Biden, Vice President Kamala Harris and several Republicans expected to run for president in 2024, including Florida Governor Ron DeSantis and former United Nations Ambassador Nikki Haley.
He then took a serious tone, noting the attack on the Capitol was "one thing I haven't joked about" and calling January 6 "a tragic day."
The former vice president rebuked Trump for his role in the January 6, 2021 attack, saying he was "wrong" for claiming he (Pence) had the authority to overturn the results of the 2020 election in his role presiding over Congress that day, saying "history will hold Donald Trump accountable."
"President Trump was wrong. I had no right to overturn the election and his reckless words endangered my family and everyone at the Capitol that day, and I know that history will hold Donald Trump accountable," Pence said.
Pence also scolded those who have downplayed the people who entered the Capitol on January 6 as tourists, the CNN reported on Sunday.
"Tourists don't injure 140 police officers by sightseeing," Pence said. "Tourists don't break down doors to get to the Speaker of the House or voice threats against public officials."
"Make no mistake about it, what happened that day was a disgrace, and it mocks decency to portray it in any other way," Pence said at the dinner.
Pence also said people "have a right to know what took place" during the riot, days after he asked a judge to block a subpoena for his testimony to the special counsel investigating the insurrection.
"The American people have a right to know what took place at the Capitol on January 6, and I expect members of the fourth estate to continue to do their job," Pence said.