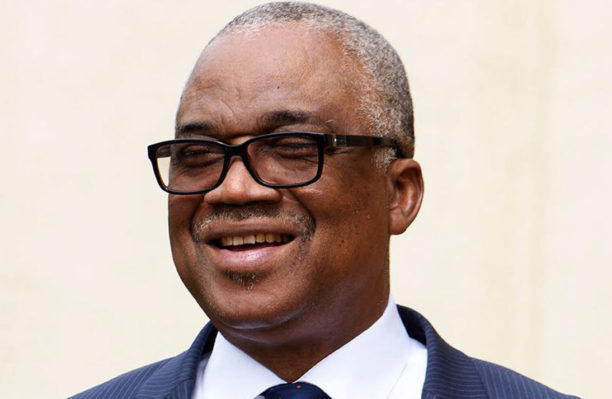 •Kalu, SAN
By Ise-Oluwa Ige
Awa Kalu is a Professor of Law and a Senior Advocate of NIgeria, SAN of repute. In this interview, he shares his views on various issues including what the Supreme Court must do to recalibrate, the on-going legal battle against INEC over the declaration of Asiwaju Bola Tinubu as the winner of February 25, 2023 presidential election, even as he advised young lawyers on the various career paths in law. 
Excerpts:
What is your assessment of the various areas of legal practice that you have delved into and  your advice to young lawyers?
What I need to emphasize is that each area of law practise is a different discipline. When you are in the academia, there are different considerations. When you are in public service, as I was, as Special Assistant to two Ministers of Justice, you are looking at different considerations. You are looking more at policies. You are looking at application of law to those policies. You are looking at implementation on a fair and equitable basis of legal principles. You are not at the time looking at what will favour you or one ethnic group versus another which is part of what is killing us in this country and why integration has become so difficult. When you are in practice, you are looking at more of what is beneficial to your client, whether we agree or not. If somebody has given you instructions, you try by all means that are not fraudulent or mischievous, to satisfy the instruction you have received. And then, when you find yourself in the Office of the Attorney-General, that is, you are the one wearing the toga of Attorney-General, you become the guardian of public interest. In which case, you are now striving to ensure equity and justice. If you look at the provisions of the Constitution that applies to the Attorney-General of the Federation, it is the same thing that applies to the Attorney-General of the state. And so, the primary consideration is to apply the law in such a way as to ensure even-handedness. It is not a question of saying: Oh, the state must prevail or the Federation must prevail. It is a question of maintaining a balance in such a way that nobody suffers when the law is being applied to a particular situation. So, in all, my advice to young lawyers will be: First, to understand where they are. If you are in the Chambers of the Attorney-General either of the Federation or of the state, different considerations apply. It is not the same as representing a client. At this time, you are looking at a different set of principles, goals and standards which have to be applied for the benefit of all. Your client may be an individual, a corporation or even government, at which stage, you must advise yourself to be fair. So, that is my advice.  
About 15 years ago, you were tipped for appointment into the Supreme Court bench. Along the line, it appears the successive Chief Justices of Nigeria did not want to appoint justices from outside the court system contrary to the provision of the 1999 Constitution. If you were given the opportunity to serve on the apex bench, what would you have changed there? 
Let me set a few things right. That conversation had been there. That is to say to diversify sources of recruitment for the bench in Nigeria, be it in High Court, the bench of the Court of Appeal as well as the Supreme Court. At a meeting of the Body of Senior Advocates, BOSAN, I was not even at that meeting, the body took a decision to approach the then Chief Justice of Nigeria, Hon. Justice Katsina-Alu, who is now late, to use his good offices to diversify the Supreme Court rather than have just more or less career judges. That he should think of bringing people from academics, and other sources to enrich the breadth of knowledge and expertise available at the Supreme Court. BOSAN decided to pick me from the South-East and Tony Idigbe from the South- South and our names were recommended to the Chief Justice. I can say without any equivocation that the decision by BOSAN did not make every judge, particularly at the Court of Appeal, at the time, happy. You see, I recalled that Prof. Nwabueze, SAN, a long time ago, had written so powerfully about the dangers of our judiciary becoming a career. That is to say, you come in as a magistrate and then you end up at the Supreme Court which has happened to so many people there. In local parlance, they say you can't stand in one place to watch a masquerade. The masquerade itself, as it is dancing, it is changing positions and at times locations. So, if you want to see the masquerade in full, you have to follow it. And that is what has happened to Law. There are people who have specialized in Banking. There are people who have specialized in Commercial Law. There are some who specialize in Labour Law and so on. So, the law has, at least, 200 sophisticated branches. So, if you now want each branch of the law to be represented at the apex court, as well as the intermediate court which is the Court of Appeal, you have to bring people from different specializations. If you want to cook Ogbono soup, it has a specialist. Egusi soup has a specialist. Afang has a specialist. Ewedu has a specialist. And so, if you come to the Supreme Court, and it is only Ogbono soup that you have, the law in general will be bereft in certain respect. That is the thinking of many people. But, there are others who think that you cannot migrate. They put it very notoriously: You can't go and pack money as Senior Advocate and you come again and deprive people of their entitlement. So, if you are in practice, remain in practice. If you are on the bench, remain on the bench. How then do you brew the law? You are looking at the Supreme Court as apex court; you are looking at it as a policy court; you are looking at it as having a final say on different areas of the law, not just one area of the law, and that was what people thought. And before you knew it, there was commotion at the time arising from the collision between the CJN and the then President of the Court of Appeal which left a lot of questions unanswered particularly about this kind of idea of bringing people from the bar to enrich, not to destroy the Supreme Court. I remember in the conversation then, a lot of people pointed out that the Supreme Court had people from outside the court system without doing damage to it. Prof. Taslim Elias who even went to the International Court of Justice and became its President, was a distinguished academic. He was the Dean of the Faculty of Law at the University of Lagos. From there, he became the Attorney-General of the Federation and thereafter came to the Supreme Court. He did not destroy the Supreme Court. He actually elevated the Supreme Court. The late Dr Augustine Nnamani was an Attorney-General and also came to the Supreme Court. There are so many others like that. There was a Professor who came from the University of Nigeria. He started at the High Court and came up to the Court of Appeal and later to the Supreme Court. He did not destroy that court. So, the point that has to be understood and I'm serious about it is that somebody who has never been a judge can do well at the Supreme Court. All it takes is the knowledge and the wherewithal to apply that knowledge. Being knowledgeable is not the same as being a judge. You have to distill so many aspects of life: Your learning, your knowledge, your application of self and the freedom of your mind at that level. Because if you are a stick in the mud, you can't function as a judge. You must be able to hear from both sides which is the hallmark of judging. Look at all sides and then find the truth. That's the way my mind was working. 
With the benefit of hindsight, a number of lawyers have, in recent past, criticized the judgments of the Supreme Court with a verdict that the court needs to appoint more justices from outside  the court system. How do you rate the quality of judgments of the Supreme Court in the Fourth Republic with the judgments of the apex bench under the First, Second and Third Republic?
I am just going to give a general and personal answer. I will not do any assessment of say the present crop of justices of the Supreme Court. I am not going to compare them with anybody else. This is because the questions that come to the present court  are not the same as the kind of matters that came before the Supreme Court of 1960. What has happened and which is undeniable, is that a judge makes his name indelible by what he writes. When you mention Teslim Elias, as CJN, he was CJN during the military regime. Those times were different from these times. That is why I'm refraining from making this kind of assumption or criticism. I knew a number of justices of the past very well. Hon. Justice Kayode Esho had a very robust mind. May his soul rest in peace. I worked with him as a Special Assistant. I also worked with the late Justice Oputa that was fondly called the Socrates of the Supreme Court. Each one of the justices I have called: Justice Dr Augustine Nnamani, Anthony Aniagolu, etc, wrote their names in gold by themselves. In whatever you do, if you do it well, history will acknowledge you. If you are a great judge, history will acknowledge you. If you recall somebody called Lord Denning, Lord Denning was acknowledged during his lifetime as the best judge in the Commonwealth, not in his country. All the countries that derive their legal systems from the Common Law (the old English Law) acknowledged Lord Denning as the master of his craft. Judicial reasoning, fairness, accommodation of multiple interests, blending the law to suit the requirements of societies. Nobody joked with Lord Denning in whatever decision he rendered from the High Court, the Court of Appeal up till his time in the House of Lords which was the apex court in England. In fact, when he went to the apex court and he finds that he was in the minority, he had a clear mind. He was in his time, way above his colleagues. He came down by himself from the House of Lords to the Court of Appeal. The reason was that he didn't just want to be pedantic. He didn't just want to be in the minority all the time. He came down to the Court of Appeal so that whatever he wrote would eventually get to the House of Lords where the collectives would look at and say yes. He changed the law by that simple decision. He said 'okay, let me stay in a place where I can still have the opportunity of review'. But here, people are fighting that they must be in the Supreme Court. But we are looking at somebody who by himself descended. There is no Emi lokan at the Supreme Court. There should be none. You have to get there by merit. When you get there, it is what you write that determines what you are remembered for. That is my view and like somebody who has the rare opportunity of getting to the Supreme Court should clear his head and then clear his pen and write lucidly to be remembered.
In clear terms, what advice then do you have for those aspiring to make the apex bench or those who are already there?
It is simply by being dispassionate. It is simply by knowing your law. And it is simply by appreciating that whatever you say outlives you. I am talking about Lord Denning. I think, if I recall correctly, he became a judge at about 1943. People are still singing his praises. By the time he came, by 1946, he had already engraved his name. Three years on the bench, he had already engraved his name. In fact, in present day circumstances, you can say he wrote his name in platinum; whatever metal that is more precious than gold. That was exactly what he did. There are judges of the Supreme Court of the United States who also emblazoned their names in gold. So, in the United States, for instance, when you become Chief Justice, the Court you are heading is remembered by your name. That is their own system. This is because when you come, you bring a particular judicial philosophy. You are expected to direct the law to suit the circumstances you have met. 
That was why I said the Supreme Court is not for Emi lokan. We have to bear this thing in mind. If you are a judge, you are no longer judging for yourself, you are judging in the interest of the society. 
How do you feel sir that at 70 considering that some of your students and mentees  are now PhD holders, professors, SANs, judges and the rest?
You know that every teacher, even if it is just for a day, has his reward in heaven. When I  looked at the generation of people who wished me happy birthday celebration, it included all those you are calling. It included those calling me to say oh, you did this to me, you mentored me, you were my teacher at so so and so university. I think that is the reward in heaven  that teachers were promised. So, I'm happy.