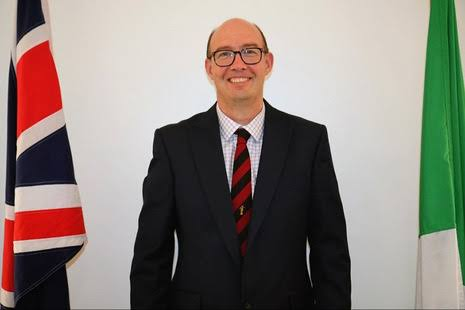 By Clifford Ndujihe, Dapo Akinrefon, Peter Duru & Davies Iheamnachor, LAGOS
The United Kingdom, yesterday, expressed displeasure over ethnic profiling of non-indigenes in Lagos, which it said ought to be a cosmopolitan city by some prominent Nigerians such as former Aviation Minister and a chieftain of the All Progressives Congress, APC, Chief Femi Fani-Kayode.
It also expressed displeasure over controversial comments made by Fani-Kayode, over which he was invited for questioning by the Department of State Services, DSS.
Fani-Kayode, who is also a member of the APC Presidential Campaign Council, PCC, had in a tweet, claimed that the presidential candidate of the Peoples Democratic Party, PDP, met with army generals, prior to the just-concluded elections, with a view to effecting a change of government.
British Deputy High Commissioner in Nigeria, Ben Llewellyn-Jones, in an interview with Nigeria Info FM, said some of the former minister's tweets in reference to the opposition contained words and phrases deemed derogatory, divisive and inciting.
Asked if there were triggers for violence leading up from the campaign to the election, the UK envoy, who disclosed that 10 persons are on a visa ban watch list over violence and rigging of the last elections, said he was puzzled as to why Fani-Kayode would make such statements, adding that the APC should have distanced itself from the former minister's utterances.
The British envoy's position elicited mixed views from apex ethnic and cultural organisations such as Ohanaeze Ndigbo; Afenifere; Pan-Niger Delta Forum, PANDEF; and Middle Belt Forum, MBF, yesterday.
APC ought to have distanced itself from Fani-Kayode
Asked if there were triggers for violence leading up from the campaign to the election, the UK envoy said he was puzzled as to why Fani-Kayode would make such statements, adding that the APC should have distanced itself from the former minister's utterances.

He said: "Yes, let's be specific, there were some people, like Femi Fani-Kayode. What is he saying and why is he saying it? I don't understand.
"It is wrong from my perspective that he will speak on behalf of a party and that party does not distance itself from him and say stop doing that; it is wrong to say that.
"To me, it is really important, people, who have said I am part of a party's press and media campaign, well, the party itself should say no you are not, and you should stop and we do not agree. I know that some leaders very clearly said we are about unity, and that is good, I encourage that.
"The problem is if you get the other people over here, who are very clearly associated with the party and giving you another message, and there isn't any kind of calling out of that. What would you take from that as a voter?"
10 persons on visa ban watch-list
Llewellyn-Jones reiterated the UK visa ban's threat to those undermining democracy, adding that about 10 persons were on the growing watch list.
"We watched very closely. We have a list, and we are working through our list but we don't publish those names. I know people say we should but we have laws, and the law prevents us from doing that.
"We said we will do this and we will do it. And we are gathering the kind of information that will enable us to do this, on specific individuals. At the moment, the list is between five and 10 and it is growing,'' he said.
According to him, the length of the ban is at the discretion of the UK government.
Ethnic profiling will impede the growth of Lagos
The UK deputy high commissioner also said the strength and beauty of Lagos are in its blend of culture and religion and should be recognised as a cosmopolitan city, and condemned the ethnic profiling of a particular ethnic group before and during the just-concluded governorship and state assembly elections.
Condemning the attacks, Llewellyn-Jones said such moves would only impede the growth of Lagos as many megacities around the world had recorded huge strides because of their diversity of human capital.
"If you live in London, you are a Londoner, a British-Pakistan is a Londoner. The British Prime Minister lives in London. My boss, the British foreign secretary is clearly British-Sierra Leonean and lives in London, they are Londoners.
"Why is it that people who pay taxes, who work, who provide teachers, who built businesses, who create jobs, who live in Lagos, who happen to be from a different ethnicity to some other people are not Lagosians?
''Of course, they are. The strength of Lagos is its diversity, and if Lagos can't be that kind of cosmopolitan melting pot of culture and language and all the things it should be, then really how is Lagos going to succeed?
"People chanting anti-Igbo messages and walking on the streets by polling units on elections day are totally unacceptable. Not just in Lagos, but also in Enugu and Rivers where we had our teams as well and many other places.
"It was a very much tougher day for voters which shouldn't be. But we saw people vote in spite of that, which is truly impressive about the elections.
"I think the right question to people who have been driving this ethnic kind of languages would be, when you go to cities around the world like London, what do you see when you see the success of those places? The success of those places is not built upon division but upon unity.
"I think that people who are still using that kind of language should stop, and the party they represent should be saying to them 'stop now, this is not in our name and you are wrong','' the Uk Deputy High Commissioner stressed.
Fani-Kayode should learn from British envoy – Ohanaeze
Contacted on the issue, the National Publicity Secretary of Ohanaze Ndigbo, Dr Alex Ogbonnia said "in sincerity, Fani-Kayode does not deserve a response."
To what the envoy said regarding Lagos being a cosmopolitan city that needs the efforts of all tribes and tongues to develop, he simply said: Fani-Kayode should learn from the envoy."
UK shouldn't interfere in Nigeria affairs —PANDEF
Reacting to the envoy's comment, PANDEF, which noted that Fani-Kayode's statement was unreasonable, however, urged the British High Commissioner to stop interfering in Nigeria's affairs, adding that the nation is sovereign.
National Publicity Secretary of PANDEF, Mr Ken Robinson, in a chat with Vanguard said that laws ought to guide the nation's activities, noting that the country does not need interference.
Robinson said: "The British High Commissioner should not overly interfere in Nigeria's affairs, that is the truth. If something happens in a country in the UK, I am sure the Nigeria High Commissioner cannot make a statement concerning that matter.
"We have laws and regulations in Nigeria and we don't need the British High Commissioner to direct or make a case on how Nigeria should be. The interference of the British High Commissioner, representatives or Commonwealth organizations in Nigeria, yes they can make comments, but in my very objective opinion, I think that they are overdoing it. I condemn the British High Commissioner's statement.
"That is not supporting the statement Fani-Kayode may have made. The truth is that in the general elections, a lot of people have lost decency, and have lost moderation. They have been overtaken by unnecessary emotions, so people make statements that are completely out of line, and place and are completely unpatriotic.
"I am sure that the authorities in Nigeria are taking notice. Someone said that there is no president-elect and so nobody should be sworn in. This is also undermining the country's laws and institutions."
He, however, stated that the statements from Fani-Kayode are unreasonable, and called on the authorities not to make inciting utterances.
His words: "For Fani-Kayode to make such a statement, it is unreasonable because he knows that it is not possible. Lagos is a state in Nigeria. The constitution of the nation does not allow the military to overthrow the state government.
"Elections have been conducted and results have been declared by the electoral body. Anybody that is dissatisfied with the conduct and its outcome should follow the due process of the law. Any other attempt will be illegal and unconstitutional."
Ethnic profiling, an ill wind —Afenifere
Also speaking, the Pan-Yoruba Socio-political Organization, Afenifere, said it would not condone ethnic profiling because it does not promote unity or harmony.
Afenifere's National Publicity Secretary, Mr Jare Ajayi, in a chat with Vanguard, warned those involved in it to desist from saying it is an ill wind.
Ajayi said: "Ethnic profiling does not promote unity, harmony or peace and it does not promote nation-building. It affects harmonious relationships in the sense that the ethnic nationality being profiled may be presented as a negative entity or element and may be seen by others as antagonists or enemies.
"Such things can lead to social upheaval as witnessed in Rwanda and it should not be promoted in any way. At any point in time, there can be differences in opinion but what is needed in that kind of situation is dialogue and an examination of the differences with a view to arriving at a conclusion that will promote unity.
"To the extent that the British government, through its Deputy High Commissioner, is condemning ethnic profiling, Afenifere does not, at any time, encourage ethnic profiling because there is no group of people anywhere in the world that does not have bad elements just as there is no ethnic group that is sole of good people. It is interwoven.
"So, those who are into ethnic profiling should also look inwards because they have bad elements among them.
Afenifere is using this opportunity to call on those who are into ethnic profiling to remember that it is an ill wind that blows nobody any good. It should be stopped and should not be encouraged in any way."
MBF lauds UK for berating ex-minister, hate promoters
On its part, the Middle Belt Forum, MBF, commended the United Kingdom for berating Nigeria's former Minister of Aviation, Fani-Kayode and others over recent controversial comments that were adjudged to be promoting hate in the country, advising that the ex-minister should learn to observe decorum when commenting on sensitive issues.
The National President of MBF, Dr Bitrus Pogu said "foreign nations who have serious concern and interest in Nigeria will certainly express displeasure when things are not moving rightly and of course, they are right in telling the former Minister that his comments were uncomplimentary.
"And with regards to Lagos, I must say that the plurality of the ethnic groupings and several things make Lagos what it is. I was an Executive Director at the Lagos International Trade Fair Complex when it was concessioned. And that area up to Badagry is so populated with Igbo. And nobody ever thinks that this is a Yoruba land or whatever. It is just Nigeria's former capital. It should be seen and maintained that way.
"Lagos has grown beyond being a Yoruba enclave because it was the nation's capital and all ethnicities even people from my small Chibok have a union in that place because many of them are there. Recall that is also the commercial capital of this country. Certainly, you will have a plurality of religions, ethnicity and other things. That is what makes Lagos thick and that is what gives Lagos its beauty.
"It should be kept that way and nobody should think with that or bring ethnicity or religion into Lagos because it would not work.
"So we are better off keeping Lagos the way it used to be. Lagos for all Nigerians, just like Abuja for all Nigerians."