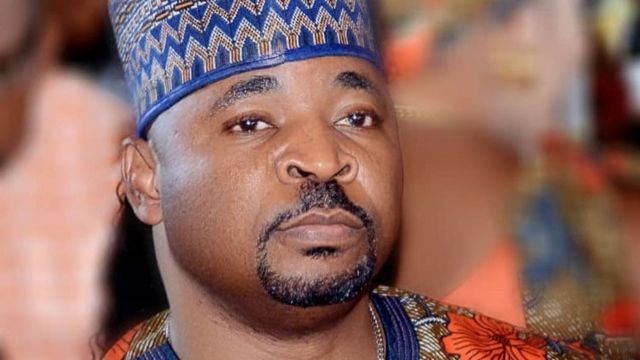 By Dr. Ugoji Egbujo
Mc Oluomo said it wasn't him. That he didn't actually threaten to teach a nice lesson to the ungrateful Igbo who seemed bent on disrupting the order and disrespecting constituted authorities in Lagos. Perhaps, he expected adult non-indigenes to know their limits and what could amount to an abuse of hospitality and misuse of democracy.
It is not agbero logic. In the tutorial video which mischief-makers made go viral on the eve of the governorship elections, gentle MC Oluomo was only teasing one Mama Chukwudi, from whom he routinely bought Indomie and guguru. But political opponents latched on to it and misconstrued it. They said Mr Oluomo was engaging in hate speech and dog whistle politics to help his benevolent Lagos political deities. It wasn't MC Oluomo. He was only joking and telling Mama Chukwudi to stay in her house if she wouldn't support the political business of her indomie customer. 
So, let nobody malign MC Oluomo whose sun has risen. Oluomo is a renowned philanthropist who cares for common women like the  Mama Chukwudis. It wasn't MC Oluomo. The police in Lagos could have done more but they said they are investigating. That's okay. So why can't people be patient and allow the police, who are their friends, to do their job before blaming innocent Oluomo? Is it a sin to rise through the ranks in the motor park?
The police have handed the Oluomo video to their tactical cybercrime unit for in-depth forensic analysis. Why should people rush to conclusions? Is it because Oluomo is an honest and patriotic citizen? They are not even grateful that Mc Oluomo didn't deny the video and dismiss it as photoshopped. After all didn't Ganduje say his dollar-in-agbada video was fabricated? Olorun, Nigerians don't like honest people. 
But even if MC Oluomo asked the Igbo in Lagos to sit at home on election day, is that too much? After all, haven't ndi Igbo become accustomed to sitting at home every Monday in their villages and cities? Are the boys in the southeast who make ndi Igbo sit at home every Monday more important or better trained than MC Oluomo's staff? Why are the Igbo pretending and calling it xenophobia and voter suppression? Is it because they are in Lagos? After all those boys in the east that decide when and who comes out Mondays, are they not called The Good boys?
This thing is not Mc Oluomo's fault. It's the culture of politics in Rivers. How could it have been MC Oluomo? Thinking of it, many say, he hails from Kwara. So, he is not even from southern Nigeria let alone an indigene of Lagos. He lost his father at an early age and worked hard to escape penury. So how can he incite Lagos indigenes against the Igbo when he knows that discrimination once it starts, it loses its ears? How can a man from Kwara teach Lagos indigenes how to unsettle settlers who are beginning to feel at home in Lagos a bit too much? If Oluomo teaches real Lagosians bigotry and hate and how to reclaim their land, wouldn't they one day rise and seize the motor parks from him and his boys?
So it couldn't have been Mc Oluomo. He doesn't hate the Igbo. He buys Indomie religiously from a Mama Chukwdi rather than a Mama Shakirat. He eats income, rides exotic cars and trains his children in American schools. Those who live in glass houses and eat pizzas have no business mingling with street urchins and throwing stones. If MC Oluomo hated the Igbo, he could have seized control of the markets too. Or do people think he doesn't know there is more money in markets than in motor parks? The Oluomo man is a self-made contented and detribalized man. You can even call him a genius.
Otherwise, how did a primary school dropout from Kwara grow to rub shoulders with kings and captains of industry in Lagos? In fact, with the benefit of hindsight, wasn't it ingenious that he used a sublime mama Chukwudi joke to send a caution to the entire Igbo in Lagos, leaving the police mesmerised?
If only the Igbo had tact. They ought to have understood by now that their main duty in Lagos is to trade, build houses, and pay taxes. After paying taxes, they must leave it to the hosts to decide who rules the land and how the taxes are used. They can't keep putting their nzogbu nzogbu noses into everything. If they want to vote then they must travel to Owerri or Agulu. That Lagos is a former federal capital seeking special status doesn't mean every Tom, Dick and Chinedu can arrive in a luxury bus at night and the next morning start rubbing shoulders with the descendants of Oduduwa.
After all, didn't the Ngwa people in Aba tell other Igbos not to mess around with them on election day in Aba? Why then would anyone pick on a peaceful man like MC Oluomo as if he committed a crime against humanity?   
A certain Oba had once warned the Igbo that if they didn't submit to his political dictation, they risked being thrown into the lagoon. Is anybody talking about him? He didn't say people would be chased away from the polling booths. He said they would be thrown into a bad place. So which is even better? To use agbero to correct the pomposity of some settlers and keep them and their PVCs away from the polling units or to throw them somewhere? Threats are criminal but let nobody go and say the Oba did anything so that the gods don't get angry. People in Africa should be behaving as if they were in Norway.
MC Oluomo has said it wasn't him who provoked the xenophobia against the Igbo. Perhaps people just suspected it would take the existence of an agbero command and control centre for all the thugs in Lagos to understand their duties and act without fail. And gossip about MC Oluomo because he influences motor parks and can summon such obedience and diligence from thugs all over the state. But MC Oluomo can't hurt a fly. But if he only asked them to stay around their yards and play with their kinsmen while the Yoruba go vote in peace? Is that too bad compared to what the gods did in Obio Akpor, Rivers state? Can't the Yoruba vote in their land without ndi Igbo coming with their 'aja okuta mamuomi' attitude to carp about democracy and constitution and dilute the vote? Imagine the temerity of trying to install a Chinedu over the children of Oduduwa in the name of democracy.
After the events of March 18, some other landlords like Bayo Onanuga threw their own jokes asking if the Igbo got the message they sent through the agberos. What a country!