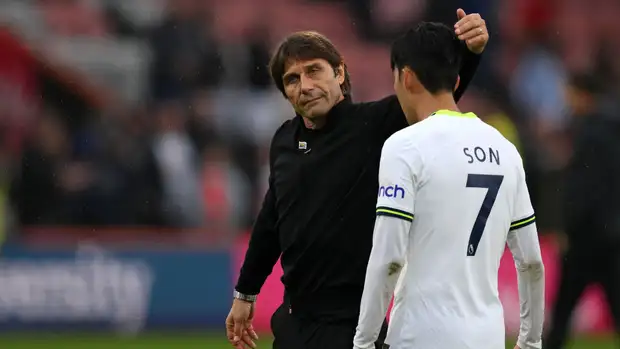 Tottenham Hotspur forward, Son Heung-min says he feels guilty about the sacking of former boss Antonio Conte.
The South Korean rued his drop in performance this season, citing it as one of the factors that contributed to Conte's dismissal from the club.
Tottenham parted ways with Conte on Sunday after the Italian gaffer blasted his players as selfish, lacking team spirit and unable to play under pressure in a post-match conference following a 3-3 draw at Southampton.
Reacting to the sack of the coach, Son opined that his departure could have been avoided if he had played better.
"As a player, I am really sorry. He's a world-class coach, and we had a great journey together," Son said after South Korea's 2-1 friendly loss to Uruguay in Seoul on Tuesday.
"I should have played better. I feel responsible for his departure, because I haven't helped the club all that much.
"I am grateful for what he's done … He's such a great coach and has so much experience. I will be rooting for him."
The Korean international from the previous season bagged 23 goals and nine assists missing only three matches in the entire campaign.
Son finished the season as the Premier League's highest goal scorer alongside Liverpool's Mohammed Salah.
The former Bayer Leverkusen forward's goals contributed massively to Conte's Spurs finishing fourth in the season.
However, his statistics in the current campaign has been a far cry from his previous one as he has only found the back of the net six times.