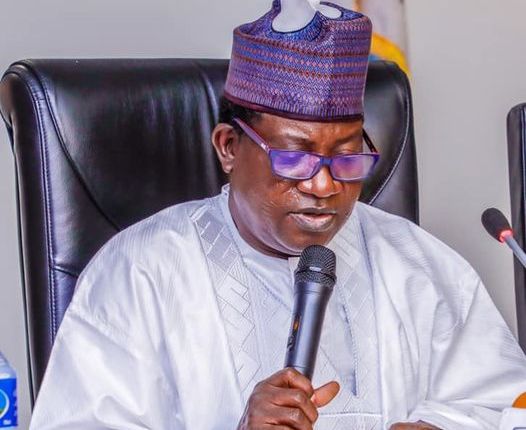 By David Odama
THE Arewa Youths Forum (AYF) worldwide Tuesday endorsed Governor Simon Bako Lalong of Plateau State for the position of the Secretary to the Government of the Federation, SGF.
The Forum has also urged the president elect, Asiwaju Ahmed Bole Tinubu and the ruling APC to lookout for dedicated, patriotic, and committed Nigerians ready to contribute positively to the growth and development of the country when constituting cabinet.
The Forum in a statement signed Haruna and made available to Journalists in Lafia the Nasarawa state Capital noted that the country was experiencing set backs and bad governance because most Nigerians without the interest of the nation at heart were being entrusted with position of authorities.
"We the Arewa youth Forum have carefully study and examine the past leadership positions and come up with a conclusion that the president elect and the APC led government should depart from favouritism to professionalism, competence, dedication and commitment in the selection of cabinet members for good governance".
It is on this light that we found the APC presidential campaign council Director General, Simon Lalong worthy, competent, dedicated and loyal to be appointed the Secretary to the Government of the Federal as Nigerians are being considered for top position job in the Tinibu government", AYF declared.
The Forum in the statement congratulated the president elect, Senator Ahmed Bola Tinibu for his resounding victory during the February presidential elections, describing the president's election as a blessing to Nigeria and Nigerians..
"We the Arewa Youth Forum nationwide respectfully used this ample opportunity to specially congratulate our Dear president elect Bola armed Tinubu for the resounding victory on the just concluded General elections.
"Your wonderful victory at the pool has shown clearly that nigerian of all works of life really knows the kind of leaders they wanted.
One thing that makes you stood out was your experience and tracks records regardless of your Tribe, religion, Nigeria sincerely overwhelmingly voted for you for three major reasons, character, consistency and capacity, based on your personality"
"In line with your vision and experience, which stood you out among many others, we strongly wish to recommend and endorsed Simon Bako Lalong, the executive governor of plateau state, the APC DG for the office of the Secretary to the government of Federation.(SGF).
We have observed that Lalong has shown loyalty, capacity and commitment to your valued vision and aspirations. Giving him such assignments will further unite Nigerian from all works of lives"
The Forum called the president elect to carefully see reasons to consider gov Simon Bako Lalong for this timely appointment of Simon Bako Lalong as the man of capability.