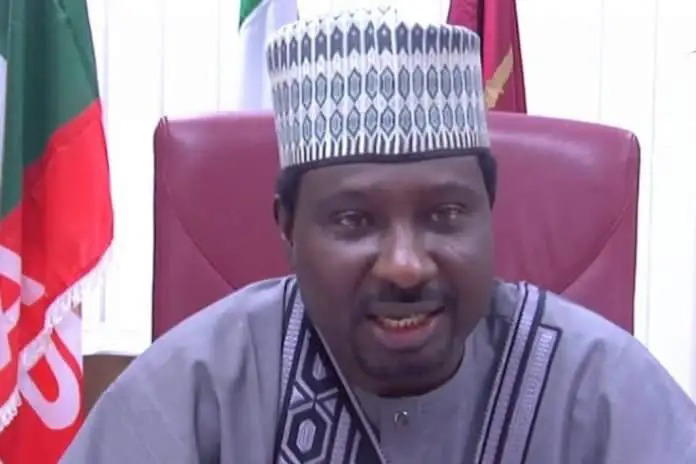 By Henry Umoru
AHEAD of the inauguration of the 10th National Assembly, Chairman, Senate Committee on Appropriations, Senator Jibrin Barau, APC Kano North has declared for the position of the President of the Senate, saying that he is the most ranking  and experienced Senator among those vying to become the number three citizen of the country.
Addressing Journalists Wednesday in Abuja, Barau who noted that he would officially begin his campaign for the number one seat in the Senate in a few days, said that sentiments of whatever form, should not be used to consider any interested Senator for the position, but rather, competence and knowledge on parliamentary procedures.
Senator Barau said, "I intend to seek to be the President of the 10th Senate. In the next few days, I will start my campaign and make a formal declaration.
"Legislature is a distinct arm of government that doesn't work based on sentiments, it works on your ability to get the job done.
" It is the tradition all over the world and it is also stated there in our rule book and the rules are drafted from our constitutions."
Senator Barau who has been in the National Assembly since 1999 and in the Senate since 2015 explained that the Senate standing rules give credence to seniority and experience as far as position of presiding officers are concerned.
He said, "It is stated there in our standing rules that aspirations of elections for the seat of the Senate Presidency shall be in accordance with ranking.
"Among those who are running for the seat of the Senate Presidency, I am the most ranking Senator.
"So, it is constitutional and among those who are showing their intentions to run for the Senate Presidency, I am the most experienced.
"The issue is that of competence. You need to be grounded, in the residue of the legislature before you become the Senate Presidency.
"In the 6th National Assembly , remember that David Mark was a Christian, his Deputy, Ike Ekweremadu was a Christian and the Speaker Patricia Etteh was a Christian because they were the most experienced and ranking and that is the tradition, so do we now relegate competence for other sentiments."