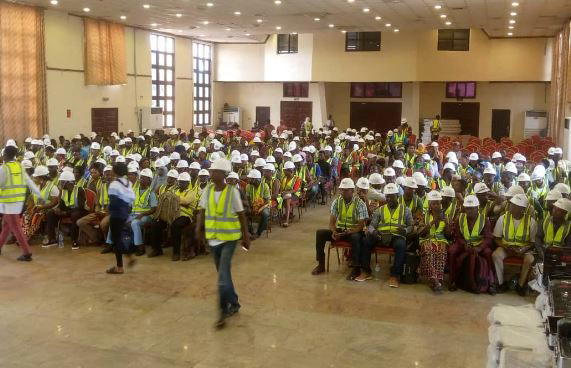 Senator Solomon Adeola in collaboration with Energy Commission of Nigeria, ECN, Friday, empowered 720 solar power trained graduates from Lagos West.
Adeola pleaded with beneficiaries of the solar programmes not to sell the tool kits given to them, saying that they were picked to undergo training in nine programmes through a transparent process in order to improve their lives.
Speaking at the graduation ceremony, Adeola, who was represented by the Director General of his campaign, Mr. Babatunde Oso, said: "I remember when we started this process some months ago and we advertised in the newspaper and on the radio, we asked you to go for selection. 90 percent of you here didn't know anyone because all we did was to say go to Yayi's office at Ikeja, go to the office at Badagry division and pick your form and fill. Based on that, you were all selected.
"Of course we have a collaboration with the Energy Commission of Nigeria, which we promised that we are going to deliver a successful programme, thank God today, we are here. In fact, we have nine programmes, you are all selected.
"One of them is conversion of waste to energy resources; training in underground water exploration; design, installation and management of solar water for residents and commercial; skills on solar product installation maintenance and marketing; design of unbridged solar PV systems up to 100 KWP for agricultural processes; training on design and fabrication of portable solar power generation; design and installation on off-grid solar PVs; and basic skills on writing solar business proposals and utilisation of solar energy and its management, which we have been able to carry out.
"All these things happened because of one person, the person did not eat the money, he didn't put the money in his pocket, he decided that all of us here are properly trained, equipped and given a seed fund to go and start your life. At the end of this process today, we are not going to leave you, we will handover your tool kits, which are here and will be given your certificates. You have already been given your safety jackets and helmets because most of the work you will be doing is about climbing one building or doing one thing related to that. You will be given a tool box, don't go and sell the tool box, see it as your asset."
On his part, Director General of ECN represented by Dr Umar Goji, added that "I designed the programme because it has to be energy related. The main aim of the programme is to get you started, to open a new page in your lives. The programme has been brought to you, you've learnt and the next part is for you to implement.
"There is no way you can implement it without being serious. If you are a serious type, it is a period for you to open another page in your life. You are lucky, you have a representative that cares. So, use it as an opportunity to open a new page in your life."