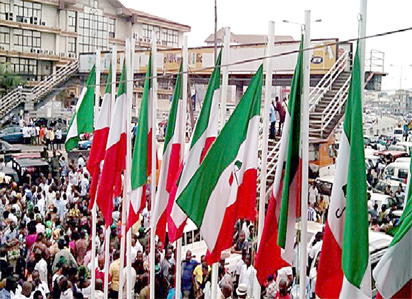 PDP and its colour flags
By David Odama
Ahead of Saturday's rescheduled election in Nasarawa State, the Major opposition People's Democratic party PDP in the state has advised politicians to desist from using violent measures in addressing areas of disagreements that may erupt during the election.
Director of media and publicity of Ombugadu Campaign Council, Dr Mike Omeri who gave the advice while fielding questions from journalists in Lafia, cautioned politicians and their supporters saying it would be a deviation from the tenet of politicking if political parties or their supporters unleashed terror on the people in a bid to secure their wins or jeopardize the relative peace in the state.
"We should end at nothing to ensure the peaceful conduct of the governorship and house of Assembly elections devoid of intimidation, molestations harassment of the perceived opponents or create an atmosphere of fear on the residents".
"The spirit of the winner-takes-all syndrome among politicians, where no room is given for losers in political contests, usually results in desperation to clinch powers at all cost by candidates and their supporters be kept behind us especially as we go to elect our governor and House of Assembly members on Saturday", Omeri declared.
He said: "Election, as observed every four years, is a high-level call to Civic obligations on Nigerian citizens, to make choices of leaders who will administer the country and spearhead the distribution of dividends of democracy to the people.
"Thus, the stakes are really high, especially against the background of an entrenched zero-sum political culture by PDP in our Nation; in which the winner takes it all. Distinguished leaders and elders, this can explain the tension and inflamed passion witnessed between candidates and their supporters ahead of this all-important election".
While reminding politicians that the essence of the signing of the Peace Accord signifies collective resolve and commitment to ensure that the 2023 general election is bloodless, the campaign media and publicity director urged the parties to abide by the letters of the Oath they took.
He, however, cautioned political gladiators and their foot soldiers that no inflamed passion over high political stakes is worth setting the state on fire, adding that any measures capable of causing wanton destruction of lives and properties should best be avoided.
"This is a moment to stop and reflect on what becomes of Nasarawa State, the citizens and the nation's democracy if an unquestionable fire erupts out of the electoral process when we instigate violence through our actions and inactions.
"It is therefore, on this premise that PDP is calling on politicians to play by the rules, de-escalate tension and embrace one another in peace, so as to instil the understanding that election is not a do or die affair among their supporters", he stated
"The Peace Accord signed by various parties and their candidates should not be seen as a mere ceremonial oath taking, instead, it is an endorsement of a united and peaceful Nigeria, to which maximum commitment is required through peaceful conduct and utterances