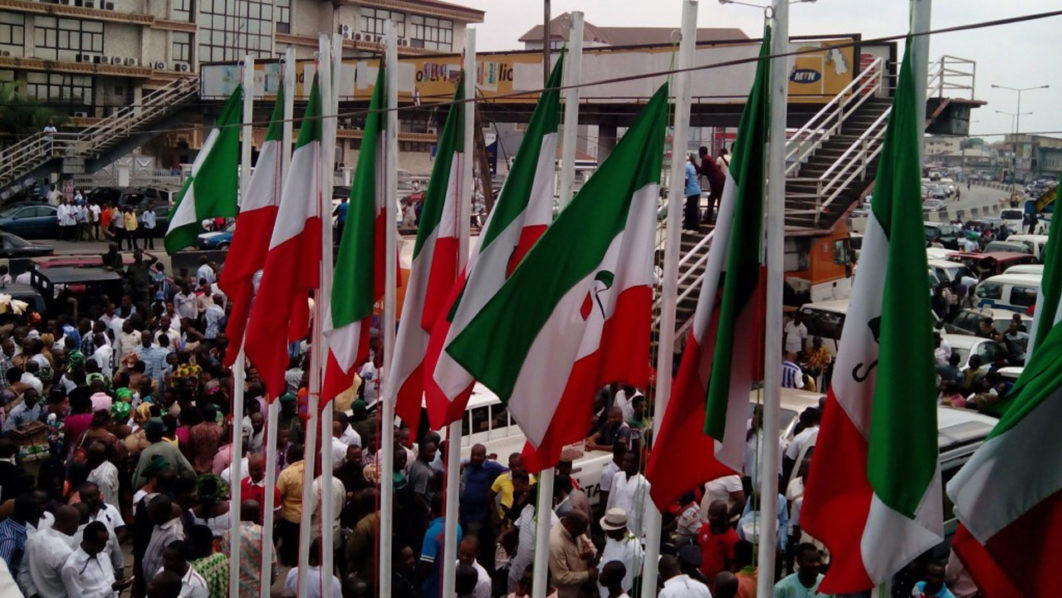 By Egufe Yafugborhi
IT would take a miracle to swing the predictable victory for ruling Peoples Democratic Party (PDP) in Rivers state to retain the governorship in the 2023 elections as its candidate, Sir Siminaliayi Fubara, has won all 17 Local Government Areas (LGAs) results released so far with 6 more to hit final results.
The State Returning Officer for the governorship in Rivers State, Prof Akpofure Rim-Ruke declared collation closed at the State Collation Center at the Independent National Electoral Commission (INEC) Rivers Office in Port Harcourt Sunday evening at the release of the 17th LGA, Ogba-Egbema-Ndoni LGA.
From Tai, the first LGA announced to 17th Ogba-Egbema-Ndoni LGA, none of closest trailing All Progressives Congress (APC) candidate, Tonye Cole, and Social Democratic Party (SDP) Sen Magnus Abe, has come near on the results as Fubara continues to increase the lead.
The results are however being released amidst fierce rejection and protests from party agents of opposition parties, particularly, SDP's Salvation Moses who has called for cancellation of all the LGAs results except for Ogba-Egbema-Ndoni LGA, citing a number of irregularities including intimidation of opposition agents, carting away of election materials and conflict of figures between results being declared by the LGAs Collating Officers and what had been loaded on INEC's IREV portal.
The State Returning Officer for the governorship in Rivers State, Prof Rim-Ruke in closing collation Sunday evening declared to resume the exercise Monday morning in the hope to conclude collation and declare the final standing and winner.
Guber Results Collation In Rivers So Far
Tai LGA
Registered: 76613
Accredited: 10393
A: 34
APC: 295
LP: 13
PDP: 9276
SDP: 508
TVV – 10227
Rejected: 87
TVC: 10314
Opobo Nkoro LGA
Registered: 59047
Accredited: 13376
A: 16
APC: 1426
LP: 10
PDP: 11538
SDP: 159
TVV – 13189
Rejected: 142
TVC: 13331
Gokana LGA
Registered: 145566
Accredited: 40702
A: 74
APC: 7410
LP: 97
PDP: 17455
SDP: 13840
TVV: 39467
Rejected: 1235
TVC: 40702
Ogu Bolo LGA
Registered: 61705
Accredited: 9295
A: 121
APC: 1524
LP: 34
PDP: 7103
SDP: 310
TVV: 9155
Rejected: 140
TVC: 9295
Eleme LGA
Registered: 126111
Accredited: 14852
A: 67
APC: 2662
LP: 544
PDP: 8414
SDP: 2251
TVV: 14247
Rejected: 382
TVC: 14629
Ikwerre LGA
Registered: 166079
Accredited: 24677
A: 138
APC: 7503
LP: 895
PDP: 13716
SDP: 1447
TVV: 24090
Rejected: 584
TVC: 24674
Oyigbo LGA
Registered: 121815
Accredited: 16894
A: 147
APC: 2793
LP: 2688
PDP: 9886
SDP: 796
TVV: 16561
Rejected: 322
TVC: 16883
Etche LGA
Registered: 130757
Accredited: 26933
A: 288
APC: 6408
LP: 552
PDP: 16043
SDP: 2586
TVV: 26320
Rejected: 591
TVC: 26911
Khana LGA
Registered: 183626
Accredited: 16836
A: 120
APC: 620
LP: 57
PDP: 9475
SDP: 5846
TVV: 16435
Rejected: 401
TVC: 16836
Bonny LGA
Registered: 83094
Accredited: 13815
A: 101
APC: 3285
LP: 1292
PDP: 8032
SDP: 559
TVV: 13447
Rejected: 368
TVC: 13815
Ahoada East LGA
Registered: 90694
Accredited: 20607
A: 155
APC: 22
LP: 219
PDP: 14408
SDP: 2077
TVV: 20038
Rejected: 523
TVC: 20561
Omuma LGA
Registered: 65289
Accredited: 12058
A: 72
APC: 2127
LP: 52
PDP: 8760
SDP: 804
TVV: 11925
Rejected: 133
TVC: 12058
Okrika LGA
Registered: 86095
Accredited: 15466
A: 404
APC: 2719
LP: 231
PDP: 10342
SDP: 822
TVV: 15093
Rejected: 333
TVC: 15426
Andoni LGA
Registered: 143304
Accredited: 13697
A: 266
APC: 3149
LP: 84
PDP: 8319
SDP: 1185
TVV: 13271
Rejected: 426
TVC: 13697
Abua Odual LGA
Registered: 97090
Accredited: 17132
A: 150
APC: 5738
LP: 391
PDP: 9763
SDP: 463
TVV: 16676
Rejected: 446
TVC: 17122
Emohua LGA
Registered: 134975
Accredited: 29253
A: 179
APC: 5916
LP: 505
PDP: 20600
SDP: 805
TVV: 28591
Rejected: 662
TVC: 29253
Ogba-Egbema-Ndoni LGA
Registered: 168205
Accredited: 32809
A: 1358
APC: 6811
LP: 1267
PDP: 17729
SDP: 3450
TVV: 31381
Rejected: 978
TVC: 32359