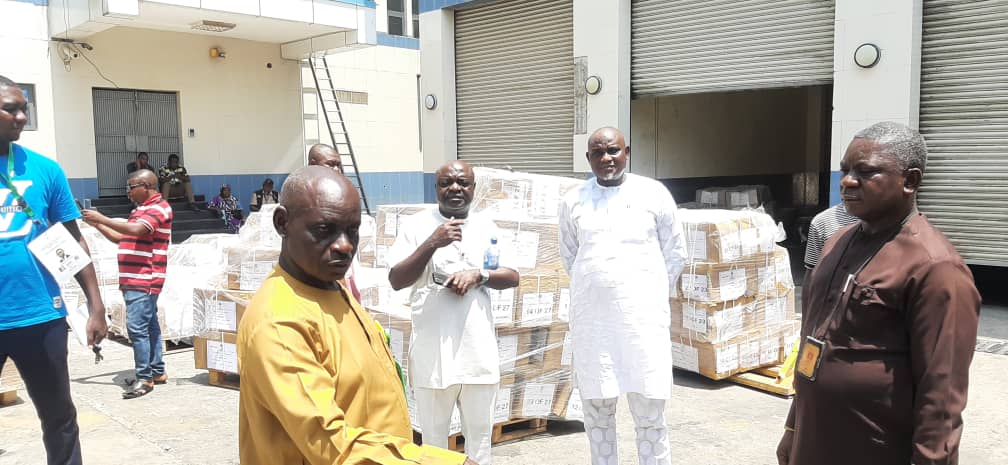 By Peter Duru, Makurdi
The political parties in Benue state have commended the Independent National Electoral Commission, INEC, for the transparent manner it has handled all the sensitive materials for the coming Saturday's Governorship and State Assembly elections.
The parties gave the commendation on Wednesday shortly after inspecting the election ballot papers and result sheets in the custody of the Makurdi Branch of the Central Bank of Nigeria, CBN, before distribution to the 23 Local Government Areas, LGAs, of the State.
Speaking after inspecting the materials, the representative of the PDP and Legal Adviser of the party in the State, Mr. Clement Mue, said "So far so good, we have gone through the process of inspection and to the best of my knowledge what I have seen here is very transparent. All the sensitive materials for the election are complete. We commend INEC for transparently handling the materials and by the grace of God we are going to have one of the most peaceful elections on Saturday.
On his part, the State Secretary of APC, Paul Biam said "the Resident Electoral Commissioner, REC, has taken us around to inspect the materials and we are largely convinced that all the materials are securely tied together. We have a sense of convincing that they are safe and have not been tampered with.
"We commend INEC, if at the end of the day the materials are sent to our various LGAs and nothing is different we will continue to commend them. Hopefully, we are sure that we are having a hitch-free election on Saturday."
Earlier, the REC for Benue State, Prof. Sam Egwu said, "what we are doing is to observe a tradition put in place by INEC in the last two electoral circles. And that tradition is that the sensitive materials, especially the ballot papers and the result sheets are kept in the Central Bank of Nigeria, CBN, where they are most secured.
"The materials are kept in the strong room of the bank. And we want to ensure that the materials are brought out and inspected by the political parties, since at the end of the day, INEC is accountable to the political parties because parties constitute the institutional foundation of democracy.
"So we want to manifest that tradition of transparency by bringing the media and the parties to see that the sealed sensitive materials are safe and secured.
"When these materials leave here they are going to the 23 Local Government Areas where we also kept the BVAS that we used in the last election. Political parties will be allowed in the LGAs to check the number of BVAS that we kept there; where they have since been configured for the coming elections.
"That is another critical material in this election, and we are very happy to showcase the transparency of INEC in the handling of these sensitive materials."
Also, the Branch Controller of CBN in Makurdi, Saidu Nasir who was represented by Enatto Habib, a Principal Manager in the branch assured that the sensitive materials were safely kept in the strong room of the bank, "and no one tampered with them."