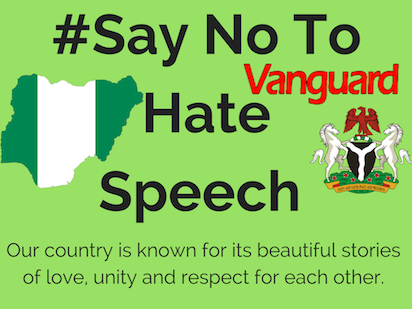 Hate Speech
….seeks stiff sanctions against perpetrators
By Ikechukwu Nnochiri
Ahead of the impending Governorship and State Assembly elections, the National Human Rights Commission, NHRC, on Friday, said it was worried over the increased use of hate speeches by politicians and their supporters.
The Commission, through its Executive Secretary, Chief Tony Ojukwu, SAN, decried that such hate speeches have continued to fan the embers of disunity along ethnic and religious lines.
While advocating stiff sanctions for the perpetrators, Ojukwu lamented that the menace has crept into places of worship, saying it was worrisome that religious leaders, "have joined the unholy enterprise of spreading hate speeches".
According to him, "the use and misuse of the social media to spread ethnic and religious hate-laced messages, is also worrisome, with far-reaching and complex implications".
He warned that the trend, if not checked, could precipitate violence and stoke tension among religious and ethnic groups, disrupt social, cultural, and religious harmony, as well as affect rights citizens' right to associate, assemble, move freely freedom and to live in any part of the country.
Ojukwu, in a statement that was signed by the Deputy Director Public Affairs, Fatimah Agwai Mohammed, warned that the development, if not quickly tackled through prompt prosecution of the perpetrators, could further worsen the security situation in the country.
"It is therefore imperative that we address this urgently, because disseminating ideas that project the supremacy of one tribe or religion over another or incite violence on one religion or tribe against others constitute a crime and violate the 2022 Electoral Act", he added.
The Commission had earlier disclosed that it entered into a partnership with with two major social media platforms, Facebook and Twitter, to track and document hate speeches by candidates in the 2023 general elections.
The NHRC said it would establish a National Hate Speech Register and deploy its enforcement mandate on perpetrators.
"We have also concluded plans to setup an electronic App that will make the report of hate speeches easier", it added.