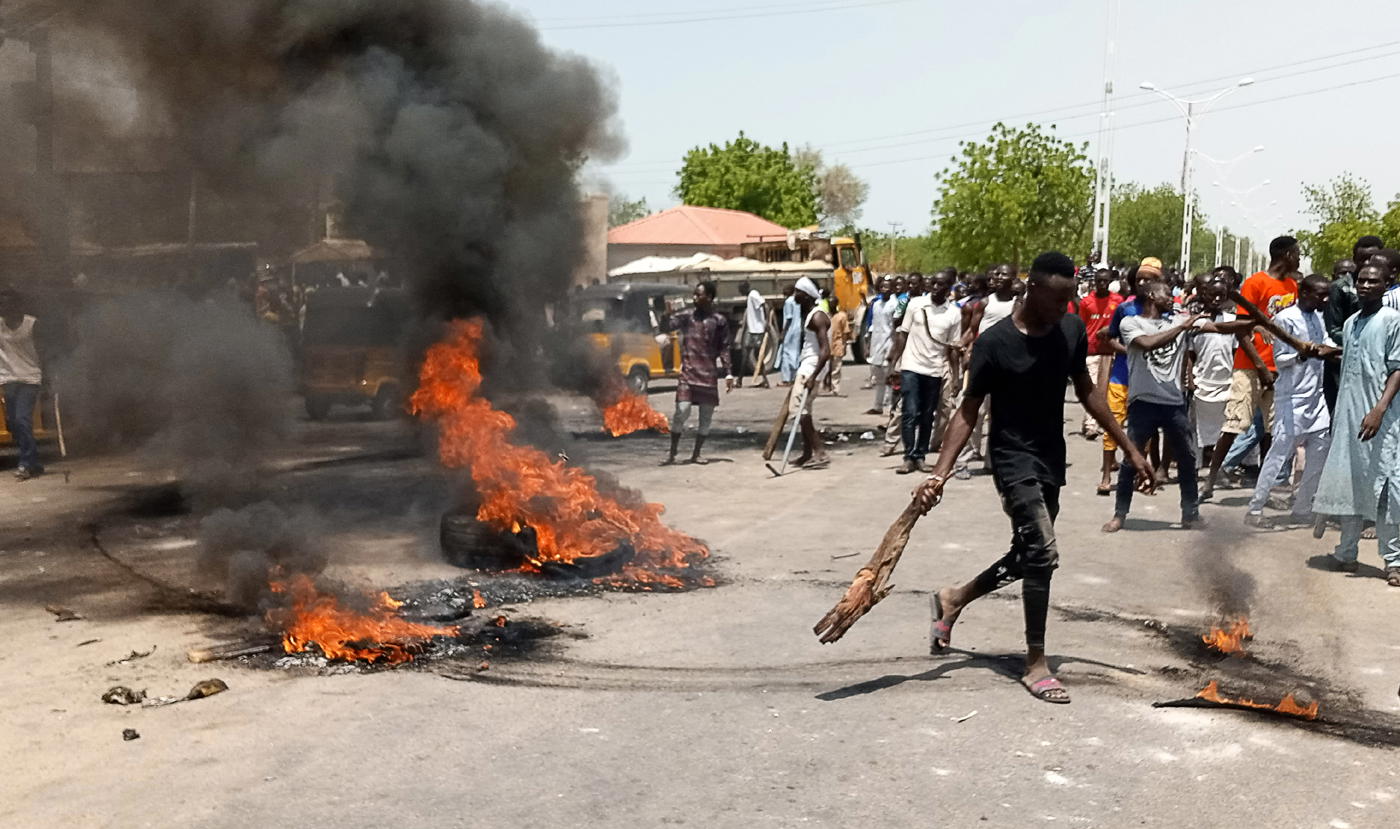 Protesters burn tyres as they block a main road in Maiduguri on June 30, 2019, during a demonstration calling for a ban on the anti-Boko Haram CJTF militia they accuse of abuses after the killing of a rickshaw driver. – The protesters blocked major roads in the Suleimanti area of the city and set fires, causing chaos despite pleas from police and military officers, an AFP reporter at the scene saw.
…decries voter intimidation, suppression
…tasks INEC, security agencies on prevention of violence
By Gabriel Ewepu
AS Nigerians await results from the Saturday's governorship and State Assembly elections, ActionAid Nigerians, AAN, called for punishment of perpetrators of violence in Lagos and other parts of the country.
Speaking with Vanguard on the incidences that erupted during the governorship and State Assembly elections, Director, Resources Mobilization and Innovation, AAN, Andrew Mamedu, said it is so disheartening to see preventable violence recurring during Election Day in Nigeria.
Mamedu said the level of voter intimidation and suppression demands serious and holistic solution to eradicate the menace completely from the electoral process.
He said: "So clearly, whatever is happening in Lagos, the security agencies should be able to rise up and stop it, and if at the end of the day this is proven to be significant and it goes to court is going to cost us much more resources to run those elections again.
"It is going to be taxpayers' money that will be used to run these elections, where security agencies and INEC are supposed to allow it at the first go for us to get this right.
"Let us not connive with politicians, any political parties, and that is why we have the independence in INEC and that is why the security agencies are supposed to be independent in this instance.
"The time to do right is now, we still have the opportunity to finish before the end of the day.
"For subsequent elections we should learn lessons from past elections and we should go past this", he said.
However he said it will be unfortunate for Nigeria if the security agencies or INEC are supporting anyone, and also cautioned that if not this may lead to anarchy.
On what should be done as deterrent to those who unleashed mayhem during the Saturday's polls in Lagos State and other parts of the country, he (Mamedu) referred to the assurance the Chairman of INEC, Prof Mahmood Yakubu, gave on immediate prosecution, he expressed confidence that that would reduce the impunity, violence and oppression no matter who is involved in the violence or election malpractices.
Meanwhile, he said Nigerians should be allowed to "determine who should govern them. So if politicians should go ahead and campaign, canvass for votes, and after that on Election Day, let people come out, let it not be rigging in some ways where you start preventing some people from coming out and that means you are already rigging the election, where you start snatching ballot boxes, burning them or even if INEC officials coming late into the polling units those are systematic rigging.
"So clearly let people decide who they want to vote for, and is the responsibility of INEC and security agencies to ensure there is the enabling environment for that to happen. That is the whole premise of democracy."
He also added that, "Democracy is about numbers and citizens' voices, and by the time you start trying to undermine the system, you are trying to help the system, by time you go to areas where you think is not your stronghold and you begin to obstruct election in those areas, it is the responsibility of the security agencies to stop and prevent such."