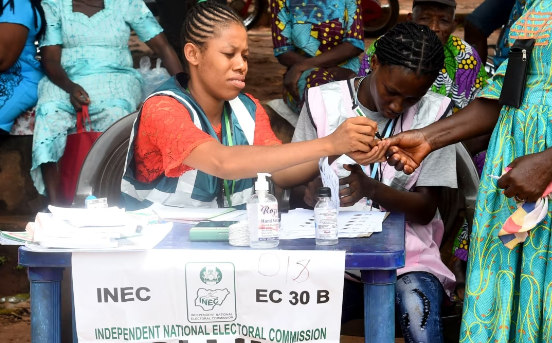 Voters in Katsina and Kaduna States have been assured that their votes in the forthcoming governorship and house of assembly elections will be highly protected.
The Assistant Inspector General (AIG) in charge of Zone-14, Abdulrahman Ahmed, gave the assurance at a press briefing in Katsina on Wednesday.

According to him, the briefing was to inform the public of the logistic reinforcement offered to the zone by the Inspector General of Police (IGP), Usman Baba-Alkali.
He explained, "When I assumed office as the AIG Zone-14 for election duty, I discovered that the zone did not have even a single motorcycle, not to even talk about vehicles.
"Upon that, I left for Abuja to meet the IGP and appealed to him to provide us with the means of transportation, arms and ammunition, and immediately he approved.
"We got two patrol vehicles and also a brand new Armoured Personnel Carrier (APC) vehicle with all its capabilities for operations, enough arms and ammunition and anti-riots equipment.
"Now with these, the headquarters of the zone is equipped to compliment the efforts of the commands under it, and we are very ready to police the governorship and house of assembly elections."
Ahmed added that they are ready and assured the people of the two states that the IGP is ready to give them the secured environment enough for each and everyone to exercise their franchise.
He also assured the various political parties that are participating in the elections, that there will be no concessional candidate, there will be no candidate being considered by the police ahead and above others.
"Everybody is equal before the police, and especially they will be given level-playing ground to exercise their constitutional rights.
"Unfortunately, it has come to my ears that some politicians are crying wolf that the police are not fair. I challenge such people to bring one single incident that the police have not been fair to them.
"And they will see at my own level what I will do. We will investigate, and any police officer or group of policemen found wanting, they will be handled according to the law.
"We are here for justice and fairness, and everyone is considered equal before us. There's no preferred candidate or political party. We are God fearing, especially under IGP Baba-Alkali," said the AIG.
Ahmed revealed that the police must be seen to do justice to each and everyone, adding that they fear nobody except the creator, therefore, they will discharge their duties without fear or favour.
"To the people of Katsina and Kaduna states, they should abide by the law, just as they did during the presidential and national assembly elections.
"We gave them the opportunity to exercise their rights, and they have behaved well. So, we are appealing to each and everyone to do same.
"They should go peacefully with their voter cards, do the needful, vote for their preferred candidates and go away for 300 meters if they want to wait.
"Police are very much ready to stop any act of vandalism, before, during and after the elections. That's why we are now preparing the minds of the people and politicians," he disclosed.
The AIG also gave a strong warning to any would-be criminal to desist and change their criminal intent, as criminality does not pay.