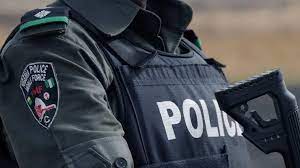 The Police and other heads of security agencies in Oyo State have barred vendors of food, alcohol and other consumables from operating around polling units during the Saturday's election.
The Commissioner of Police in the state, Adebowale Williams, made this known while briefing newsmen on the outcomes of the strategic security meeting of all heads of security agencies and paramilitary organisations on Thursday in Ibadan.
Present at the meeting were the heads of NSCDC, FRSC, Nigerian Army, Customs, NDLEA, DSS, Nigeria Correctional Service, among others.
According to him, in a bid to secure a safe and conducive environment for electorate in the interest of public order and safety, the extant ban on the following remains in force; VIP escorts, accompanying their principals to polling units.
He said: "Vendors of food, alcohol and other consumables shall not be allowed to operate around polling units/wards as no opportunity shall be created for points of negotiation to aid vote-buying.
"Going armed is a criminal offence and would be viewed seriously. On election day, don't be caught with as little as a knife in your pocket.
"In addition, residents are advised against placing physical objects such as bricks, wooden materials or stones on streets and major roads under the guise of recreation as it might debar immediate intervention during times of distress.
"Use of sirens and revolving lights by unauthorised persons, tinted glasses and covered number plates and vehicular restrictions from 12.01a.m, election day, till 6p.m of same — that is Saturday."
The police chief said that adequate security measures had been put in place by the joint security agencies and paramilitary organisations for protection of lives and properties for Saturday elections and beyond.
He said: "We, Heads of Security Agencies and Paramilitary Organisations, wish to intimate residents that more pre-emptive measures toward the protection of lives and property have been emplaced for the overall success of the Saturday's elections.
"Residents shall witness a complete overhaul of the present security architecture to accommodate more inclusive measures effective this moment.
"These would include, but not limited to, joint visibility patrols and raids of black spots, coordinated intelligence surveillance and close monitoring of habitual criminals.
"Also, included in the new security schedule is the involvement of cyber-forensic experts to handle cyber-related offences, especially circulation of fake and unverified news in other to heat up the polity as violators would be sanctioned in accordance with the provisions of Section 24(1)(b) of the Cybercrime, Prohibition, Prevention Act of 2015."
Williams said that a total number of 15,000 personnel of all the security agencies in the state would be deployed for the Saturday elections, while every area would be adequately monitored.
The Commissioner of Police advised that post-election celebrations should be done in moderation, devoid of inciting utterances and provocative gestures that could lead to an eventual breach of peace.
He also advised parents, guardians and leaders wielding degrees of influence in the society to prevail on their children, wards, protégés against being used as expendable objects of disruption during the elections.
Williams commended residents of the state for the peaceful conduct of February 25 presidential and National Assembly elections, urging them to maintain the same standard for the Saturday elections.
He advised members of the public that in cases of emergencies, the Command could be reached through these Emergency Control Room numbers: 615(toll free) and the Oyo State Police Command emergency lines 07055495413 and 08081768614; Garrison Command Hotline – 07047703000.