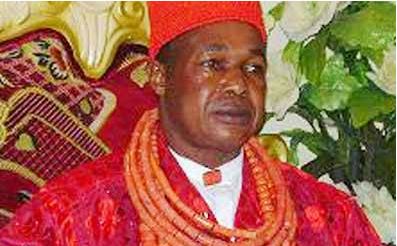 By Chancel Sunday
The Paramount ruler of Seimbiri Kingdom in Burutu Local Government Area of Delta State, HM King Charles Ayemi-Botu, has expressed the disappointment that pipeline vandalism, illegal bunkering and crude oil toppings had become a vicious circle in successive administrations, either military or civilian, which must be stopped forthwith without any further delay.
The monarch gave his opinion on the state of the nation in a statement issued, yesterday, in Warri with the theme, "Oil Theft and Losses in Nigeria", stressing that protecting the Petroleum Industry Assets for improved economy in Nigeria was apparently very tall and seemingly an unattainable ambition.
King Ayemi-Botu, popularly known as Lion of the Niger, said: "To put it in its proper perspective, pipeline vandalism, crude oil toppings/losses is a cankerworm in the body polity of successive administrations, be it military or civilian, therefore it has become a vicious circle.
"One of the major factors of crude oil theft/losses is principally the human factor through unpatriotic, dishonest, selfish and deliberate collaboration of some highly placed unsuspecting members of the society, including serving and retired military personnel, multinational oil companies, nefarious businessmen, security operatives detailed to safeguard oil installations, NNPC and their staff using oil servicing companies as Canon fodders to exploit, produce and extort without giving the specific quantum of daily production.
"It's an absolute fact and indeed a sad commentary to note that Nigeria is the only country among the league of 12 major oil producing and exporting countries (OPEC) that has no functional refineries due to lack of maintenance culture and brazen corruption pervading in the system.
"More so, billions of dollars had been spent on the turnaround maintenance of our refineries but it all ended up in private pockets. It's ironical to observe that, after few months of functioning, these facilities will break down and they would revert to their obnoxious business of importing refined petroleum products.
"Protecting the Petroleum Industry Assets for improved economy in Nigeria is apparently very tall but seemingly an unattainable ambition due to the above mitigating factors".
The monarch, however, urged the federal and state governments, as well as agencies saddled with the responsibility of protecting the oil industry, which is mainstay of the economy, to redouble efforts to ensure adequate security and prosecute saboteurs and corrupt officers stifling smooth running of the industry to serve as deterrence to future culprits, whose unenviable stock in trade is to sabotage Nigeria's economy.