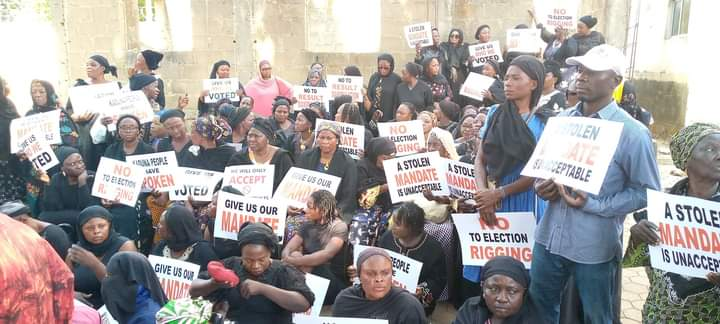 …as group protests, calls for rejection of INEC results
By Ibrahim Hassan-Wuyo 
Protesters disclosed how politicians allegedly enticed voters with noodles, cash and other material items in the just-concluded Governorship and House of Assembly elections in Kaduna state. 
Already, the outcome of the Kaduna elections has sparked protest in the state today (Thursday morning) by some citizens, kicking against the declaration by of the candidate of the ruling All Progressives Congress, APC, Uba Sani as the Governor-elect by the Independent National Electoral Commission, INEC in Kaduna State. 
Our correspondent gathered that the Peoples Democratic Party, (PDP), agitated by the outcome of the poll, may have been motivated the protest.
In their numbers, protesters called on Nigerians to join in rejecting INEC declaration of APC's Uba Sani, winner of the election.
According to the leaders of the protest, there would be a press conference later in the day, to highlight the details. 
Meanwhile, a protester holding a placard, alleged that the APC's victory was a mandate stolen by enticing the voters with indomie noodle and cash other necessities, calling on the INEC to have a rethink over the governorship election in the state. 
The aggrieved citizens said they are appealing that the stolen mandate be returned to PDP's Isa Ashiru Kudan who they believed, won the election after series of postponement ànd delays.
See photos of the protest below.