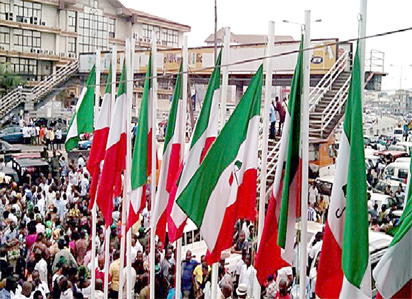 PDP and its colour flags
…to seek redress in court
By Ogalah Ibrahim
The Campaign Council of the Peoples Democratic Party (PDP) has rejected the result of the March 18 governorship and the house of assembly elections held in Katsina State.
This is as the leading opposition party in the state assured that it will follow all the necessary legal procedures to ensure that the injustices meted out to the party's candidate during the governorship and house of assembly elections are addressed.
The Director General of the Campaign Council, Mustapha Muhammad Inuwa, disclosed this at a press conference held at the party's campaign office on Monday.
"We have totally rejected the result of the governorship and state House of Assembly elections in Katsina State, and we will challenge the result in court in order to retrieve our mandate," Inuwa said.
According to Inuwa, the elections were marred by voter intimidation in conjunction with some security agents and INEC personnel.
Inuwa also alleged that the state government directed all workers, and traditional and religious leaders to ensure APC win or face the consequences.
According to the former APC Chieftain, with the way and manner the elections were conducted in the state, democracy has been dragged back by 40 years.
He however noted that irrespective of the blackmail and intimidations, it would not deter them from pursuing justice and seeing that a healthy Democratic process is instituted in the state.
INEC on Sunday declared APC winner of the March 18 governorship poll in Katsina.
The ruling APC also won 32 of the 34 house of assembly seats in the state.