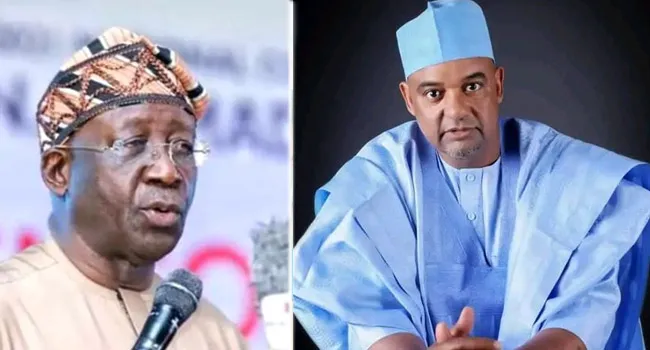 By Clifford Ndujihe, Dapo Akinrefon, John Alechenu & Egufe Yafugborhi
LAGOS — Stakeholders in the main opposition Peoples Democratic Party, PDP, who want the National Chairman, Dr Iyorchia Ayu, to quit the position, have succeeded, at least in the interim.
He will cease to function as national chairman until the court says otherwise.
A Benue High Court on Monday ordered Ayu to stop parading himself as national chairman of the PDP pending determination of the suit before it.
The National Working Committee, NWC of the PDP, acting on the order, yesterday, confirmed its Deputy National Chairman (North), Amb. Umar Illiya Damagum, as acting national chairman after Ayu, stepped aside in deference to the court order.
The PDP NWC took the decision at an emergency meeting, yesterday.
National Publicity Secretary of the party, Mr. Debo Ologunagba, confirmed the development in a statement shortly after the meeting.
He said: "The NWC at an emergency meeting today, Tuesday, March 28, 2023 acknowledged the Order of the Benue State High Court, dated March 27, 2023 with regards to the chairmanship position of our great party.
"After careful consideration of the Court Order and in line with Section 45 (2) of the Constitution of the PDP (as amended in 2017), the NWC resolved that the Deputy National Chairman (North) His Excellency, Amb. Umar Ililya Damagum assumes the National Chairmanship of our party in acting capacity with effect from today, Tuesday, March 28, 2023.
"The NWC charges all leaders, critical stakeholders, teeming members and supporters of our great Party to remain calm and united at this critical time."
I'm taking office to fulfill all righteousness — Damagum
Speaking on his new role, Amb. Damagum told reporters that he was stepping into the position to act as chairman "to fulfill all righteousness" because of a court order restraining Dr. Iyorchia Ayu from parading himself as national chairman.
He said: "We are here to fulfill all righteousness, we have a court order restraining our national chairman and we are law-abiding
"I will be here with you in acting capacity pending the determination of the court. I want to use this opportunity to enjoin you to give me the cooperation as we all used to have with you.
"I will have a meeting immediately after this session with the NWC to review what is happening in the party."
Victory for anti-Ayu forces
The development appears to be a victory, at least for now, for stakeholders who want Ayu to quit the national chairmanship post.
Among those who wanted and asked Ayu to resign as national chairman are former Deputy National Chairman of the PDP, Chief Olabode George; a group of leaders known as the Integrity Group; and five governors elected on the platform of the PDP known as G-5, led by Governor Nyesom Wike of Rivers State. The other four governors are Okezie Ikpeazu (Abia), Seyi Makinde (Oyo), Ifeanyi Ugwuanyi (Enugu), and Samuel Ortom (Benue).
They started the push to get Ayu out after the PDP presidential primaries last May that was won by former Vice President Atiku Abubakar to balance power sharing between the North and South and in respect of the party's tradition of the president and national chairman not hailing from the same region.
Atiku and Ayu are from the North.
The leaders cited Ayu's reported promise to resign if told to do so by national leadership of the party, if a northerner won the presidential ticket.
However, Ayu refused to resign. Atiku, the presidential candidate, also refused to prevail on him to resign, citing constitutional lacuna.
The PDP, consequently, went into the 2023 general polls with a divided front and lost the presidency and some traditional strongholds. The party last week suspended some top brass such as former Senate President, Anyim Pius Anyim; Senator Chimaroke Nnamani; former Ekiti State Governor, Mr Ayo Fayose, and two others for anti-party activities.
Ayu's ward in Benue, last week suspended him from the party but he countered that the ward leaders who axed him were ignorant of the PDP's constitution. After the court order against him, Ayu's kinsmen stormed the PDP secretariat, yesterday to drum up support for him. Among the stakeholders were PDP members from Ayu's Igyonev Ward, Benue State.
Accept your reign has ended, Wike tells Ayu
Speaking on the development, yesterday, Governor Wike asked Ayu to accept that his reign as PDP national chairman had ended.
Wike, who spoke during the inauguration of the Trans-Kalabari Road at Degema Krakrama Bridge, Degema Local Government Area, said: "Ayu said nobody can suspend him but today, he has been packed out from the national office. We have an acting chairman. I told him he would go, whether he likes it or not, he will go.
"Those lawyers telling you the ward has no power to suspend you, that only National Executive Council, NEC, can, don't understand what is happening. When you came, it was the ward that suspended (Uche) Secondus, and you went and took office, is it not?
"So, is it now that you know that it is only the NEC that can suspend you? Let me tell you, since they've not told you, the court has struck off that section of our constitution that says it's only the NEC that can suspend (chairman). PDP did not even appeal the judgment.
"So, forget it, you are gone. You are wasting your time. We are ready for the battle. I am not from Benue but I have an interest and that interest is that Ayu must go.
"Look at it, a national chairman, your own ward will be suspending you. Does it not tell you that you are not on the ground? Your own ward will be suspending you and you go on television to say only NEC can suspend you. Stay, wait for NEC, but know that you're gone."
He taunted Ayu further: "Ayu, the man you supported for president, you didn't give him a vote, he lost. We supported a Southern president and we won in our states for equity, justice and fairness.
"A man who lost his unit, a man who lost his ward, a man who lost his local government, a man who lost his state and he is coming to preside over us who won our units, won our wards, won our local governments, won our state, something must be wrong.
"You cannot reap where you never sowed. If all of us have lost our states, what will you be chairing? You want to use Rivers State to be chairman, we are not a party to that. Go and bring your own local government.
"Here (in Rivers), we won 32 over 32 seats for the House of Assembly, Ayu, how many did you win? Here, we won the three seats for Senate too, Ayu, how many did you win? We won 11 out of the 13 seats for the House of Representatives, Ayu, how many did you win?"
While inaugurating the road project, Governor Seyi Makinde of Oyo State said that Governor Wike had done so well for Rivers people because of the spread of his development projects in virtually every community, and disclosed that he was following Wike's footstep in Oyo.
Ayu behaved like a village headmaster —Bode George
Also speaking, Chief Olabode George urged all warring parties in PDP to sheathe their swords even though Ayu behaved like a village headmaster in running the affairs of the party
George, in a chat with Vanguard, insisted that there must be a post-mortem of what led to the crisis.
His words: "My reaction is simple, if a court gives you an order, it should be obeyed to avoid contempt of court. Ayu has to obey the court and then sort out the matter later. What we are saying is that all those he has suspended and expelled are also members of the party's National Executive Committee. You don't treat NEC members like ordinary party members.
"Those who suspended Ayu at his ward wanted to embarrass him and that is why they did what they did. He has to be a good manager and not behave like the headmaster of a primary school. I am appealing to all sides to allow peace to reign otherwise the crisis will consume this party the way they are going about it.
"We need to see the end of the judgment because we are still in court. When you are in court, public perception matters a lot. Since he did not do what he was expected to do, that is why they did what they did by suspending him and going to court.
"After the court matter, we will sit down and have a post-mortem of the crisis."