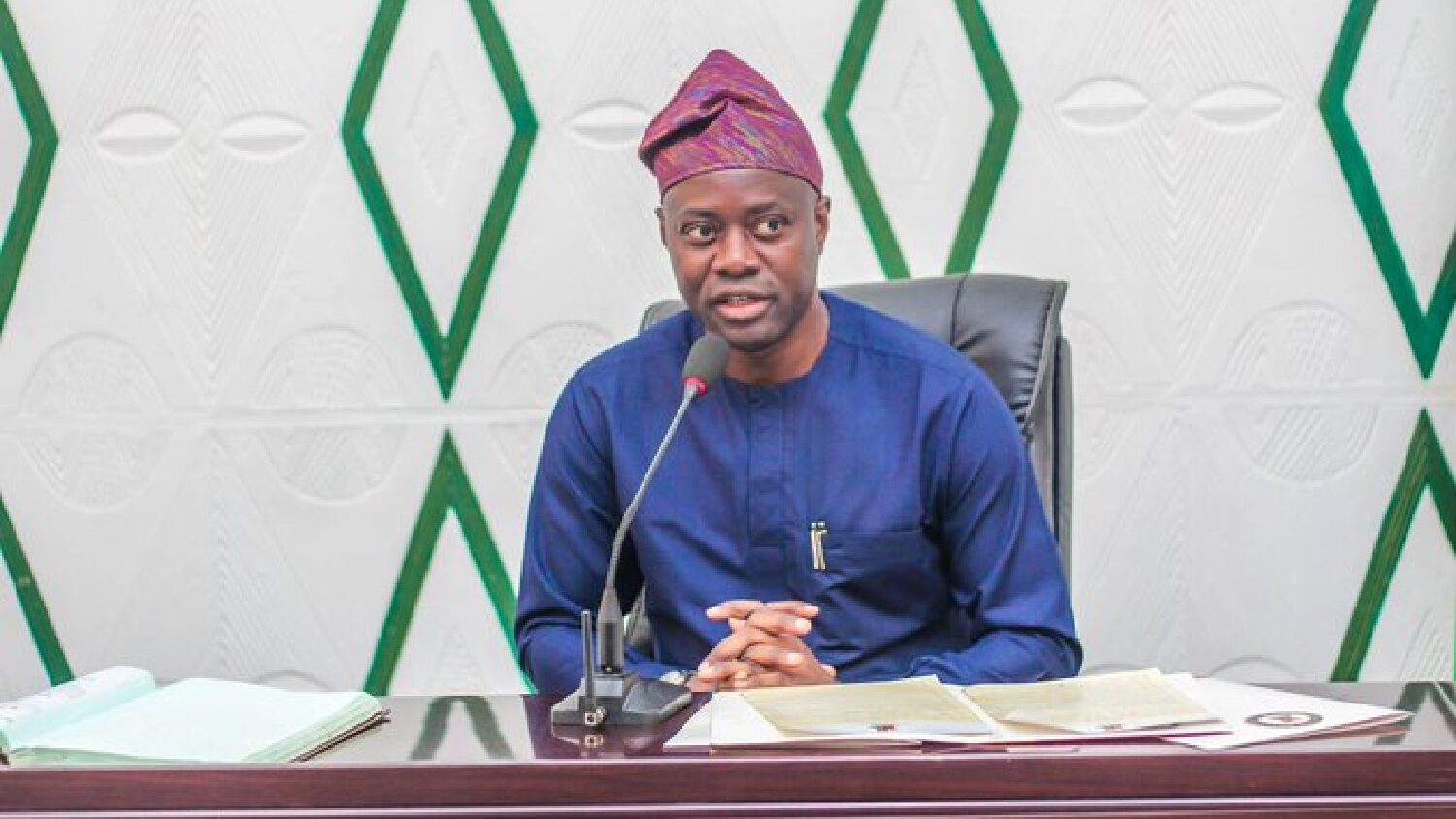 Governor Seyi Makinde of Oyo State
By Adeola Badru, Ibadan
The incumbent Governor 'Seyi Makinde of Oyo State has equalled the history of former Governor Abiola Ajimobi; to have become the second governor to rule the state twice.
He overwhelmingly defeated two other contenders to clinch victory in a keenly-contested election.
Makinde, who had won 31 out of the 33 local governments, has a total vote of 563,756, to defeat his closest rival, Folarin, who has 256,685 and Adelabu who scored 38,357.
According to the election results declared by the INEC's Retuning Officer, Prof. Adebayo Bamire, Makinde emerged victorious in the majority of the local government areas, cementing his lead in the race.
The results are as follow:
1) Ona-Ara Local Government
Accord: 1,212
APC: 5,510
PDP: 17,326
2) Ibadan Northwest Local Government
Accord: 1,291
APC: 5,947
PDP: 19007
3) Ibarapa East Local Government
Accord: 1,885
APC: 7094
PDP: 11,125
4) Afijio Local Government
Accord: 1,357
APC: 5,588
PDP: 13,139
5) Atiba Local Government
Accord: 1,113
APC: 7,484
PDP: 18,389
6) Orire Local Government
Accord: 1,895
APC: 9,216
PDP: 13,767
7) Ibadan Southwest Local Government
A: 2,270
APC: 9,491
PDP: 31,273
8) Oluyole Local Government
Accord: 1,386
APC: 6,592
PDP: 21,700
9) Atisbo Local Government
Accord: 1,188
APC: 6,955
PDP: 9,199
10) Saki East Local Government
Accord: 188
APC: 5,519
PDP: 8,374
11) Surulere Local Government
Accord: 271
APC: 8,882
PDP: 15,554
12) Itewiwaju Local Government
Accord: 2036
APC: 4,597
PDP: 8034
13) Ogo Oluwa Local Government
Accord: 50
APC: 5,570
PDP: 10,930
14) Irepo Local Government
Accord: 388
APC: 9,785
PDP: 7,193
15) Olorunsogo Local Government
Accord: 998
APC: 4,851
PDP: 5,838
16) Ibadan Northeast Local Government
Accord: 1,564
APC: 8,486
PDP: 29,396
17) Ogbomosho South Local Government
Accord: 10
APC: 8,257
PDP: 17,693
18) Ibadan Southeast Local Government
Accord: 1,846
APC: 9,147
PDP: 23,585
19) Ibarapa North Local Government
Accord: 563
APC: 5,678
PDP: 10,845
20) Ibarapa Central Local Government
Accord: 1,455
APC: 6,287
PDP: 10,491
21) Oyo West Local Government
Accord: 431
APC: 7,599
PDP: 15,084
22) Oyo East Local Government
Accord: 571
APC: 6,999
PDP: 15,751
23) Ogbomosho North Local Government
Accord: 562
APC: 10,661
PDP: 20,387
24) Ido Local Government
Accord: 822
APC: 7,865
PDP: 19,284
25) Kajola Local Government
Accord: 1,710
APC: 9,523
PDP: 13,562
26) Lagelu Local Government
Accord: 886
APC: 10,661
PDP: 19,104
27) Ibadan North Local Government
Accord: 2,120
APC: 11,883
PDP: 39,658
28) Iseyin Local Government
Accord: 501
APC: 9,694
PDP: 25,740
29) Egbeda Local Government
Accord: 3072
APC: 7,377
PDP: 30,444
30) Saki West Local Government
Accord: 607
APC: 13,753
PDP: 17,452
31) Ore-lope Local Government
Accord: 1602
APC: 7077
PDP: 6,483
32) Iwajowa Local Government
Accord: 269
APC: 6,441
PDP: 9029
33) Akinyele Local Government
Accord: 1287
APC: 9,445
PDP: 28,920