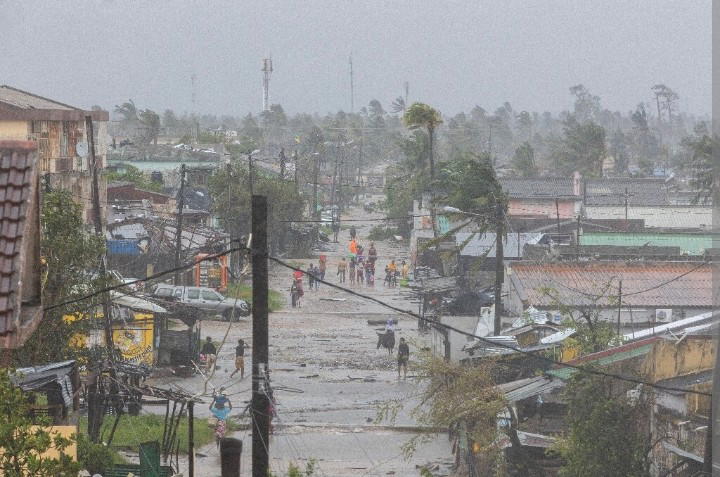 By Biodun Busari 
One of the deadliest cyclones ever recorded in the Southern Hemisphere —  Tropical Cyclone Freddy – hit the southern African countries of Malawi and Mozambique on Monday. 
According to the East African News, the Cyclone Freddy which attacked the region for the second time killed 99 people in Malawi and 10 in Mozambique. 
Malawian Department of Disaster Management Affairs also disclosed that 16 people were reported missing following the outbreak of the natural hazard. 
"In total, 99 deaths have been recorded with 16 people reported missing and 39 camps set," Malawi's Department of Disaster Management Affairs (Dodoma) said late Monday.
According to Dodoma's Commissioner for Disaster Charles Kalemba, the reports further indicated that 300 households (approximately 1,350 people) had been affected, out of which 46 households (approximately 207 people) were displaced and sought refuge at Manja Camp and Naotcha Primary School.
Freddy comes with torrential rains associated with gusty winds in most parts of southern Malawi districts.
The wind intensity is expected to increase, reaching 95 km per hour in some areas.
As a precautionary measure, Malawi's ministry of education temporarily suspended physical learning in the affected districts on Monday and Tuesday.
Malawi's President Lazarus Chakwera also said that he noted with grave concern the devastation that Cyclone Freddy was currently bringing to most districts in the country's southern region and declared a state of disaster in the region.
According to local authorities in Mozambique, more than 250,000 people have been affected by the cyclone in the city of Quelimane alone.
"Mozambique port town of Quelimane, which was struck hard by the cyclone, has counted so far at least ten dead and hundreds injured", its head Manuel de Araújo said on Monday.
In both Malawi and Mozambique, humanitarian agencies have asked for urgent additional resources to respond to the emergencies.
According to the United Nations Office for the Coordination of Humanitarian Affairs (OCHA), the UN and its humanitarian partners are working closely with both governments to respond to Freddy and a cholera outbreak.
"The storm continues to break records as the longest-lasting tropical weather system in the Southern Hemisphere," OCHA said on Monday.