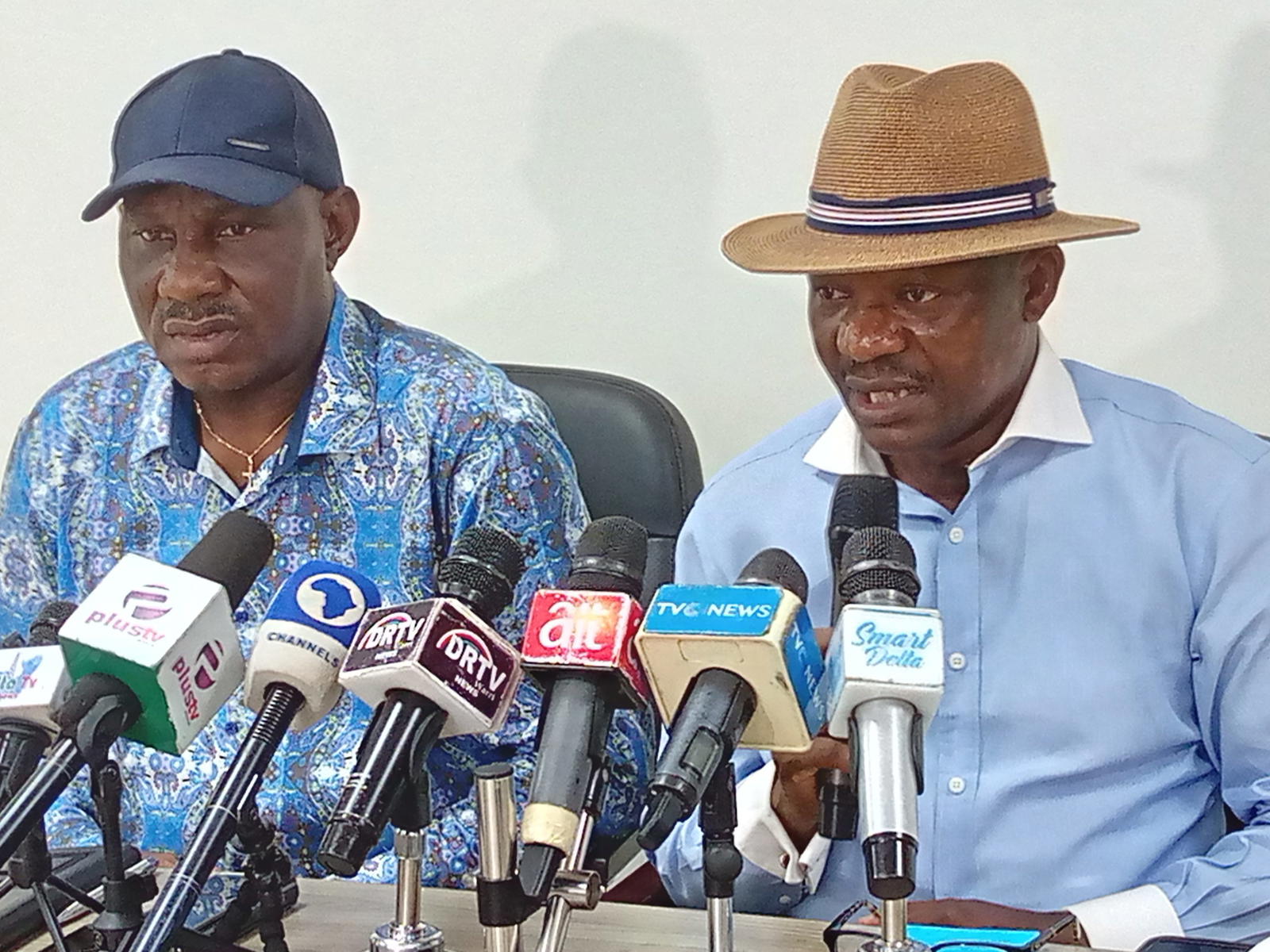 Delta State Commissioner for Information, Mr. Charles Aniagwu (right), briefing Journalists in Asaba on Thursday. With him is the Chief Press Secretary to Governor Okowa, Mr. Olisa Ifeajika.
Delta State Commissioner for Information, Mr. Charles Aniagwu, on Thursday, said the Peoples Democratic Party (PDP) has produced a gubernatorial candidate that has the capacity of uniting Deltans in the person of Rt. Hon. Sheriff Oborevwori.

Mr. Aniagwu who disclosed this at a press conference held in Asaba, said Rt. Hon. Oborevwori has the needed democratic credentials and the pedigree to consolidate the tempo of sustainable socio-economic growth and development in the state.

According to him, Oborevwori has held sway as the Speaker of the State House of Assembly for the past six years, adding that he has been able to pursue development trajectories to prove that he is a pan Deltan in the last six years.

He pointed out that Rt. Hon. Oborevwori cannot be compared with other gubernatorial candidates in the state who, he said, are sectional in nature, stressing that Oborevwori was the right man to govern the state after Governor Okowa.

"I am sure that some of you watched the debate yesterday and would be wondering why our candidate was not there. We had looked forward to a debate before the postponement of the elections.

"And we started the process of reviewing what happened in the state in the presidential election. Of course, we know that Delta has PDP in its DNA but another party tried to infect us with a virus.

"So, for us to be able to do well in this Saturday's elections, we needed to have continuous interface with the people and that is what we have been doing, to let our brothers and sisters know that PDP cannot leave our DNA.

"We value debates, and quite pleased with Arise News but incidentally, the timing and the time the invitation came, was not convenient enough for us to proceed.

"Even some of the meetings we were to have here in Asaba had to be rescheduled because of time. So, it wasn't convenient for us not because we wanted to run away from debate.

"Our four brothers that appeared in that debate, were telling stories that shows that they were not in touch with what is happening in Delta.

"Apart from Mr. Gbagi, none of you have seen anyone of them carry out any campaign before the presidential election. Can you now say that these are the people that are serious to campaign?

"If indeed they had something to offer, they would have visited our people even in the creeks. The political parties under whose umbrella some of the candidates are running do not even know them as their candidates.

"So, when they begin to tell you that nothing is happening in Delta, you see that they are not in touch with the people. You need to see the difference between them and Great Ogboru who is better off in presenting his plans for Deltans among them.

"We are poised to repair what appears to have been altered in this Saturday's election. We are going to be electing a governor that will truly unite us," Aniagwu said.

He reiterated that the opposition have tried to engage the services of those who claim to be men of the pen profession even when everybody knew that they were not.

This, the Commissioner said, was for the purpose of maligning the PDP administration in the state by churning out lies and painting stories that were at variance with the reality on ground.

"You have read in online media of a lot of allegations that you even know that it are not true. I mentioned the other time that one individual said that we borrowed about N850 Billion and you begin to wonder which bank is going to give you that kind of money?

"I mentioned the Bridging Finance which we accessed that you are privy to and even up till this moment, they are busy churning out lies.

"You do know the number of projects we have executed and you know the contractors. I don't want to believe that there is any truth in them saying that contractors in the state are from one part of the state.

"We have tried in the state to be democratic in all our processes, whether in the area of appointments, projects or even our polices; in order to carry the state as one.

"And I am quiet confident that this is what have contributed to the peace we enjoy in Delta as a state. We cannot claim to be perfect in everything, but we have tried to the best of our knowledge to be very fair to everyone as possible," he said.

Also speaking at the press conference, the Chief Press Secretary (CPS) to the governor, Mr. Olisa Ifeajika berated Kenneth Gbagi for saying at the Arise TV debate that local government councils in the state do not receive allocations correctly which, he said, was a lie from the pit of hell.

"We all know the governor told us last Monday how much the state government augment the resources of local government councils in the state.

"How can the state government that helps local government councils tamper with their allocation," he queried, even as he said that all the candidates that appeared on the Arise TV debate demonstrated crass ignorance about the Contributory Health Scheme in Delta as they were planning to introduce what the Okowa led administration has already been doing for Deltans.