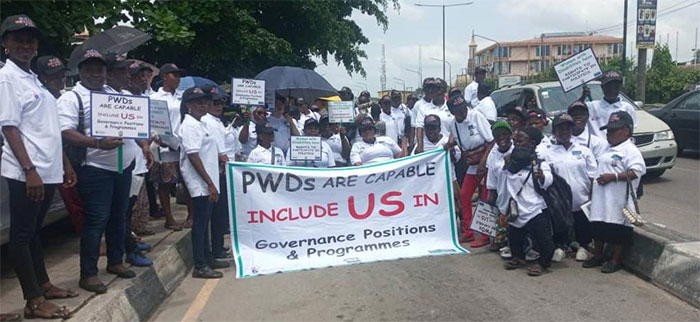 By Esther Onyegbula
Network of Women with Disabilities (NWD), Lagos state chapter on Thursday demanded inclusion in the electoral process at all levels and access to polling units in the state.
The network, in collaboration with the Women's Rights Advancement and Protection Alternative (WRAPA), made the call during a walk and presentation of the charter of demand for women with disability.
According to Olufunke Ogunrombi the Coordinator Network of Women with Disabilities (NWD), Lagos, represented by the General Secretary Yemisi Salami, "the removal of any physical barrier faced by PWDs during elections and in the electoral processes would enable them to vote in line with Nigeria's polling system.
Ogunrombi, stressed the need for election management bodies and other stakeholders to protect the rights of women and PWDs, urging them to include them in the implementation of electoral processes in Nigeria.
"Part of it is ensuring polling units are accessible for PWDs and be able to participate meaningfully during election to exercise their franchise or voting candidates of their choice.
" And not be intimidated because the inaccessibility of polling units can deter prospective voters from exercising their franchise.
"And this is the right time to promote PWDs, especially women in the 2023 election and beyond."
According to her, the rally aims to create more awareness and promote the rights and inclusion of PWDs in the forthcoming election.
She added that an abridged version of a charter of demands that spells out what the provisions of the laws of Nigeria in disabilities rights are about the PWDs, particularly women in the forthcoming elections was also launched to make their demands known.
"We are creating awareness on this purpose for all stakeholders to come on board and ensure that the forthcoming 2023 election and beyond have to be very inclusive of women with disabilities.
" And to ensure that their rights are not infringed upon, they should not be discriminated against for any reason; they should be part of any development and governance in any society where they may exist.
"That is why we are here for people to know that we have the right to vote and be voted for.
Also, Assumpta Khalil, Public Relations Officer, Network of Women with Disabilities (NWD), Lagos state chapter decried that women with disability have been relegated to the background in every sector, stressing the need for inclusion, which would empower them and contribute to national development.
"We want to be heard, to be included in the political sphere, we have capable women with disability who can run for offices and be voted for, to be in the parliament.
"We are demanding for our 10 per cent quota which I believe is not too much, to have our space in the national polity," she said.