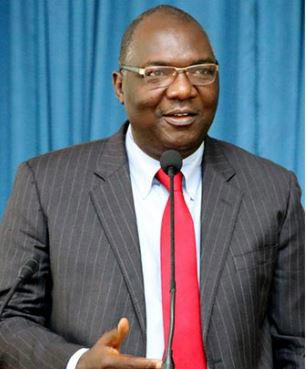 …Says work study introduced to stem school dropout 
By Nnamdi Ojiego
Prof. Deji Agboola is the Vice Chancellor, Olabisi Onabanjo University, OOU, Ogun State, an institution currently celebrating its 40th anniversary. In this interview, he shares the achievements of the university, challenges of funding and how menace of cultism nearly ruined the institution. Excerpts:
Celebrating 40 years of academic excellence is a commendable one, what do you consider the school's greatest achievements so far?
Given the circumstance surrounding the school when it started, the quality of our products is one of our greatest achievements. We started with about 522 students and now, we have about 30, 000 students. For instance, all the principal officers here, from the VC to the two deputy VCs, the Registrar, and the Liberian, all finished from this university. A lot of Provosts and Deans were products of this university. We have our products that are doing well in the banking sector, like the MD of Polaris Bank. Also, the Vice President, Yemi Osinbajo lectured here for a while and his wife is an alumnus of this school. We have others in judiciary and politics doing well. These are the things we are proud of and the technological inroad we have made in areas of Artificial Intelligence, AI. We would think that other big federal universities would have done that earlier, but we are the first to seize the opportunity.
Technological Inroads
We also take our major classes online. If you don't have the time to be in the class for a lecture, you can actually connect to the school's free Wi-Fi and join the class online. During the COVID-19 pandemic, we had our classes online and became the first school that used artificial intelligence to screen candidates for Post-UTME. You can see our ICT centre; it's a massive one with over 3000 seater. It's the largest. We also have the best library virtual in the country because NUC asked for three or four databases but we have 26 databases. It's well- equipped. So, every time we have visitors, we like to showcase our library to them because it's the best.
In the area of technology, we use smart boards to teach. It's internet enabled and gives live experiences during practical exercises. We pride ourselves in the area of technology. We have a system in which our results come out two to three weeks after examination. For instance, last year, our students had an examination in December 17-18 and we were able to do the convocation in January. In most cases, you don't find it possible except with technological inroad that we have made. So, what we do is that when they finish examinations, we upload the scores; the system automatically calculates the GP and all that. Even the fresh students will have a copy of their result. When we talk about the transcript; the ones we have problems with are those of the students who graduated a long time ago. But for those who graduated from 2015/ 2016, it's seamless in getting their transcript. You can even have your own student's copy because it's there; you can print it yourself but if you demand for it, it's uploaded already in the system. So, these are the two things that university is proud of, our technology inroads and quality of products.
What about funding, do you receive adequate funding from the Ogun State government?
Anywhere in the world, the government alone does not fund education. Those institutions outside the country of which we are proud of are not being funded by the government. Institutions will do better through endowment than government funding. Government is doing its own part through subvention. However, at the same time, we also need to have individuals and corporate organisations that can actually invest and do a cost-benefit analysis of what programmes we are running and of what benefit are the programmes we to the community, state and the nation.
We have no fewer than 265,000 persons who have graduated from this university and some of them are captains of industry. If 1,000 of them can give this university N1,000 every month, you know it will translate into N100,000 a month and N1.2 billion each year. If an institution is well-managed and it gets a good endowment, the university will do well. I don't really believe that the government should totally fund a university; there is no way it can be done. For me, I think the government should create an enabling environment for the university to grow. There are so many ways the university can generate money; it is not just through the increment of tuition. Though the government needs to fund it but the managers of the institutions need to look at the institution as a business venture through which it can generate funds internally.
What are you doing as the manager of the OOU to generate the funds you need run the university?
If the image of the university is good, everybody will want to identify with it. Years back, this university was known for cultism and nobody wanted to identify with it. There was a time we were having meetings with the Awujale of Ijebuland, Oba Sikiru Adetona, and he told us one of the reasons he found it difficult to come to the institution was because of cultists. We then told him that was in the past. We told him that we now have CCTV cameras to monitor activities on the campus. Then the Awujale came and instituted a professorial chair on governance to the tune of N500 million, which was the first endowment that we got. Awujale has about seven state-of-the-art projects in the university like the Vice chancellor's residence and the university chalet.
Similarly, Chief Kessington Adebutu built a N200 million Radio Station for us at the Mass Communication department and another structure in the University Teaching Hospital. So before 2012, we could hardly get 2000 candidates seeking admission. However, when we solved the problem of cultism, the image of the school immediately changed. The following year, more than 30,000 candidates applied. Since that time, it's been on the increase.
Alumni Contributions
So, when it comes to funding, of course, the way the students were treated would go a long way in determining if they would return. We are changing the narrative because we are products of this institution and we know what happened when we were in school. So, we know what needs to be done to students so that they can come back. We will continue to change the narrative as we move on. In the past, we used to have chalk and markers but today, if you go to our classrooms, what you see is amazing. We are also changing the environment in which they are learning because it has a way of affecting their psyche. We believe that if we make the environment more serene in nature and conducive for learning, students will be able to say they want to identify with the school. If you go to the Teaching Hospital at Shagamu, they have standing air conditioning in the classrooms. How will that student graduate and not want to come back? If you go to the Faculty of Law and you see the seats there, you will be impressed. Recently, one of our alumni gave us a 750-seater hall. Another is building an Information Technology Centre at the Faculty of Law.
Work and Study
So, in a way, the alumni now see the university as their own and we are still talking to many more. We believe that if the alumni do all these, it will reduce the pressure. Again, one of the ways to encourage the students is to ensure that those who are indigent can complete their programmes, which is why we introduced work study in our university. What necessitated this initiative is that recently, we did a study and we discovered that in the last five years, an average of 2,000 out of the 30,000 students were unable to pay their tuition. The management reviewed it and discovered that we could start with a scholarship. So, we started giving indigent students scholarship if on second class upper and above. However, last year, we discovered that it couldn't go round, which now resulted in a review. Some of us at the management positions having worked and studied abroad, we now decided to introduce their system here in the institution. We want to plan for 2,000 of them at a go, and some areas that we believe that they will be able to work and do well include the library, mowing and bakery. Just like in the UK where students are given 20 hours per week, which is two hours per day, we believe that the same can be applied here. What we want to do is that by the end of the month, students can have money that can take care of their school fees in a session. We will do it in such a way that no student will be given the money in cash because it could be spent by them on other things.
What is the mode of application? How can students who want to benefit from this programme apply?
When the students come in, they are supposed to register two weeks into the session. At the end of that two weeks, people who begin to apply for leave of absence indicate that they cannot pay. At 100 level, everyone will pay because if they don't pay, it means they are not students. However, in subsequent sessions, we will know and we can then harvest them, call them and have a meeting with them, giving them options on the jobs from which to pick.
Given the fact that universities are celebrated around the world for the impactful research they conduct, in what way has your university excelled in last four decades?
We made it clear that we are the first to make use of Artificial Intelligence, AI, to conduct Post-UTME. You will recall that during the pandemic, everybody was running up and down without knowing what they could do to conduct an exam that there were more than 25,000 candidates. I also recall that during that period, the government was also saying one third of the candidates could sit down somewhere. So, for instance, in this hall, only 10 to 15 people could sit down. We then ask ourselves how many months would we use to conduct the exam talking about the quality assurance that was going to be involved because questions could leak and there might not be quality assurance in that kind of examination.
So, what we did was to ask our colleagues in the Computer Science department to see how we could make use of the AI. AI has been available but people have not been applying it to what they do. So, we asked how we could apply it to learning and we did the first tests. Before we applied for Post- UTME, we did four to five rounds of those tests to see if we could make use of it and it worked well.
What we did was simple, we opened up more space into the venue and for the AI, we trained it in such a way that it mimics if you are in the class and we also supervised the students. We tried that and it worked.
AI is one of the best ways to go because it is stricter than humans. For instance, as we are sitting down here, if we use AI, it takes charge of the whole room. If it sees a movement it can tell that person wants to cheat and it shuts down the system. After the first one we did to conduct the exam, it was so perfect, however, we discovered that it is too sensitive, we then apply it to some of the areas of the research.
Currently, one of the things that we are doing is to see how we could use AI to do the screening of people with breast cancer. What we are trying to do is that we get all the sides, digital pathology, scan it and put all those things in the system because what you do with AI is just three: input, processing and output. I am also an oncologist. We are applying it to virtually all areas of learning in this university. What we are doing is more of digitisation. We are currently working on cancer screening to have a control study of those that have breast cancer and those that do not. We need sophisticated equipment that is worth $11,000 to help us carry out the test in such a way that we can use artificial intelligence to actually develop a screening test, like the glucose kit to screen those that are going to have diabetes or not.
It is that kind of equipment we want, instead of cutting people to do biopsy, if we are able to get that equipment we will be able to use it to screen cancer patients before they now come for confirmatory diagnosis by the pathologists. So we can use that to do mass screening for people that are likely to have breast cancer.