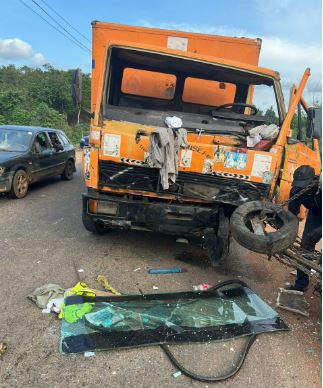 By Efe Onodjae
An accident that occurred along Sagamu expressway has resulted in no loss of life.
According to eyewitnesses, a Sienna bus collided with a truck, which was parked on the roadside without a warning sign.
They noted that though varying degrees of injuries were sustained, no death was recorded.
As of the time Vanguard metro visited the scene, members of the road safety corps had rushed some of the injured victims to a hospital.
Speaking to Vanguard, the truck driver, Mr. Isiaka Abubakar, faulted a truck driver whose faulty vehicle was being pushed, adding that he was trying to navigate through the hindrance when he collided with the Sienna.
He said: "While I was driving, I was not aware that there was a faulty truck on the expressway. He was pushing the vehicle, so I tried to avoid it by entering one lane, however, there was already a parked Sienna vehicle on the one lane and cars were tripping in so I tried to avoid the Sienna by controlling my steering but cracked the sienna doors while commuters were inside"
Further investigation revealed that when the accident occurred, the truck driver, who was pushing his truck on the expressway had taken to his heels, leaving his truck behind.