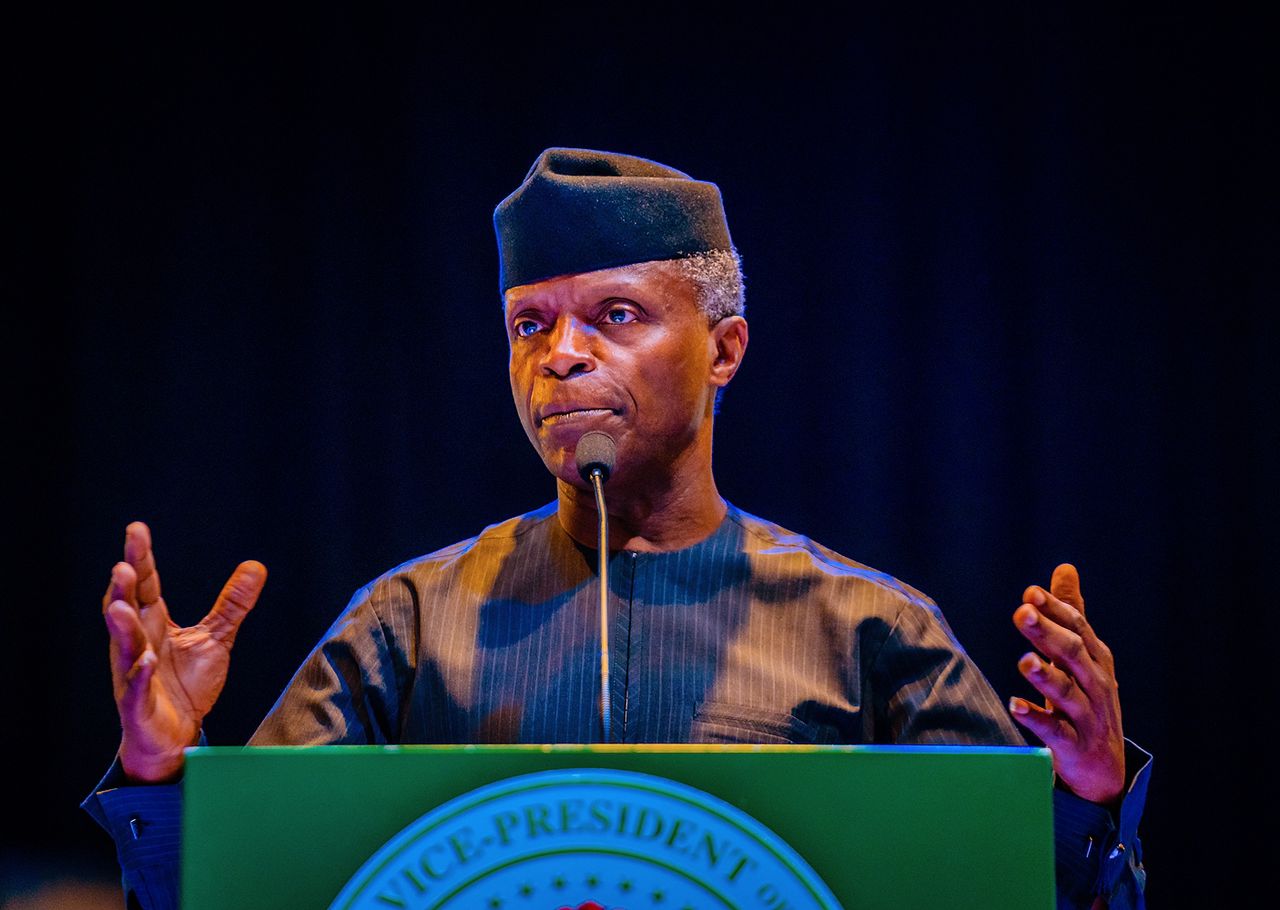 Osinbajo
Vice President Yemi Osinbajo says Nigeria's technology ecosystem accounts for almost 30 per cent of Africa's funded ventures with no fewer than 180 startups.
Osinbajo said this at the Official Inauguration of the Investment in Digital and Creative Enterprises (iDICE) Programme and the Unveiling of iDICE logo on Tuesday at the State House Banquet Hall.
The vice president said that the iDICE is a government initiative to promote innovation and entrepreneurship in the digital tech and creative industries, especially targeted at job creation.
According to him, the total fund is 618 million dollars, out of which the AFDB provides 170 million dollars, the Agence Francaise de Development, 100 million dollars and the Islamic Development Bank (IsDB), 70 million dollars in co-financing.
"The Bank of Industry (BOI) will provide 45 million dollars as Federal Government's counterpart contribution to be availed through loans for qualifying startups.
"We expect another 271 million dollars from the private sector and institutional investors.
"I think it is important to mention that private capital has usually been ahead of government effort, the last few years have seen a consistent rise in venture capital investments in Nigeria's technology ecosystem.
"According to Disrupt Africa's 2022 Tech Funding Report, Nigeria was the best-funded country in Africa for the second year running, with a minimum of 180 startups.
"Making up approximately 30 per cent of Africa's funded ventures, raising approximately one billion dollars – substantially ahead of all other countries on the continent on both counts.
"This influx of private capital has enabled startups to expand operations and create new jobs while contributing significantly toward overall Gross Domestic Product (GDP) growth of the country.
"There are of course thousands of startups that have used private funds or debt that goes unrecorded.''
He said it had become imperative to commence a coordinated approach toward innovation on the continent, bringing together all stakeholders to coordinate efforts at scaling up investments and building programmes that support innovation.
Osinbajo said that the government must provide more support for startups and small businesses while investors must provide more funding.
"This is why the iDICE is important, it brings together the public sector, and our development partners – the AfDB, IDB, and French Development Agency.
"To design a Programme that supports innovation across very critical pillars including policy, infrastructure, access to finance and talent.
"These pillars have been identified as very critical to the growth and sustenance of innovation on the continent.
"As a government, we have consistently provided support to the innovation ecosystem over the last eight years,'' he said.
He said that in 2028, the Technology and Creativity Advisory Group was set up.
The vice president said that the group brought together stakeholders in the technology and creative industries, to contribute directly to policy formulation, articulation and the design of the technology and creative sectors of our economy.
He said that in Oct; 2022, President Muhammadu Buhari signed Nigeria's Startup Bill into law, making it the Nigeria Startup Act.
Osinbajo said that the Act would provide a legal and institutional framework for the development of startups in Nigeria, and provide an enabling environment for the growth of startups in the country.
On his part, AFDB's President, Akinwumi Adesina, said that the digital trends held great promise to help create a massive number of jobs.
According to him, estimates by Endeavor (2022) show that expanding digital infrastructure by 10 per cent will lead to a 2.5 per cent annual growth in GDP in Africa.
"Furthermore, expanding access to the internet in Africa from the current 33 per cent to 75 per cent can help create 44 million jobs, including three million jobs in online services by 2025.
"We are already witnessing in Nigeria the power of digital technologies, tools, and platforms. Nigeria currently has five out of the 11 digital companies that have reached the status of a unicorn with a market valuation of one billion dollars.
"Names that come to mind include Jumia, Interswitch, Opay, Flutterwave and Andela, mainly in the fintech space,'' he said.
In his remarks, Lai Mohammed, the Minister of Information and Culture, said that Nigeria's creative industry was not about music and film.
He said the industry comprised other sectors such as advertising, hospitality, writing, comedy, photography, hair and beauty among others.
According to him, the industry employs millions of Nigerians.
"While the music and film industry have combined to put Nigeria on the world map, in terms of revenue generation, fashion generates N2 trillion against music's N200 billion, hair and beauty generates N1.52 trillion against film's N140 billion.
"So, I hope that when we start administering these funds, we will look at these figures and we are very glad to share this report with the advisory council,'' he said.
Other speakers at the event included Niyi Adebayo, the Minister of Industry, Trade and Investment, Zainab Ahmed, the Minister of Finance, Budget and National Planning and representative of the Minister of Communications and Digital Economy, Isa Pantami.
Olukayode Pitan, the Managing Director, Bank of Industry (BoI), and representatives of the French Development Agency and IsDB also spoke at the event.