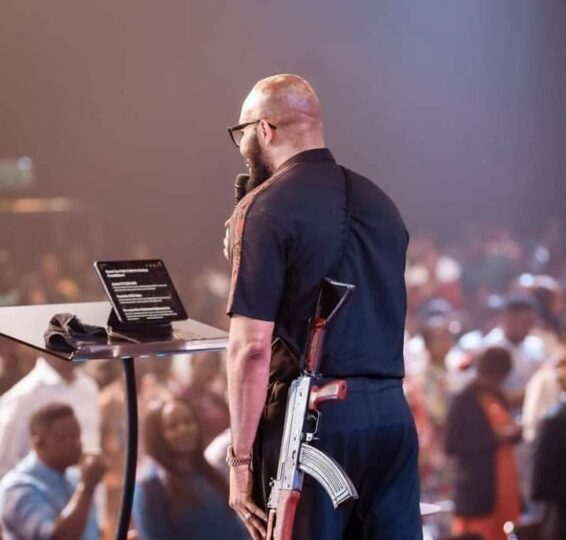 Resident Pastor of House on the Rock Church in Abuja, Pastor Uche Aigbe has gifted N2.9m to needy members of the congregation.  
Aigbe made headlines some few weeks ago after a video of him carrying a gun to 'illustrate' his sermon in church went viral.
He was subsequently invited for questioning by authorities of the Nigerian Police Force, Federal Capital Territory Command.
He later apologised noting that his decision to hang a gun while delivering his sermon was merely a symbolism to drive his message home. He subsequently took a break off his preaching duties.
Appearing before a capacity-filled auditorium earlier in this week, Pastor Uche took to the microphone admonishing the congregation not to forget the poor.
Leading by example, the pastor showed Naira equivalent of a thousand Dollars he changed to share to needy members of the congregation.
He said, "In December last year, somebody gave me a thousand dollars. I have had that money, but I have not used it. So, I asked myself, why not change the money and use it to help somebody? So, if you are in church and you are going through stuff and are really challenged, please come out. I am doing this by faith because I know what happens whenever we do this. Come out if you are such a person. I need only 50 people. When once we get 50, we will stop."
As multitudes left their seats in obedience to the call, the pastor knew what was probably going on in the minds of those privileged enough to pick their bills despite the cash squeeze rattling the nation and her citizens for the past few weeks.
"Some of you might be wondering," he continued, "that those who have come out do not dress as if they are going through stuff but there is a saying that you must never judge a book by its cover. Just because somebody might be looking good doesn't mean that all is well, so don't judge them," he counselled.
Although Pastor Uche had requested only 50 church members desperately in need to come out, the headcount a few minutes later showed that a total of 57 such persons needed help in one way or the other.
At this point, six anonymous church members added sundry amounts to the pool, culminating in a thunderous applause from worshippers seated across the auditorium. While one gave the sum of a million naira, two others gave the sum of N250, 000 each. Another two church members gave the sum of N100, 000 each while another gave N200, 000, bringing the total to two million, nine hundred and fifty thousand naira only.
Aware of the varying needs of the people, the pastor separated the very needy -those not sure of the next meal- from those who could at least survive for one more week. To the first group, numbering 10, Pastor Uche gave cash gifts in envelopes, leaving 47 others to await the good news, having urged them to write their names and account numbers down for transfer within the week.
To the first group, he said, "If you don't have anything to eat this week, I just have something in the envelope at least to help you through this week, just ten of you. The remaining of you, put down your details and by the grace of God, you will get alerts in your bank accounts," he announced to the cheering worshipers who could not hide their joy and excitement.