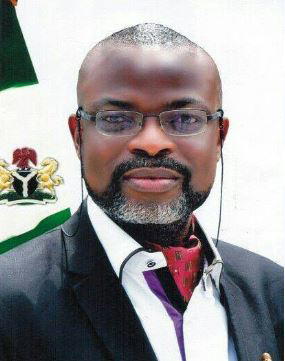 By Johnbosco Agbakwuru
Sunday, March 11, 2023 was both a day of trauma and thanksgiving for the family of Dr Theodore (TOE) Ekechi, a Federal Commissioner with the North East Development Commission (NEDC).
The wife, children and household narrowly escaped death when their Surulere residence was engulfed by fire.
Eye witness accounts report that the fire was suspected to have been caused by a spark from a split unit air conditioner in one of the rooms upstairs at about 9.00 am.
The family was celebrating with the Lumen Christi Catholic online Mass Service at the family lounge when suddenly it was noticed that tick smoke had engulfed almost the entire upper floor of the house.
The fire in blistering flame and thick smoke which was accompanied with explosive sounds spread quickly blurring visibility of the main exit. It was the heroic interventions of alarmed neighbors that ensured timely evacuations of the household.
Neighbours battled the fire with fire extinguishers in the house and other sundry means for about thirty minutes before the arrival of Federal and State fire trucks.
The fire men courageously engaged the raging inferno for about ninety minutes before it was brought under control. Alas, as the thick fog simmered off, the smoldering ash was the only remains of the entire first floor. In spite of the rescue efforts coordinated by the Executve Chairman of Surulere Local Government Council, Hon. (Amb) Sulaimon Bamidele Yusuf, not a pin was said to have been recovered from the floor.
When contacted some few hours after the incidence on his arrival to the scene, Dr Ekechi who was in faraway Owerri while his house burnt lamented the wiping off of documents of records which represented family legacies of more than fifty years. In his own words,
"The loss of the building, the total loss of personal effects and property are nothing in the face of the erasure of substantial documents of records which houses our family legacies dating more than five decades. Yet, I am profoundly grateful to Almighty God for sparing the lives of my wife, children and other family members".
Dr Ekechi, a former Commissioner for Information and Strategy in Imo State was full of praises for the commitment, love and solidarity of neighbours and the Surulere Local Government Council Chairman as well as the gallantry of officers of the Federal and State Fire services. He noted that the response of all without prejudice to tribe and colour demonstrated the strength and character of a united Nigeria.
Some early medical responders strongly recommended counselling therapy for the victims to heal the traumatic experience of the incidence.