An unidentified man from Tiktok has announced that he has broken up with his girlfriend after she got on stage with Chris Brown and received a lap dance from the American singer.
According to the Mirror, the livid boyfriend unleashed the footage of his ex-girlfriend receiving a lap dance from Chris during a concert in the United Kingdom.
He was so upset he demanded a refund for the tickets he bought which cost £500 and also cried out he wanted his girlfriend back.
He said on TikTok "POV; Buying my girlfriend front row tickets to see Chris Brown… I want my £500 and my girlfriend back!"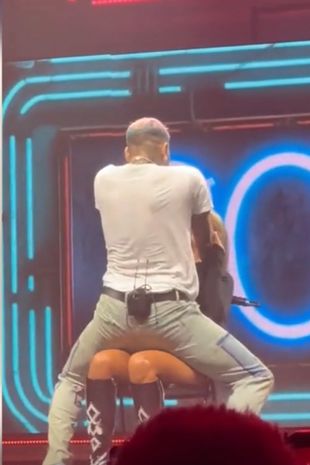 He released an update on the situation that he had ended their relationship because the girlfriend felt she had done nothing wrong.
He released another Tiktok video which said, " Just to update everyone regarding the Chris Brown concert, I'm no longer with my girlfriend," he explained.
"She doesnt think what she did was wrong" he added.